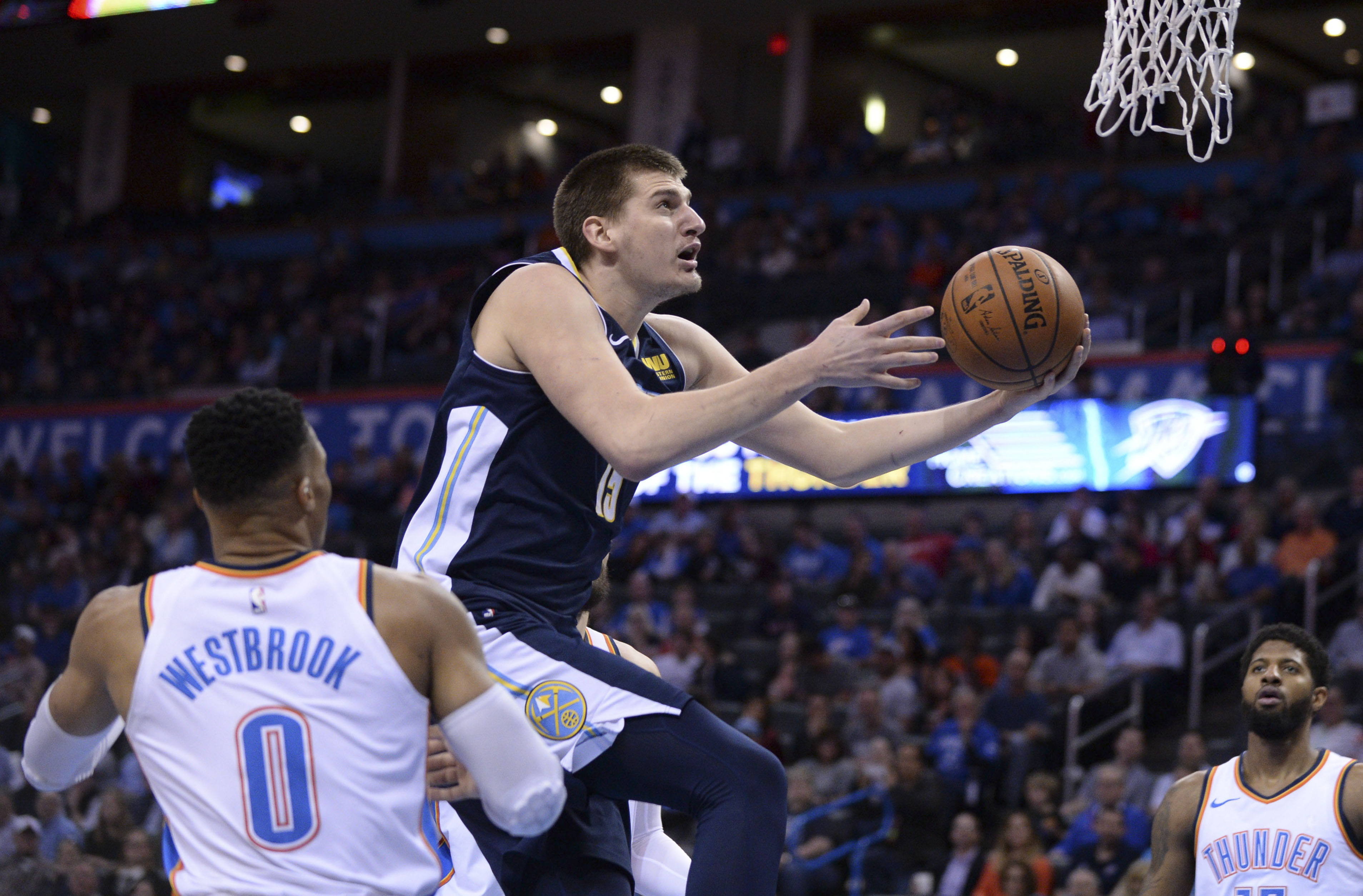 Ask yourself this: Is Denver Nuggets' point-center a 'max contract' kind of player?
Wait. Don't answer that just yet. Answer these instead.
Is Dallas' Harrison Barnes a max contract type of player? How about Charlotte's Dwight Howard? Detroit's Andre Drummond or Blake Griffin?
What about Denver's Paul Millsap?
Okay, now consider these players.
New Orleans' Anthony Davis? Houston's Chris Paul? Minnesota's Andrew Wiggins? Portland's Damian Liillard? Boston's Al Horford?
Russ? James? Steph? KD? LBJ?
The answer, for each of the aforementioned players, is yes. Understanding exactly what a 'max contract' is and is not can be tricky (there are too many rules and exceptions to get into here), but it's true that nearly every one of these players possesses a contract that's at or near 'max money'. They're all on the list that makes up the 27 highest-paid players in the NBA for the 2017-18 season.
Do they all belong on the list? Should all of them be max money guys?
Well, that's an entirely different set of answers. What and who commands big money in the NBA these days is a bit of a mystery. Sure, there are some obvious superstars who are worth every penny and then some (did you see this on Saturday night?). There are other financial arrangements that warrant some head scratching. (Why would Charlotte give that kind of dough to Dwight Howard? With two players on the list, how did Detroit manage to go 39-43?).
But back to the original question: What about our buddy The Joker?
Let's start with this: Nikola Jokic will become a max money player – soon. Someone will pay him, there's no doubt about that. You know it. I know it. The Nuggets know it. And his agent, Misko Raznatovic, knows this beyond a shadow of a doubt.
In fact, he let the Nuggets know exactly what he thinks of his client's future payday last week.
"According to NBA rules, there are no negotiations before July, so until then there are only speculations," Raznatovic explained in an interview with Blic Sport last week. "Like every agent, I hope the maximum because Nikola certainly deserves it, both in terms of the (dollar amount) and length of the contract. Of course, there is also the possibility that Nikola will not negotiate the change of contract, to stay for the fourth year with a small contract, and then next year be completely free in the choice of a new environment. This is certainly the most unfavorable possible scenario for the Nuggets."
Was something lost in translation there, or are themz fightin' words?
Here's how I read it: Pay my client the max right freaking now, or he's gone.
The Nuggets, in fact, have a team option on Jokic next season. They could utilize it and only pay him $1.6 million – highway robbery considering how good Jokic is. But that only sounds like a good thing; it's an option that's not much of an option at all. Realistically, if Tim Connelly and Co. opt for that route, they'll be ticking off their best player and his agent, and will be taking on the unenviable task of trying to sign one, big, pissed-off Serbian next summer.
So long, Joker.
Like it or not, the decision is upon them. It's either make Jokic the centerpiece of the Nuggets for the foreseeable future – and pay handsomely to do so – or be ready to part ways all together.
Barring anything completely unusual, we know that Jokic is going to get his money. So perhaps the original question should be adjusted just slightly: Should the Nuggets be the team that makes Jokic a max money player?
It sounds like an easy answer. But is it really?
There's no question that Jokic is an excellent player. People in Denver love him. He passes like Magic. He scores and rebounds at an All-Star level. He does that funny joke-telling thing on the giant screen inside Pepsi Center. By all intents and purposes, he's great. He really is.
But he's also watching the playoffs at home just like you and I. Just like Drummond and Griffin. Just like Dwight Howard. Just like Harrison Barnes.
I'm not suggesting that Jokic isn't a better player than all those guys – he is. And anyone in Denver who dares to question the worth of Jokic to the Nuggets is likely to be scorned. The franchise has openly made Jokic its centerpiece. He's the one guy who simply could not, would not, will not, be traded. If he wasn't working under his rookie contract still, he'd already be getting paid the big bucks.
And that, quite frankly, scares me a bit.
Millsap – who was the third-highest paid player in the entire NBA last season – was supposed to be the Robin to Jokic's Batman this season. Yes, missing 43 games with a wrist injury derailed the plan (to some extent), but those who watched closely might suggest the two players together weren't necessarily dominant. They certainly weren't striking fear into Houston or Golden State. And there were plenty of games that the Nuggets should have, could have, won even with Millsap sidelined. In other words, a max money player might have (should have) willed his team to those few extra wins to get into the postseason.
Jokic's numbers dance off the page. They're impressive in every way. But is he the type of player that wills his team to a title?
I'm not so sure. He certainly could be a big part of a title team, but can he ever be the guy? Besides, when was the last time a team built around its center won a title? Shaq and the Lakers? Hakeem and the Rockets? In the modern NBA, that doesn't really happen.
And that's not a knock on Jokic. A player like him has a place on any team, it's just that he's not the alpha male. Look around the NBA playoffs – the good teams have one of those (some have a couple). Look at how surprisingly good Utah has been since Donovan Mitchell has established himself as the team's undisputed alpha male?
Nikola Jokic is Pau Gasol. He's not Kobe Bryant. And that's okay.
But it does beg the question: Do the Nuggets currently have anyone on the roster who can be their version of Kobe Bryant? And if not, can they afford to sign Jokic to max money and still somehow go find one?
Quick: If somehow the option presented itself, would you build a team around Nikola Jokic or Kawhi Leonard?
I'm not saying that will happen or even could happen, but it's food for thought. I know which player I'd take, and I'd take him in a heartbeat.
Signing Nikola Jokic for whatever it takes feels like the Nuggets' only option.
But is it really?
Decisions, decisions.
This one isn't as simple as it one might think – with all due respect to Misko Raznatovic, of course.