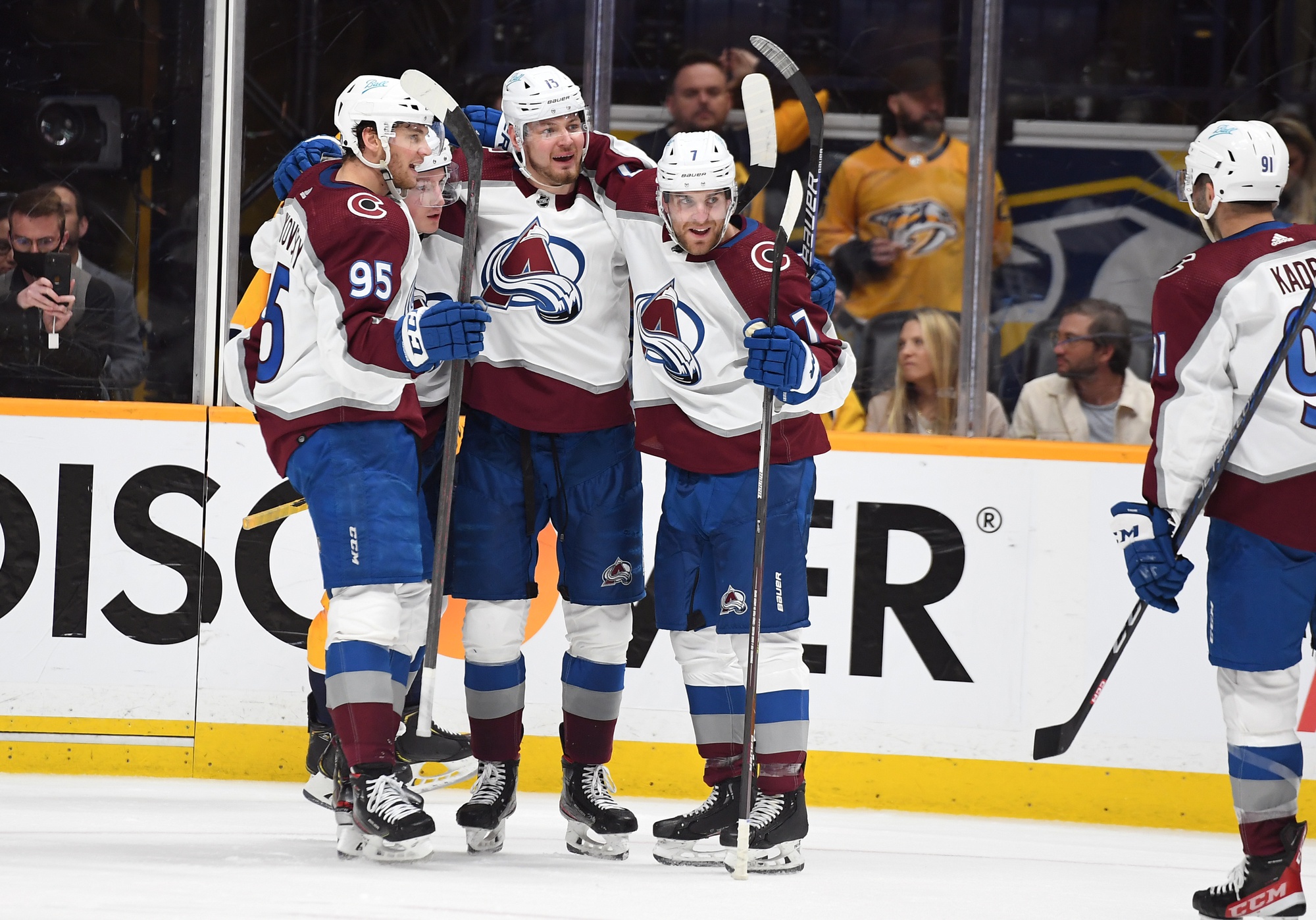 Darryl Sutter was right.
The head coach of the Pacific-Division leading Calgary Flames told reporters in March that the wildcard team facing the Avalanche in the first round would be in for a tough ride.
"If you are a wildcard team I sure as hell don't want to play Colorado in the first round because it's going to be a waste of eight days."
Fast forward seven weeks and the Avs needed precisely seven days to sweep the Nashville Predators.
"It's going to be a waste of eight days."

Darryl Sutter on Wild Card teams facing the Colorado Avalanche in the playoffs. pic.twitter.com/FmH7fItBW5

— Sportsnet (@Sportsnet) March 15, 2022
Colorado surrendered just nine goals while scoring 21 — including a pair of seven-goal outbursts in Games 1 and 3. The Avs did not trail for the entire series until the third period of Game 4 on Monday, where Nashville jumped ahead 3-2.
That lead lasted a mere 4:57 before the game-tying goal from Devon Toews and the eventual go-ahead tally from Valeri Nichushkin. Aside from that slight hiccup, and a nearly perfect night from Connor Ingram in Game 2 where he stopped 49 shots, the Avalanche didn't face much adversity. They also outshot the Predators 176-112, averaging an astonishing 44 shots per game.
Simply put, Colorado dominated from start to finish.
As they await the other seven series to conclude, the Avs' attention will now turn to the Minnesota Wild and St. Louis Blues, who are currently knotted up at 2-2 through four games. The Avalanche will face the winner of that series sometime next week.
But before then, let's see how each of Colorado's 19 skaters and two goalies that appeared in the first round fared.
Deen's List:
Bowen Byram
The young rookie defenseman spent the entire series on the third pair alongside veteran Erik Johnson. Coach Jared Bednar oftentimes would pair Byram with Samuel Girard in an offensive situation. But for the most part, Byram held his own on the third pair.
I can't stress enough how nice it is to see Byram playing hockey again.
Erik Johnson
The Avs missed Nazem Kadri immensely in the playoffs last season. But it's hard to ignore the absence of Johnson, and what he means to this team. Especially at this time of year. The longest-tenured Av set up the crucial game-tying goal from Toews that began the third-period comeback.
The first round with Johnson went about as good as it could. This might be the last hurrah for Johnson with the Avs. Let's hope, for his sake, it's a good one.
Devon Toews
Colorado's secret weapon on the blueline was once again an underappreciated piece of the team's success. Toews recorded a point in each of the four games, scoring three goals and adding two assists while averaging 24:44 per game.
The Avs just don't lose with this guy in the lineup.
Cale Makar
Makar was far and away the best Avs defenseman, he led the team offensively with 10 points and if could strap on some pads and tend the goal, he'd probably do that too. And be good at it. Even someone that writes for a living can't truly put into words just how exceptional Makar was for four games.
His 10 points are the most by any NHL defenseman in history through the first four playoff games of any given season. He scored highlight-reel goals on three occasions, had perhaps the nicest pass of the first round in Game 4 and turned heads with his 12-shot performance in Game 2. Makar also leads the entire NHL in playoff scoring through four games.
The funny thing is, it still seems like the 23-year-old has another level.
Andrew Cogliano
The trade deadline acquisition played just 4:48 in Game 1 before suffering an injury that has kept him out since. All he did in his short time was score a beautiful shorthanded goal, build chemistry with Darren Helm and Nico Sturm, and provide the Avs with the exact type of veteran leadership a team needs to succeed in the playoffs. Perhaps the type of player the team was missing last year.
But outside of that, he was a nonfactor.
Valeri Nichushkin
Scores the series-deciding goal and was a bull on the power play, shorthanded and at even strength throughout the series. Nichushkin wasn't making many friends on the Predators with his after the whistle scuffles in the first two games either. What a series from Colorado's new favorite two-way forward.
Oh, that's top-line-forward Valeri Nichushkin to you.
Nicolas Aube-Kubel
To many around the league, he's Nicolas "the guy the Avs played instead of Alex Newhook" Aube-Kubel. But to the Avalanche, he's a gritty forward that earned his spot on the playoff roster with his elevated play late in the regular season. Aube-Kubel has built great chemistry with center J.T. Compher and the duo's defensive capabilities have even rubbed off on Andre Burakovsky.
He's no Claude Giroux but this former Flyer was quite the pickup for general manager Joe Sakic.
Logan O'Connor
After playing 81 regular-season games, Logan O'Connor was a healthy scratch in Game 1. That's what happens when a coach has tough decisions to make.
O'Connor was inserted in the lineup in Game 2 to replace an injured Cogliano and played the last three games. He brought the spark you always expect from him. There are no nights off for No. 25. You can always count on that.
Nathan MacKinnon
'Playoff Nate' was activated in Game 1 and has been fully functioning since. The 26-year-old has the third-best points per game average in Stanley Cup Playoff history, trailing a couple of legends in Wayne Gretzky and Mario Lemieux.
His performance against Nashville added to that. MacKinnon scored a league-leading five goals — finding the back of the net in each game.
He also told reporters following Game 4 that he was going to play video games during his off days between the first and second round. And he's probably going to achieve greatness at that too.
Darcy Kuemper
Missing Kuemper on the ice for an extended period would've been a travesty following his eye injury. But off the ice, it's even more important for Kuemper to have avoided what could've been a brutal, potentially career-ending gruesome injury.
Kuemper was exceptional in the 2-plus games he played. He's expected to be ready to go for Round 2 and likely would've played in Game 5 if the series needed one. Colorado's hopes of winning it all this year rest on the back of Kuemper. They'll need their starter to make it through the second round and beyond.
J.T. Compher
Colorado's third-line center was an exceptional penalty killer, a pest in the crease and had two assists in Game 4. Successful series for Compher.
And he did it without the mustache. Thankfully.
Pavel Francouz
The hockey Gods blessed the Avalanche with the perfect backup goalie a number of years ago. Then they curse the team by taking him away for nearly two years. And now he's back, and just in time to step in when called upon.
Alright, it wasn't the hockey Gods but you get the point. Francouz didn't need to be outstanding but he needed to be better than average. And that he was. If Francouz dresses in the playoffs it either means Kuemper is struggling or hurt. So the less he plays the better.
I will say. You can't help but love him for both his on-ice play and his off-ice demeanor.
Josh Manson
The veteran defenseman acquired from the Anaheim Ducks before the trade deadline was everything he was advertised to be. Manson has assumed the role of Colorado's No. 4 defenseman, often paired with Girard on the second pair.
He was throwing big hits, pitching in offensively and was once again the best quote this team has probably ever had. Okay, maybe I'm a little biased but Manson is every journalist's dream.
The more he plays, the more we get to chat with him postgame. More Manson, please.
Darren Helm
So you're telling me a guy that spent the first 14 years of his career with perhaps the most storied NHL franchise of the last quarter-century would be a positive contributor in the playoffs? Who could've saw that coming?
Helm is 35 but has turned the clock back to his glory days with the Detroit Red Wings. A tenacious penalty killer, a relentless forechecker and the glue that holds the fourth line together.
He's even taking faceoffs again.
Samuel Girard
If there's any guy on the Avs that needed a bounceback following his terrible performance in last year's playoffs, it's Girard.
Outside of a turnover early in Game 2, Girard was better than average. That's all you can ask for from a 20-minute-a-night No. 3 defenseman.
Artturi Lehkonen
Not many things in Round 1 can match the high Artturi Lehkonen felt when he scored the series-clinching goal over Vegas in the semi-finals a season ago. The former Montreal Canadiens forward is looking to repeat that moment but with a different outcome in the Stanley Cup Final.
So far so good with the Avs. He scored goals, he was a net-front presence pretty much every night and he built instant chemistry with Nazem Kadri and Gabriel Landeskog to form a formidable second line.
Nico Sturm
Remember when Sakic made four trades at the deadline and literally every single one of them was a home run in the playoffs? Because same.
Nico Sturm wasn't much of a factor in his 18 regular-season games since being swapped by the Wild for Tyson Jost. But he was certainly turning heads in the first round. Sturm was the physical presence the Avs yearned for when they got him.
He's also battling through an injury he suffered in Game 1 and is showing no signs of letting it affect his play. Just an absolute warrior.
Thanks, Minnesota.
Nazem Kadri
Scored big goals, was solid on the power play and didn't let Nashville get under his skin. That's what a successful first-round series looks like for Nazem Kadri.
Gabriel Landeskog
If you weren't following along the last couple of months, you wouldn't have even noticed that Landeskog was absent for 20-plus games to close out the regular season.
Landeskog was reinserted into the lineup for Game 1 and was instantly a factor. His leadership never goes unnoticed and neither does his offensive production. Landeskog had a team-best four points in Game 3 and was a monster in each aspect of every game.
He's the captain for a reason.
Andre Burakovsky
I don't think anyone has suffered as much as Burakovsky from the Avalanche getting 100 percent healthy for the playoffs. Okay, there's some old-fashioned hyperbole here, but Burakovsky has always been a top-six forward for Bednar since being acquired in 2019.
But with Lehkonen's acquisition, Nichushkin's elevated play and a suddenly healthy Landeksog, there's no room for Burakovsky in the top six. The result? A third-line performance where he was solid defensively and broke out for three points in Game 4.
Alright fine. He didn't suffer at all.
Mikko Rantanen
Wait, so the Avalanche scored 21 goals in four games and Mikko Rantanen didn't find the back of the net at all?
Look out Minnesota or St. Louis. Once he gets loose, there's no turning back.
__
Aarif Deen is our Colorado Avalanche beat reporter. He covers Avs games live from Ball Arena and attends practices, media availabilities and other events pertaining to the Avs on the daily beat. He is also a co-host of Hockey Mountain High: Your go-to Avalanche Podcast. Deen joined Mile High Sports upon completion of his bachelor's degree in journalism and master's in business administration from the University of Michigan – Dearborn. Before Mile High Sports, Deen worked for the Michigan Wolverines Athletics Department as the assistant sports information director.
Listen to "Three Wins Closer" on Spreaker.