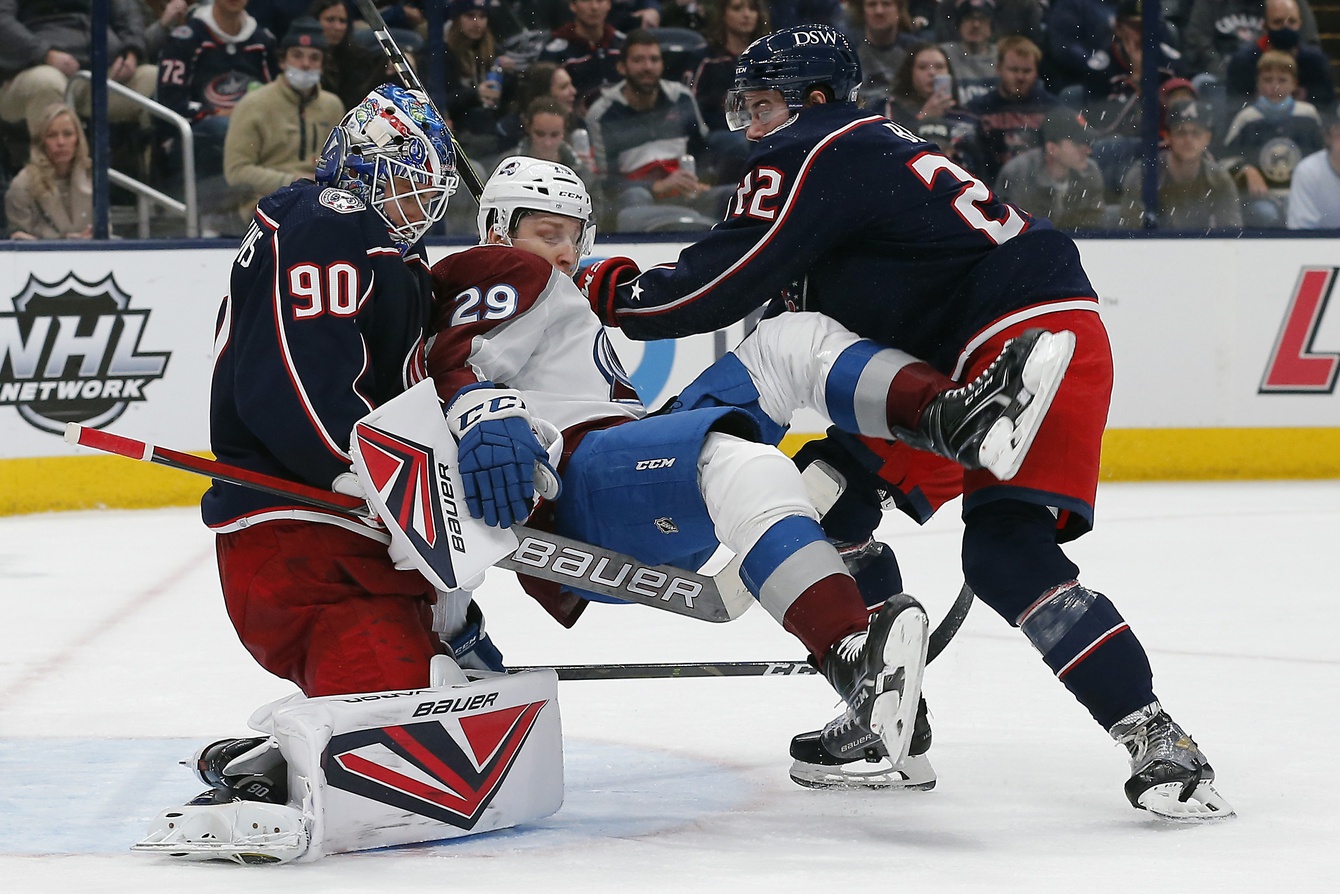 The Avalanche needed goaltender Darcy Kuemper at his best to have a chance in Saturday's 4-2 loss to the Columbus Blue Jackets.
Kuemper delivered. But the rest of the team did not.
Colorado once again led 2-1 entering the third period before surrendering three straight goals. The game-winning goal came with 1:02 remaining after a number of high-danger saves from Kuemper. The Avs simply couldn't limit the turnovers and it cost them.
Deen's List:
Shots against
The team has struggled defensively for the better part of the first 10 games. It's not necessarily the six, or sometimes seven bodies playing on the back end. It's the whole team. Head coach Jared Bednar often speaks about team defense, commitment to checking, etc. Those things have been lacking and it shows when you crunch the numbers.
The Avalanche surrendered 42 shots to the Blue Jackets on Saturday. This comes three nights after getting outshot 37-32 to the same team, one that isn't known for its offensive prowess.
Colorado has struggled to keep the opponent's shots to a minimum — like it did so well in 2021.
Listen to "Long Breaks" on Spreaker.

Power play struggles continue
Colorado was 0-for-4 on the man-advantage on Saturday after failing to score on three opportunities in Wednesday's overtime loss.
Given the fact that both games were close and decided in the final moments, a power-play goal or two could've been the difference between 0-1-1 and 2-0-0.
Defensive roles
Devon Toews' season debut gave the Avs the ability to really get a feel for six of its top seven defensemen. Once Cale Makar returns — and assuming no other injuries arise — Bednar will have a tough decision to make on any given night when deciding who not to dress.
Toews slotted in nicely on the top pair, trailing only his partner Bowen Byram in ice time. The remaining four defensemen, ranked from most to least ice time were Samuel Girard, Jack Johnson, Ryan Murray and Erik Johnson.
Not that he would be the one to sit when Makar is ready, but it was really interesting to see Erik Johnson be last in ice time.
Kadri a bright spot
We can't possibly talk about this loss without at least mentioning the beauty that was Nazem Kadri's pass on the first goal.
Last year, Kadri would've shot that puck. He did have a pretty decent look at the goal after all. But this re-energized version of himself decided to trick everyone in the building, most notable the opposing goaltender Elvis Merzlikins, and send a blind pass to Andre Burakovsky for an open net tally.
Kadri's assist was his seventh of the season and fourth straight game with a point. His 10 points are tied for first on the Avs alongside Gabriel Landeskog and Nathan MacKinnon.
MacKinnon stuck at one
At what point do we need to have a conversation about MacKinnon scoring just one goal so far this season?
__
Aarif Deen is our Colorado Avalanche beat reporter. He covers Avs games live from Ball Arena and attends practices, media availabilities and other events pertaining to the Avs on the daily beat. He is also a co-host of Hockey Mountain High: Your go-to Avalanche Podcast. Deen joined Mile High Sports upon completion of his bachelor's degree in journalism and master's in business administration from the University of Michigan – Dearborn. Before Mile High Sports, Deen worked for the Michigan Wolverines Athletics Department as the assistant sports information director.
Follow him on Twitter @runwriteAarif
Listen to "Preventable Goals" on Spreaker.