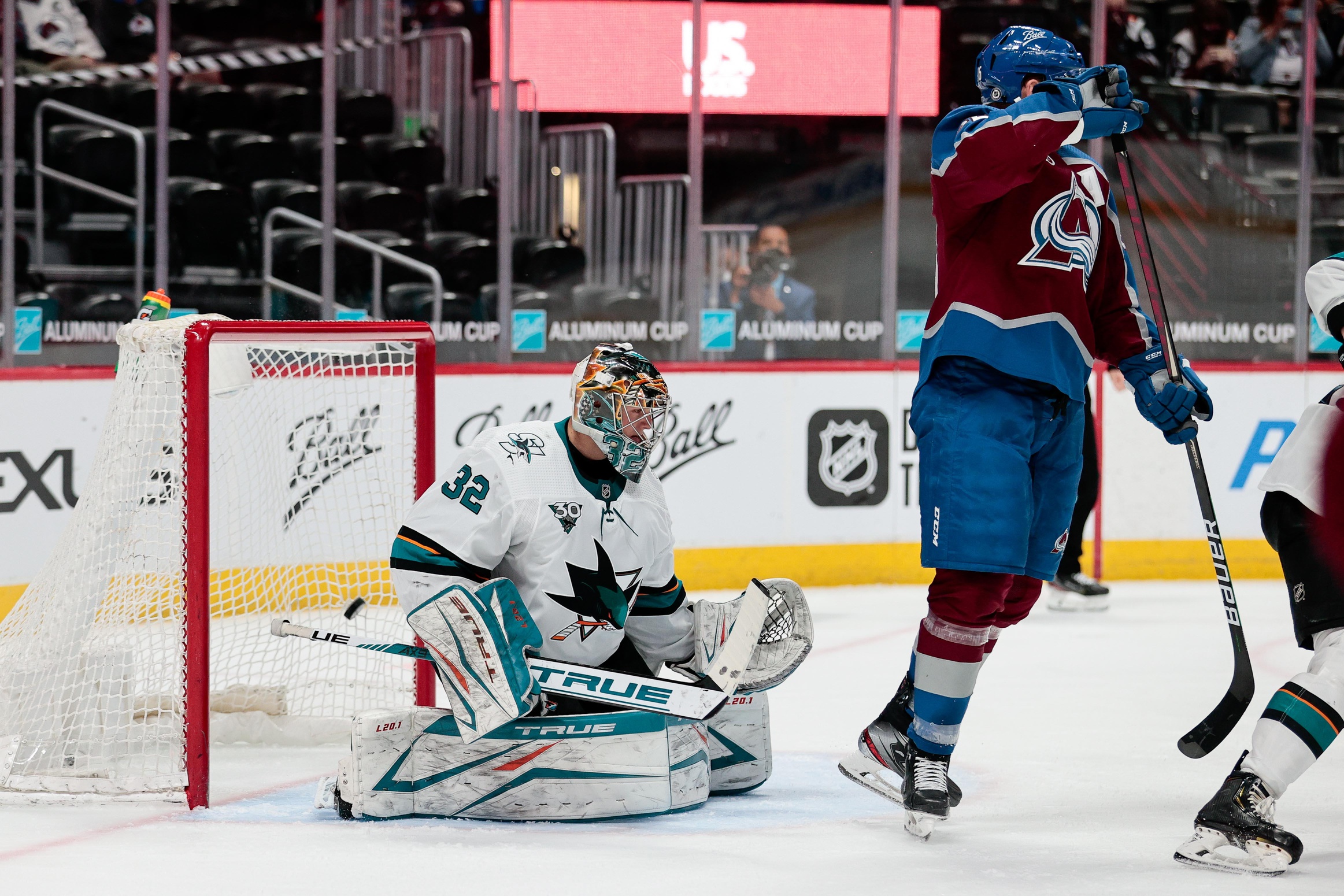 It took a while for the Avalanche to break through on Saturday but four goals at even-strength is just what this team needed after the power play carried them of late.
Colorado defeated the San Jose Sharks 4-3 to improve to 14-0-1 in its last 15 games at Ball Arena.
Superstar center Nathan MacKinnon was dominant and his linemate Mikko Rantanen was not far behind. Colorado also relied heavily on Conor Timmins and Patrik Nemeth on the blue line because of the absences of Sam Girard (lower body) and Ryan Graves (undisclosed).
The Deen's List:
Avs are having a Ball
It wasn't long ago when the Avs outshot the Arizona Coyotes 35-14 at Ball Arena only to lose 3-2.
It was March 8. And since then, the Avs are 14-0-1 at home. That's the second-best home point streak in club history and just two away from tying the 2003 Avalanche (14-0-2-1).
Colorado is 20-4-2 at Ball Arena, tied for the most wins and trailing only the New York Islanders (20-3-3) in points.
MacKinnon's rebound
MacKinnon was dancing and prancing and sent the Ball Arena crowd into a frenzy with a beautiful goal in the second period.
Just one night after MacKinnon's 15-game point streak and 263 shot streak came to an end, he rebounded with a dominant offensive performance. He had numerous opportunities for a second goal but was unable to solve goalie Josef Korenar again.
MacKinnon finished the night with nine shots and was the catalyst of Colorado's first goal. He won the faceoff back to Devon Toews, who sent the puck to Rantanen, then Timmins, then back to MacKinnon in front for the tap-in. Everything about the goal was well-drawn out. Before the puck was dropped, MacKinnon was seen directing Timmins to where he should position himself on the ice. And it paid off.
Well done, Nate.
Timmy steps up
Speaking of Timmins, he had a strong night playing a bigger role without Graves and Girard.
Timmins finished with two assists and a team-leading plus-3 rating in 18:27, third-highest of his career. He started the game alongside Patrik Nemeth but played with Devon Toews at times.
If Timmins' development is expedited with this suddenly larger role he's playing, then an already strong cast of Avs defensemen becomes that much better.
Strong at the dot
Not long ago the Avalanche were the worst team in the NHL in faceoffs. They struggled to develop MacKinnon, Tyson Jost or former Av Alexander Kerfoot into players that can win a draw consistently. Carl Soderberg, who was in his first stint with the team, also wasn't the best.
But this year that's all changed. The Avs are sixth-best in the league in faceoff win percentage (51.8) and were even better than that against San Jose. Controlling the play starts with winning draws and Colorado won 59 percent Saturday, led by center Nazem Kadri and captain Gabe Landeskog, who combined to win 19-of-27 draws.
Goals tough to come by
We often see fewer goals as the regular season winds down. And even in this unique season, that seems to be the case. Thirty NHL teams were in action Saturday and only eight scored more than three goals.
Some of the more offensively dominant teams in the league were blanked, including Tampa Bay, which lost 1-0 to Detroit in the shootout. The New York Rangers and Washington Capitals were also shut out.
The Avs needed over 33 minutes to solve Korenar but ended up beating him four times. The 23-year-old goalie made 40 saves, many of which were high-danger opportunities.