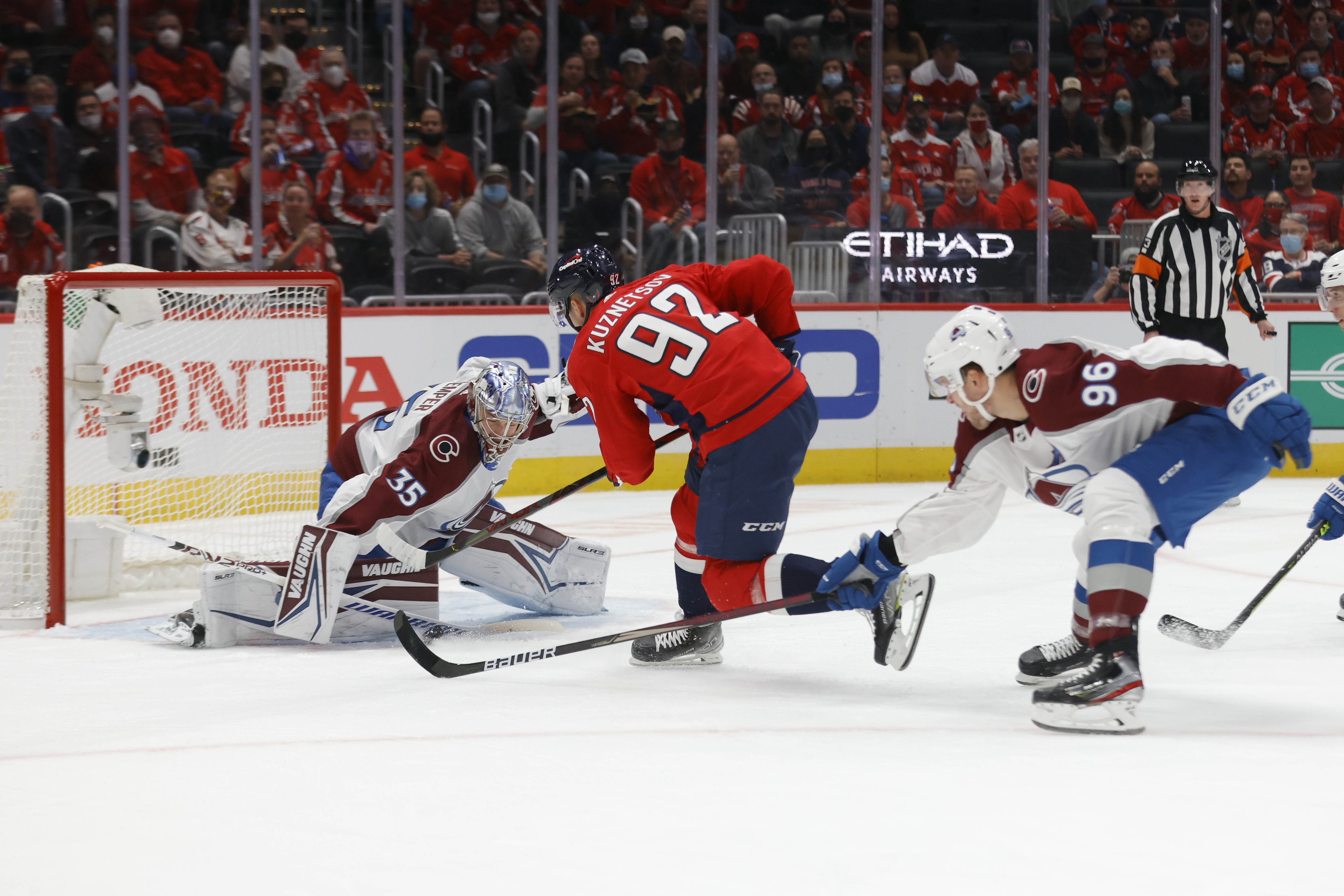 It certainly wasn't the start the Avalanche were hoping for to begin their three-game road trip.
The Avs welcomed back superstar center Nathan MacKinnon but were outmatched in every aspect of Tuesday's 6-3 loss to the Washington Capitals at Capital One Arena.
They'll have to shrug this one off quickly, especially considering the two teams that await Colorado to close out the trip. The Avs, who are playing Eastern Conference teams for the first time since March of 2020, will at least see Gabriel Landeskog return to the lineup Thursday at Florida after serving his two-game suspension.
Only time will tell if he can re-ignite whatever it is the Avalanche have been lacking since starting the season strong against Chicago.
Deen's List
Forgettable debut
The Avs have been waiting, hoping, all week that MacKinnon would show two negative COVID tests and be able to make his season debut. Things didn't look great Sunday, but MacKinnon tested negative on consecutive days shortly thereafter and caught a late Monday flight to Washington D.C. to join the team.
But it was about as forgettable a hockey game as he's ever had.
MacKinnon was a minus-5, took a late minor penalty and had three shots in 20:16. His only point of the evening, an assist, came when it was too little too late.
It wasn't just Nate
MacKinnon wasn't the only player to struggle. The Avs entire top line, including their top pair defensemen, also laid an egg.
Forward Mikko Rantanen and defenseman Cale Makar were both minus-5 while top-line winger Andre Burakovsky and top-pair defender Samuel Girard finished with a minus-4 and minus-3, respectively. The four, along with MacKinnon, combined for just 10 shots.
Listen to "Pierre Lacroix Night at Ball Arena" on Spreaker.

Kuemper's inconsistencies
It's hard to pin this loss on goalie Darcy Kuemper, but like Saturday at Ball Arena, Kuemper struggled to keep the puck out of his own net. He faced a lot of shots early and seemed to find his groove, stopping 18-of-20 when forward Darren Helm tied it 2-2 for Colorado.
But he went on to surrender three goals on the following 10 shots. The defensive breakdowns certainly didn't help, especially on the first goal that saw Evgeny Kuznetsov split the defense and come in all alone. But Kuemper also hasn't been as consistent as he probably would like.
It's still early, and he'll likely find his footing. But the Avs need Kuemper to pick up the slack until backup goalie Pavel Francouz is healthy and ready to take some of the load off of him.
Not-so-special power play
The Avs didn't score on the power play until an opportunity late in the third period with the goalie pulled. Colorado was trailing by three and had a 6-on-4 advantage when Rantanen scored his first goal of the season.
But when it mattered, the Avs were 0-for-3 and didn't generate much. That's just not going to cut it.
Energy line
The only positive for the Avs from Tuesday was the trio of Tyson Jost, Logan O'Connor and Helm. It's the type of blue-collar, hard-working, energetic line that could do it all.
All three of the depth forwards have had strong starts to the season. Helm's goal — which was assisted by O'Connor — was the first point for both players. But they've done an excellent job on the penalty kill and at 5-on-5 since opening night.
Once the top line gets going, the Avs could be a threat all throughout the lineup.
__
Aarif Deen is our Colorado Avalanche beat reporter. He covers Avs games live from Ball Arena and attends practices, media availabilities and other events pertaining to the Avs on the daily beat. He is also a co-host of Hockey Mountain High: Your go-to Avalanche Podcast. Deen joined Mile High Sports upon completion of his bachelor's degree in journalism and master's in business administration from the University of Michigan – Dearborn. Before Mile High Sports, Deen worked for the Michigan Wolverines Athletics Department as the assistant sports information director.
Follow him on Twitter @runwriteAarif
Listen to "Pierre Lacroix Night at Ball Arena" on Spreaker.