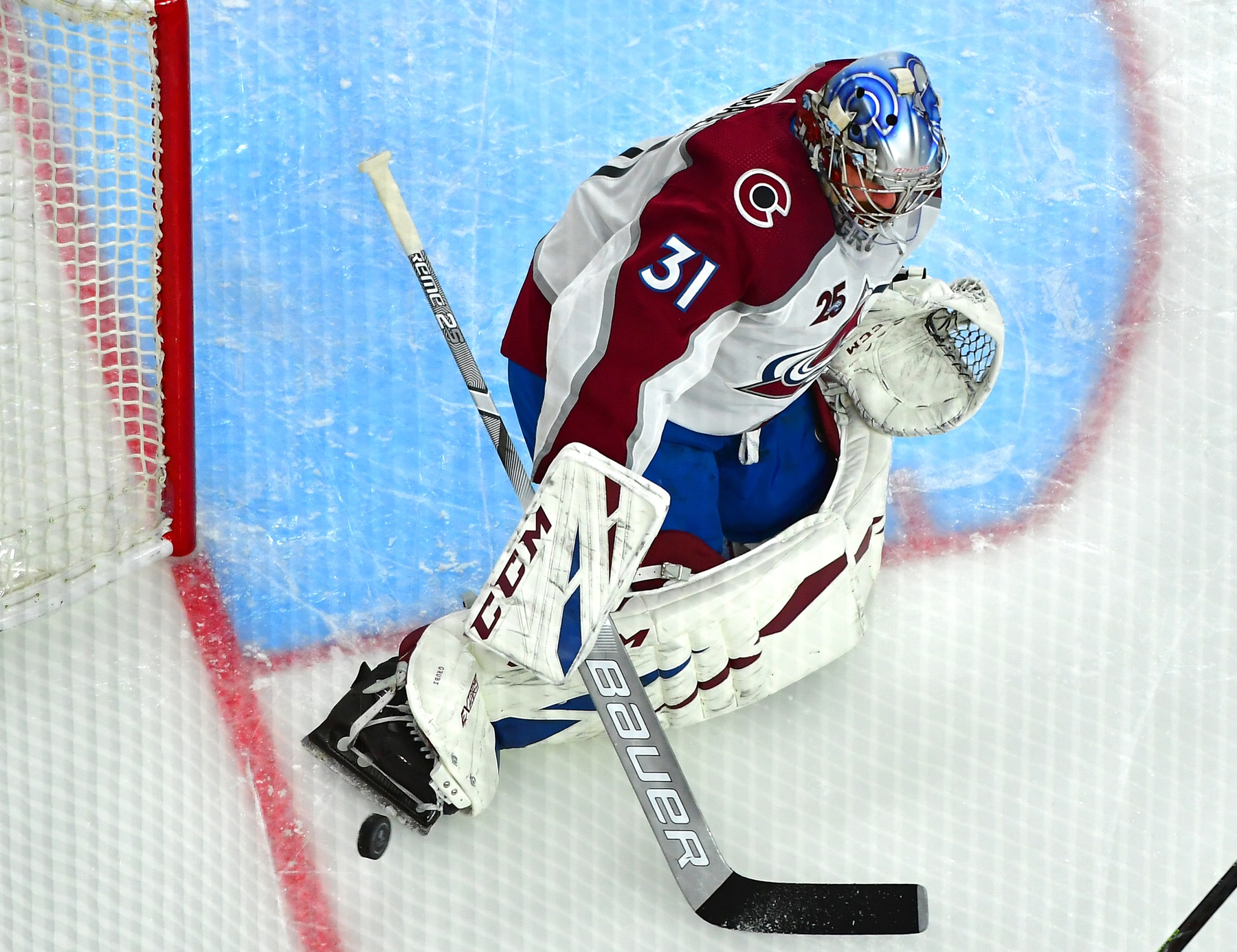 That may have been the best worst performance the Avalanche have had this year.
The Avs needed to win in regulation to control their own destiny of winning the Presidents' Trophy. And they somehow made it happen, defeating the Vegas Golden Knights 2-1.
But it wasn't pretty.
Colorado could barely generate any offense. It was physically outmatched and needed goalie Philipp Grubauer to steal the show. And all of this against a team that dressed just 15 skaters because of salary cap implications. The Knights played with just 10 forwards and five defensemen.
"Vegas was more competitive, won the bulk of the puck battles, played with more pace, better execution," an extremely blunt Avs coach Jared Bednar said. "Their commitment to check was strong and I didn't think we executed what we wanted to do at all."
But as the saying goes, they don't ask how, they ask how many. And if they asked how many goals were scored, well, the Avalanche had two and Vegas couldn't get more than one past Grubauer, who made 36 saves.
The Deen's List:
Grubauer's Vezina chase
Grubauer has been in the race for the Vezina Trophy as the NHL's most valuable goaltender for seemingly the entire season. In March, he led the NHL in nearly every major goaltending category. But that has since shifted towards Tampa Bay's Andrei Vasilevskiy. Grubauer is 29-9-1 — one win away from reaching 30 for the first time in his career. And he's doing it with a marvelous .921 save percentage and 2.00 goals-against average. He is also second with six shutouts.
Vasilevskiy is 31-10-1 but his numbers have dipped to a .925 save percentage and 2.20 goals-against average after he was shellacked for four goals in a 4-0 loss at Florida.
There's also Vegas' Marc-Andre Fleury and former Av Semyon Varlamov that are likely in the conversation as well.
A nomination is all but guaranteed at this point for Grubauer. We'll have to wait and see if he ends up winning it all. I like his chances.
Second-period scoring
It wasn't the prettiest second period the Avalanche have played. But as is the theme of this game, Colorado managed to outscore the Golden Knights.
Vegas outshot the Avs 15-4 in the second but the lone goal came from Avalanche forward Andre Burakovsky. His tally was the 71st second-period goal Colorado has scored, the second-most in the NHL behind the Washington Capitals (77).
But the Avalanche's second-period dominance goes past just the goals they score. They've surrendered a league-low 35 goals in the middle frame and have an NHL best plus-36 goal differential in that period.
Games are not won in the second period but you can certainly do a lot worse than outscoring your opposition by a 2-1 margin in any 20-minute period.
Burakovsky's century mark
Burakovsky's goal was also his 100th career goal. He struggled for large parts of the season but has been on a tear recently, scoring four times and adding five assists during a six-game point streak.
Burakovsky has scored 38 goals in 109 games since being acquired from Washington nearly two years ago. He had 62 goals in 328 goals with the Capitals.
Not a bad start to your Avs tenure, Burky.
Season series winners
By defeating the Golden Knights in regulation, Colorado improved to 4-3-1 against Vegas, who was 4-4 against the Avs.
That means Colorado collected nine points to the Knights' eight, which gives them the season series. The Avs have locked up the season series against each of its division foes. They were 6-1-1 against Anaheim and Arizona, 6-2-0 against San Jose, 5-2-1 against Minnesota, 5-3-0 against St. Louis and currently hold a 5-1 lead on L.A. heading into the final two games at Ball Arena.
Road warriors
After a successful 4-1 road trip, Colorado finishes the regular season with a 17-9-2 record away from home.
Its 17 wins are tied for fourth in the NHL and are one less than Vegas's 18 for first in the West Division.