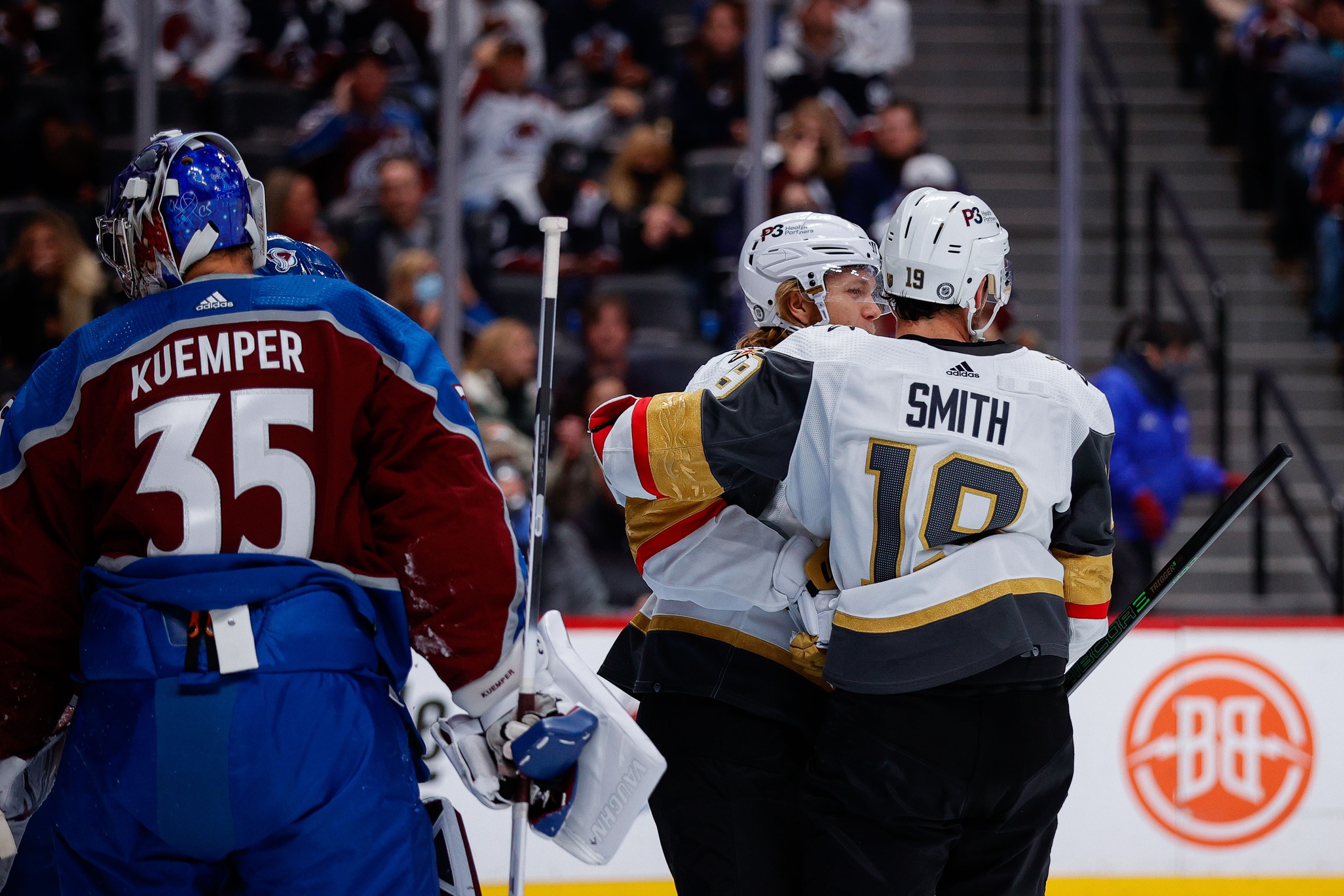 Everything about their game seems disjointed. Could it simply be the absence of Devon Toews? Or is this team still feeling the heat of a sudden playoff defeat? Either way, the Avalanche have played mostly an inspiring brand of hockey through the first six games and at some point, it's time to call it like it is.
"Terrible start. Standing around. That's what it looked like," a visibly frustrated Avs coach Jared Bednar said after his team fell to 2-4-0 thanks to a 3-1 defeat to the Vegas Golden Knights on Tuesday at Ball Arena.
"We weren't prepared to start the game on time. We're sort of stumbling and bumbling along right now. So there's a level of concern."
The Avs once again tried to mount a late comeback but it was too little too late. They had a chance to stick it to the team that eliminated them nearly five months ago. Instead, they came out of the gate with little passion, surrendered a goal on Vegas' first shot and struggled, again, to generate on the power play.
This time allowing a shorthanded goal for good measure.
Deen's List
Five minutes for… interference?
This was the talk of the night.
Jack Johnson leveled Keegan Kolesar and immediately had to answer the bell, fighting Nicolas Roy. Kolesar was shaken up but eventually returned to the game and scored the empty netter. But the officials felt it was necessary to call it a five-minute major for interference — a call you rarely, if ever, see called.
A lengthy review confirmed the call against Johnson.
"They give him five minutes and a game for interference?" Avs captain Gabriel Landeskog said. "Looked to me like Kolesar had the puck and it was about as clean of a hit as you can make. But it is what it is, you know. We can't control the refs. They make the judgment and that's that. Not allowed to say much more."
I admittedly had no idea what the officials were reviewing after the fight and it's still as questionable a call as I've seen. Johnson did not charge, the hit was not reckless nor did he catch Kolesar up high. It seemed like a regular hockey hit worthy of a two-minute minor if, and only if, Kolesar did not touch the puck as it passed him.
It was apparent that both Landeskog and Bednar did not agree with the call that would eventually put them shorthanded for three minutes — since Roy also received a minor for instigating the fight. And both were visibly upset answering questions about the hit post-game.
But hey, the Avalanche scored on the 4-on-4 and killed off the penalty so it didn't end up being a game-changer. It's still a puzzling call all around.
Listen to "Stumbling and Bumbling" on Spreaker.

Bo's rise
Nobody expected Avs 20-year-old rookie defenseman Bowen Byram to be this good this early in the season. Not even Bednar.
Byram played a career-high 26:07 — matching the ice-time of his partner Cale Makar to lead the team — and had about as good a game as anyone on the Avalanche.
"Credit to Bo. I know his history. I've watched him play, I've seen what he's done," Bednar said. "But I also know a lot of young players come in and it's more difficult than what you think it's going to be. But Bo's made the adjustments, he's put in the work and his style fits the pro-style."
"And really it was almost like a switch for me — Day one of the regular season. He had a slow camp and didn't love him in exhibition. His game seems confident but pretty casual not making a huge impact. We had some conversations. And he snapped out of it right away."
Powerless on the power play
The Avalanche had two power-play opportunities in the first period — two chances to dig themselves out of a one-goal deficit.
Instead, they came up empty on both and even allowed a shorthanded goal on the second. Colorado finished 0-for-2 with the man-advantage and is now 2-for-22 on the season. That's good for 30th in the league.
Not good.
Contender woes
The Avalanche aren't the only expected Stanley-Cup contender struggling out of the gate. In fact, the team that just defeated it has an identical record.
The Golden Knights dropped four straight games — each by multiple goals — before its victory over the Avalanche on Tuesday. Like the Avs, the Golden Knights are also struggling to score with the man advantage. And by struggling, I mean they're yet to score at all. Vegas is 0-for-14.
It's a far cry from the dominance the two teams had on the West Division in 2020-21.
Gutted blueline depth
The emergence of Johnson at training camp gave the Avalanche seven quality defensemen, as well as Kurtis MacDermid as No. 8 on the depth chart.
But with Toews still missing from the lineup — albeit for not much longer — and Samuel Girard's recent injury, the Avs had to use MacDermid. But to make matters worse, the ejection to Johnson late in the second period left the Avs with Makar, Byram, Erik Johnson and Ryan Murray.
MacDermid was still used sporadically after the ejection,
__
Aarif Deen is our Colorado Avalanche beat reporter. He covers Avs games live from Ball Arena and attends practices, media availabilities and other events pertaining to the Avs on the daily beat. He is also a co-host of Hockey Mountain High: Your go-to Avalanche Podcast. Deen joined Mile High Sports upon completion of his bachelor's degree in journalism and master's in business administration from the University of Michigan – Dearborn. Before Mile High Sports, Deen worked for the Michigan Wolverines Athletics Department as the assistant sports information director.
Follow him on Twitter @runwriteAarif
Listen to "Stumbling and Bumbling" on Spreaker.