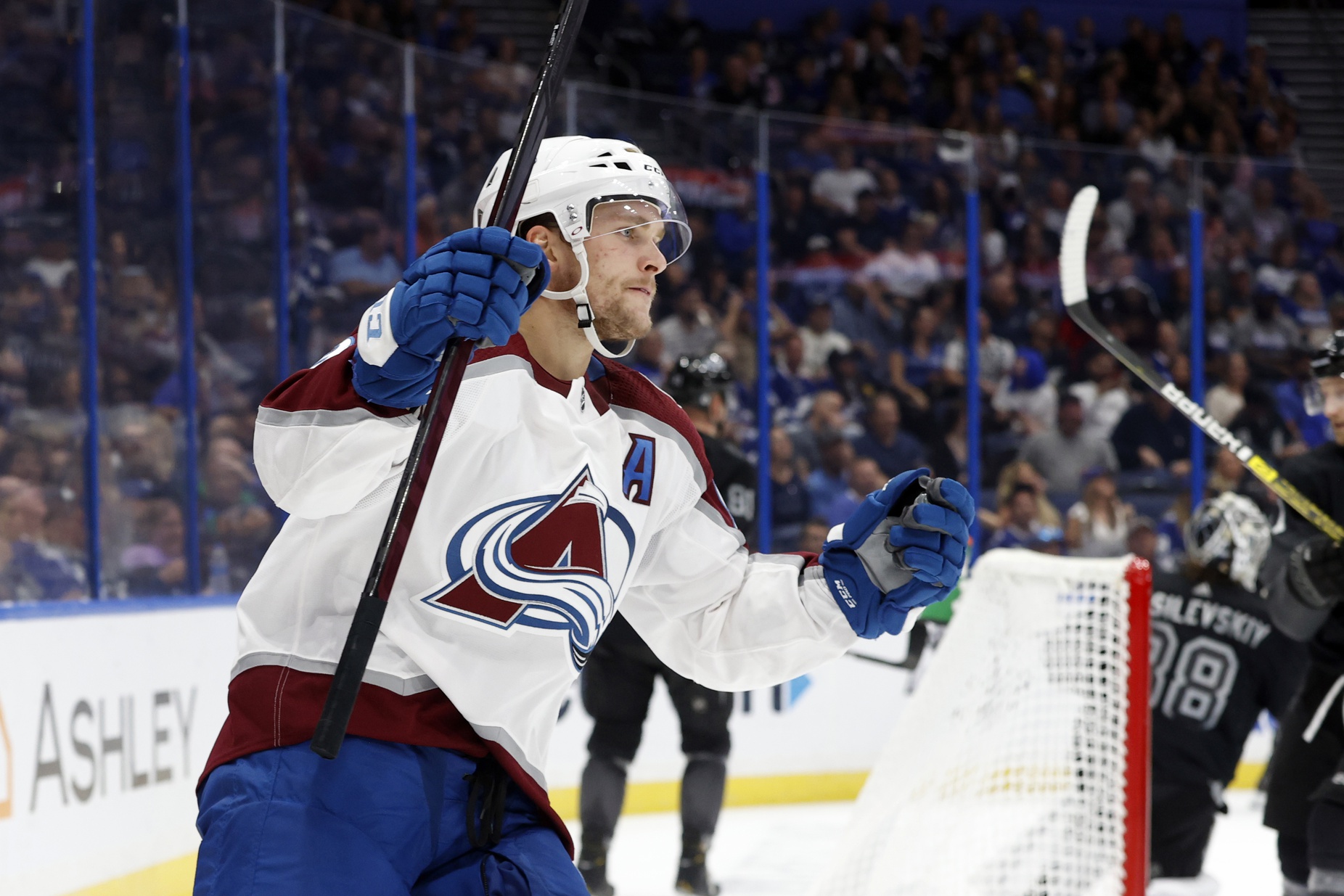 It was easily the most entertaining game the Avalanche have had this season and it was all thanks to the team's top guns.
Colorado went head-to-head with the two-time reigning Stanley-Cup Champion Tampa Bay Lightning on Saturday and walked away from Amalie Arena with a 4-3 shootout victory. Nathan MacKinnon, Mikko Rantanen Gabriel Landeskog and Cale Makar all rebounded in a big way, scoring every Avalanche goal — including the shootout tally's — to end a three-game losing streak.
The top line and Makar are the highest-paid players on the team, and along with goaltender Darcy Kuemper, will be the key cogs in the Avs' chances at making a deep playoff run. Each of them also played big minutes on Saturday.
Even though Colorado's depth was gutted this offseason, the conversation of how much success this team will have will always start and end with its top stars.
Deen's List
Cale Makar
The leader in ice-time, coming in at a whopping 28:29.
Makar had his best game yet. And it was much needed. The 22-year-old was a minus-8 in the previous two games of the road trip but was excellent against the Lightning. He scored the game-deciding goal in the sixth round of the shootout and pitched in with two assists.
More importantly, Makar cleaned up his defensive game, limiting turnovers and doing a great job of keeping Tampa Bay's star power from dominating the game.
Nathan MacKinnon
Listen to "Almost an Okay Road Trip" on Spreaker.

He led the forwards with 25:26 of ice time.
MacKinnon had his best game yet. It's crazy to think this was only his third appearance of the season. In his first two, MacKinnon averaged less than 20 minutes of ice time, had two assists and was a minus-7. The Avalanche needed more from their top star and they got it against Tampa Bay.
MacKinnon was all over the ice. He scored a power-play goal in the third period, ending Colorado's scoreless stretch with the man advantage. He also added two assists. It was the first time during the road trip that we saw MacKinnon utilize his speed to generate offense. In one particular play, MacKinnon outskated the Lightning defense and fed Rantanen for a one-timer that beat goalie Andrei Vasilevskiy.
It was only a matter of time before we saw this MacKinnon come to life.
Gabriel Landeskog
In just his third game of the season, Landeskog played 24:46.
The captain was the heart of the Avs on Saturday. He was as aggressive offensively as he's been in quite some time. Rather than always looking for a pass, Landeskog was focused on throwing everything he could at the net. It paid off once and almost did again on a number of occasions.
Landeskog had two points on four shots. And who could forget his clutch goal in the shootout to keep the Avalanche alive?
Mikko Rantanen
His 24:43 was the fourth most ice-time for the Avs but the most he's played this season.
Rantanen has had a point in each of Colorado's first five games of the year. But despite his consistent offensive output, there was still more to be had from the team's top scorer last year.
Rantanen's game Saturday reached that next level.
He only had a goal, but he also had six shots, was strong in overtime and scored a much-needed shootout goal to tie it up in the early rounds.
Darcy Kuemper
Kuemper's game was solid. He made 29 saves, some of them on grade-A opportunities in a head-to-head with the NHL's best goalie in Vasilevskiy.
If the Avs can clean up some of the turnovers in front of Kuemper, and he provides this level of play for his team, then he's going to be one of the better goalies in the NHL all season long.
None of his saves were bigger than a goal-line paddle stop with four minutes left in the third period. Even though the Lightning ended up tying the game moments later, that save from Kuemper was just a preview of what he could provide.
"Hi, we'd like to report a robbery…"

Darcy Kuemper with some BRILLIANCE. 😰 pic.twitter.com/f7fU5zVvQZ

— NHL (@NHL) October 24, 2021
He was also strong when he needed to be in the shootout, stopping the last two Lightning shooters to give the Avs multiple opportunities to win the game.
__
Aarif Deen is our Colorado Avalanche beat reporter. He covers Avs games live from Ball Arena and attends practices, media availabilities and other events pertaining to the Avs on the daily beat. He is also a co-host of Hockey Mountain High: Your go-to Avalanche Podcast. Deen joined Mile High Sports upon completion of his bachelor's degree in journalism and master's in business administration from the University of Michigan – Dearborn. Before Mile High Sports, Deen worked for the Michigan Wolverines Athletics Department as the assistant sports information director.
Follow him on Twitter @runwriteAarif
Listen to "Almost an Okay Road Trip" on Spreaker.