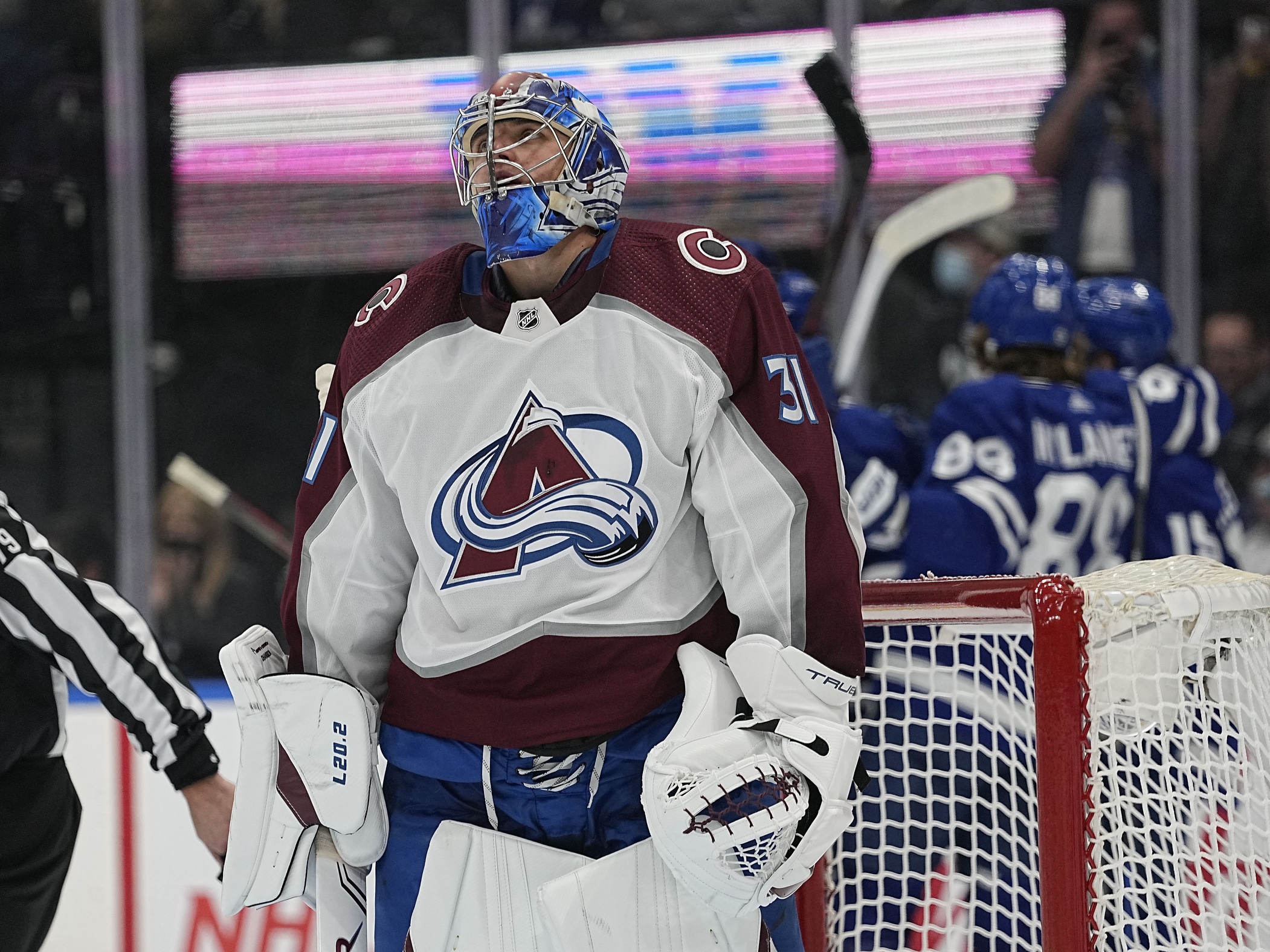 TORONTO — What could've been one of the better games of the NHL season to date turned into a lopsided offensive outburst for the home team. And the culprit was once again the goalie carousel that has haunted the Avalanche for most of the season.
The Toronto Maple Leafs lit up Colorado's third string goalie Jonas Johansson on Wednesday, handing the Avalanche an 8-3 loss at Scotiabank Arena in the first of a long road trip spanning five games in eight nights. But what makes matters worst is the sudden upper-body injury to starting goalie Darcy Kuemper just as the team's schedule gets busy.
"I don't have a sense of how severe it is," head coach Jared Bednar said.
Kuemper took part in morning skate and was announced by Bednar as the starter afterward. But something changed between the early afternoon hours and the 7:30 PM local puck drop.
"I found out after I did (media availability). Like 30 minutes after."
Moments before warm-ups, the Avs publicly announced that Kuemper was out and Johansson would instead start for the second consecutive game. And his backup goalie would be local emergency goalie Jett Alexander, a 22-year-old playing for the University of Toronto. He was later replaced by Justus Annunen, who was en route to Toronto to join the team. Annunen landed in Toronto less than a half hour before the opening puck drop.
Colorado has already had its fair share of goaltending drama through the first seven weeks of the season. Goaltender Pavel Francouz, who was ready to return after missing the entire 2020-21 season, was injured in a preseason game and has been on the shelf since. Kuemper, while inconsistent, has been pulled three times over the past few games because of a skate blade issue that seemingly hindered his ability to get into a rhythm.
The emergency goalie from a local university is only the cherry on top.
The Maple Leafs and Avalanche were two of the hotter teams in the NHL entering this battle of hopeful Stanley-Cup contenders. But without Kuemper, the Leafs were able to flex their offensive muscles all the while knowing their goalie Jack Campbell would hold down the fort at the other end.
"You're only as good as as you play and tonight we didn't play very good so we're not a very good hockey team tonight," Avs captain Gabriel Landeskog said. "But we know that we can be and tonight is just a good reality check."
Toronto jumped out to a 3-0 lead before the first period was three-quarters of the way through. That third goal has often been the decider as Campbell has surrendered more than two goals just four times in 18 games — with tonight's third goal coming when his team already had a six-goal stranglehold.
Johansson wasn't the entire problem. The Avs didn't help him much defensively, especially in the earlygoing. Most notably the first of three goals from one of the best shooters in the NHL, Austons Matthews. The 24-year-old had ample time all alone in the crease to hang Johansson out to dry.
Johansson otherwise had a lot of pucks hit him on the way in, which is often deemed an unsuccessful play by a goalie.
"He wasn't good," Bednar said bluntly of Johansson's performance.
"Their goalie was good. We didn't test him enough in the first or in the third but he had a pretty good night."
Whether Kuemper starting would've altered the outcome of the game is unknown. But the Avs being unable to rely on their goalie to bail them out is also an issue.
Colorado won't have much time to sulk on this one. It travels to Montreal for the second of a back to back on Thursday where it's possible Annunen could suddenly be called on to make his NHL debut.
I'll talk to Joe tonight and see what he thinks," Bednar said of the potential for Annunen starting." I'll talk with our coaching staff. I'm not that far yet."
Colorado's next two opponents, the Habs and the Ottawa Senators, are not having nearly as good a season as Toronto. The two have combined for just 10 wins — one less than the Avs. But without Kuemper, and with so many games crammed in before Christmas, the Avalanche may need their league-best offense to continue to score at will. It may be the only way to win games until either Kuemper or Francouz are ready to return.
"He'll stay on the trip for now," Bednar said of Kuemper. "We'll keep an eye on him for a couple of days and see how it plays out."
Listen to "The Big Game" on Spreaker.

Deen's List:
Nate's not-so-great return
Not many storylines could overshadow the return of one of the league's elite forwards. Superstar center Nathan MacKinnon returned after missing eight games. The Avs were 7-1 without their most skilled forward despite MacKinnon having just one goal in nine (now 10) games.
By the time MacKinnon was able to find his rhythm and set up Samuel Girard for a goal, Colorado was already trailing 3-0. He finished with two assists and five shots in 21:40.
"He was okay," Bednar said, describing MacKinnon's first game in more than three weeks. "I thought their their top six was humming. I'm not putting it on our top six, it's on our whole team. But they were humming and they were playing well so it was a lot for our guys to handle. I didn't think a lot of those guys had a good night."
Road woes
Outside of a successful two-game road trip through Vancouver and Seattle, the Avalanche have struggledon the road throughout the last month. Colorado started November with a 4-2 loss in Columbus and ended it with a deflating 3-1 loss in Dallas to end their six-game winning streak. They're 4-5-0 on the road, where they play the next four games and 11-of-16 in December.
No luck on the draws
The Avalanche's inability to win faceoffs seems to be an issue that has hurt the team for more than a half decade. Colorado entered the game ranked 25th in faceoff win percentage (47.8) and made matters worse by winning just 22-of-64 (34 percent) on Wednesday.
Winning faceoffs isn't an end-all be-all stat, but when you're losing nearly seven of every 10 it's going to hurt you. Colorado lost a number of crucial faceoffs in their own end which led to lengthy shifts of Toronto controlling play in the offensive zone.
"When they capitalize on them it puts us in tough situations," Bednar said. "You're chasing the game right away. You want to play with the puck."
__
Aarif Deen is our Colorado Avalanche beat reporter. He covers Avs games live from Ball Arena and attends practices, media availabilities and other events pertaining to the Avs on the daily beat. He is also a co-host of Hockey Mountain High: Your go-to Avalanche Podcast. Deen joined Mile High Sports upon completion of his bachelor's degree in journalism and master's in business administration from the University of Michigan – Dearborn. Before Mile High Sports, Deen worked for the Michigan Wolverines Athletics Department as the assistant sports information director.
Follow him on Twitter @runwriteAarif
Listen to "The Big Game" on Spreaker.