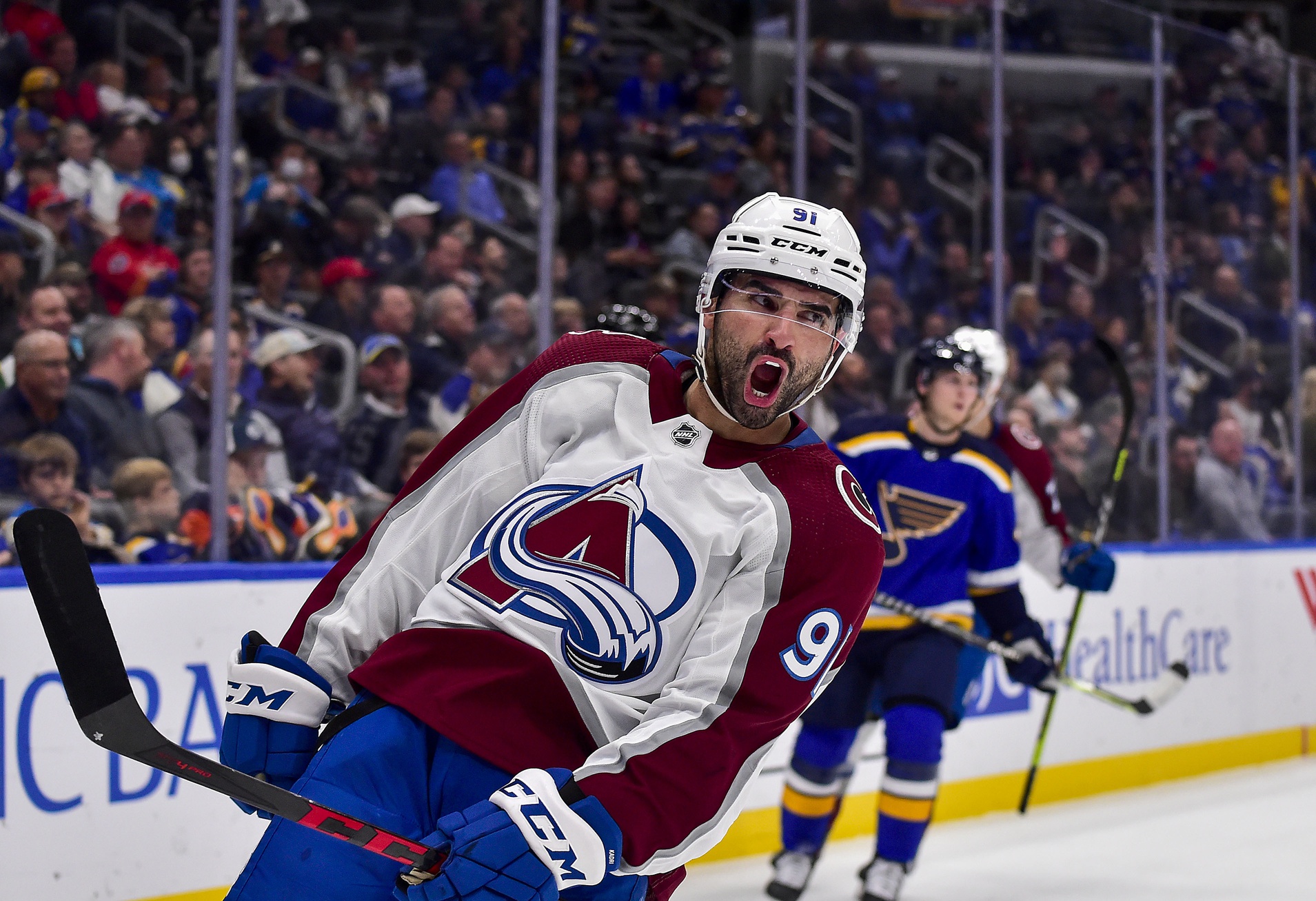 The St. Louis Blues apparently were not done trying to inflict revenge on Avalanche forward Nazem Kadri. They tried, they failed and they lost their first game of the season because No. 91 in white got into their head, got them off their game and even scored a goal for good measure.
The Avalanche defeated the Blues 4-3, outshooting them 42-18 in the process. Kadri had four shots.
Kadri answered the bell — again — for a hit on Justin Faulk in the first round of the playoffs in May. This time he fought Faulk, who was given 17 minutes in penalties for jumping Kadri at the start of the game.
Later on, after scoring to make it 3-1, Kadri was involved in a scrum involving Blues goaltender Jordan Binnington. Kadri kept himself away from the physicality but exchanged words with Binnington after he swung his goalie stick in Kadri's face. Both players went on to receive 10-minute misconducts.
If the Blues wanted any chance of winning their sixth straight to start the season, all they needed to do was come out and focus on hockey. Instead, they chose to focus on Kadri. And Kadri was the decoy to what was easily the best game Colorado has played all season.
Deen's List
Beating an undefeated team
From the Avs' point of view, winning a game like this was just what the doctor ordered. Sure, they started the season strong on opening night. But it was against a team that has yet to win a game.
The victory against Tampa Bay last week was also great, but they didn't get the spark they were hoping for to carry into their next game. But to beat a St. Louis team that was undefeated — on the road — and rebound from a bad effort at home? More of that.
Coaching clinic
Avs coach Jared Bednar deserves a lot of credit. This was the most structured and ferocious the Avalanche have looked all season.
The Avs did everything right from the opening faceoff. They controlled the pace, the puck and the game. St. Louis was scoring at will through its first five games — including a game at Ball Arena two weeks ago — but struggled to generate much offensively.
The final score doesn't quite tell the whole story. Some may say it's disappointing the Avs even allowed the Blues to hang around to the final buzzer. But this was the exact performance a team without Devon Toews, Pavel Francouz, Valeri Nichushkin, Samuel Girard and suddenly Mikko Rantanen needed.
Kudos, coach.
Listen to "Division Rivals" on Spreaker.

All hands on deck
Bednar was masterful behind the bench but each and every one of the Avs were strong on the ice. Everyone had a shot on goal for Colorado except for defenseman Ryan Murray and all he did was pitch in with two assists.
The biggest issue the Avs faced in the first six games was inconsistencies among the group. You'd often have a few players on their game, but it would be balanced out with a lot of passengers.
There wasn't many passengers on the team Thursday.
J.T. Compher
If the J.T. Compher we've seen for seven games is the Compher we're going to see for all 82, then he's well worth $3.5 million.
Compher scored the first two goals for Colorado after it fell behind 1-0. He leads the team with four goals.
Forward Jacob MacDonald
The Avalanche learned earlier in the day that Rantanen would be unable to dress. It was later confirmed by Bednar that Rantanen tweaked something in practice and is considered day-to-day with a lower-body injury. But without its star right-winger, the Avs turned to the only eligible player they could dress to replace him.
Jacob MacDonald.
MacDonald, who has played forward in the past with the Colorado Eagles, had a good night. He often got in Binnington's face, battling in the crease to help generate gritty scoring chances down low.
The points didn't come on Thursday, but it was still a pleasant surprise. Especially for a team whose depth seems to be more depleted by the day.
__
Aarif Deen is our Colorado Avalanche beat reporter. He covers Avs games live from Ball Arena and attends practices, media availabilities and other events pertaining to the Avs on the daily beat. He is also a co-host of Hockey Mountain High: Your go-to Avalanche Podcast. Deen joined Mile High Sports upon completion of his bachelor's degree in journalism and master's in business administration from the University of Michigan – Dearborn. Before Mile High Sports, Deen worked for the Michigan Wolverines Athletics Department as the assistant sports information director.
Follow him on Twitter @runwriteAarif
Listen to "Division Rivals" on Spreaker.