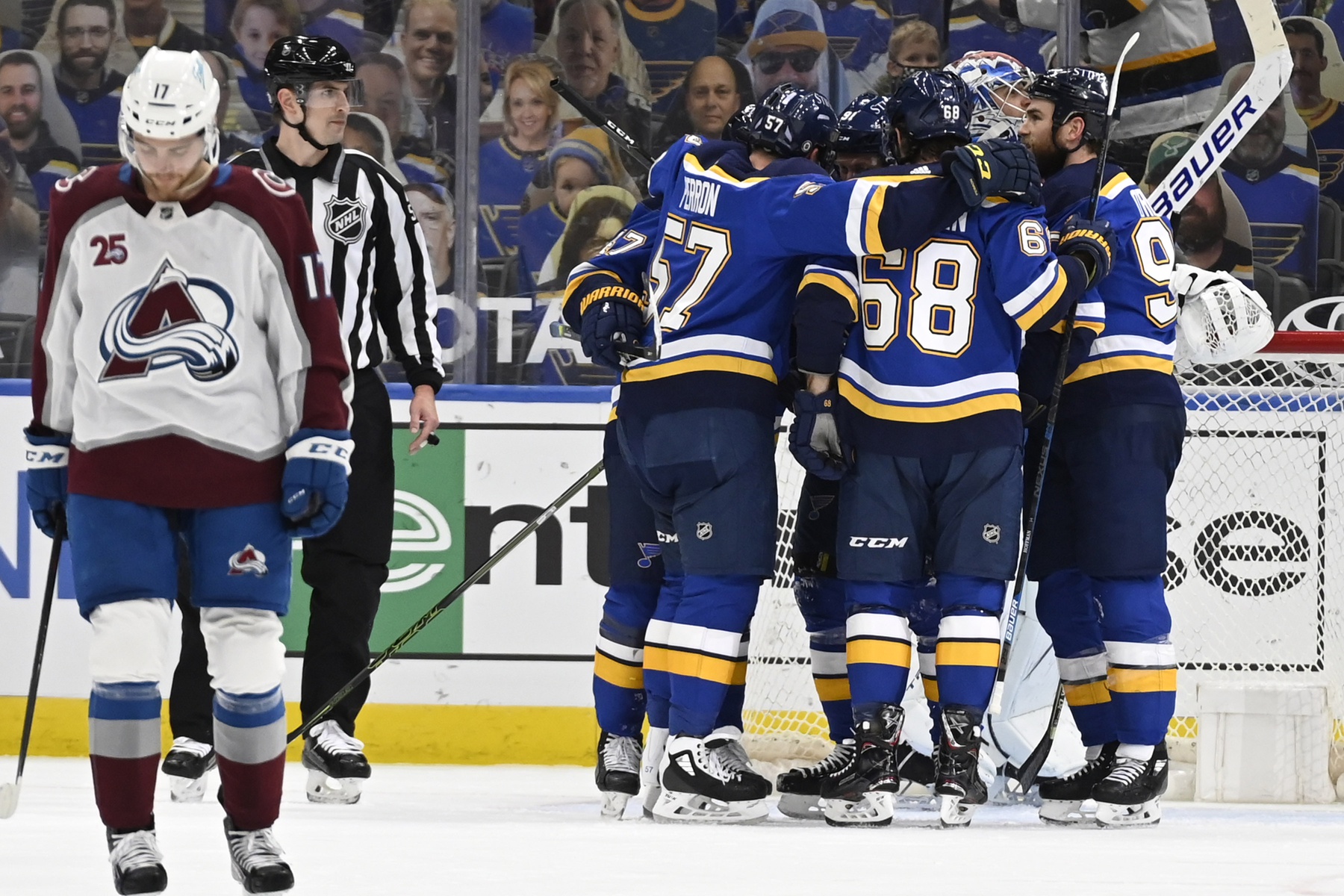 The Deen's List calls it like it is. The Avalanche stunk Monday night in St. Louis.
The Avalanche struggled from the onset, surrendering the first three goals and falling 4-1 in the eighth and final meeting against the Blues. The playoff-bound Avs are a really good team. But the Deen's List is going call each game as it was:
5-on-5 can't find its stride
Colorado's top line of Nathan MacKinnon, Gabriel Landeskog and Andre Burakovsky were a combined minus-15 in two consecutive losses to the Blues. They were each minus-3 Monday.
Chalk that up to a lack of production at even strength. Colorado scored one goal, a power-play tally from MacKinnon. In Saturday's 5-3 loss, MacKinnon scored with the man-advantage in the second period and before that, the Avs scored twice early in the first period.
The first goal was on a two-man advantage and the second came a mere seven seconds after the second penalty expired. While that goal technically counted as 5-on-5, it came from the momentum and pressure the Avs had from the power play.
The Blues have otherwise shut the Avalanche down. The top line for St. Louis, centered by Ryan O'Reilly, has outscored Colorado's top line 5-2 at 5-on-5 in two games.
Depth was tested
The Avalanche's depth has already been tested, earlier this year and in their previous two games after an eight-day break due to their second COVID pause of the season.
No. 1 goalie Philipp Grubauer has not played in four games while leading goal-scorer Mikko Rantanen has been absent for three. Joonas Donskoi, a staple in Colorado's middle six, has missed the last four. Forwards Matt Calvert and Logan O'Connor and defenseman Bowen Byram also remain out.
Colorado was also missing Brandon Saad, who is out 2-for-4 weeks with an upper-body injury he suffered Saturday. Depth defenseman Jacob MacDonald is also week-to-week; he has not played since the latest pause.
The Avs need Grubauer
This game isn't on goalie Jonas Johansson nor was Saturday's loss on Devan Dubnyk. But what Grubauer brings to this team is a goaltender that has the ability to steal games when his teammates aren't at their best.
Grubauer will not play in the crucial game against the Vegas Golden Knights on Wednesday. But Avs coach Jared Bednar expects to lean heavily on his starter down the stretch. Colorado trails Vegas by four points but has a game in hand. Collecting two points Wednesday would be a big haul.
Second-line struggles
Second-line center Nazem Kadri has not scored in nine games. While the Avs have suffered from numerous injuries and COVID-related absences, which have affected his linemates, Bednar was adamant that Kadri's lack of production is because of his play.
Bednar has juggled Kadri's wingers in recent games in an attempt to spark his game. Before the COVID pause, he removed Saad from his line, adding a red hot Donskoi in an attempt to help Kadri produce.
When will Kadri find his groove? We all know he has it.
Listen to "Hockey Mountain High: Your go-to Avalanche Podcast" on Spreaker.