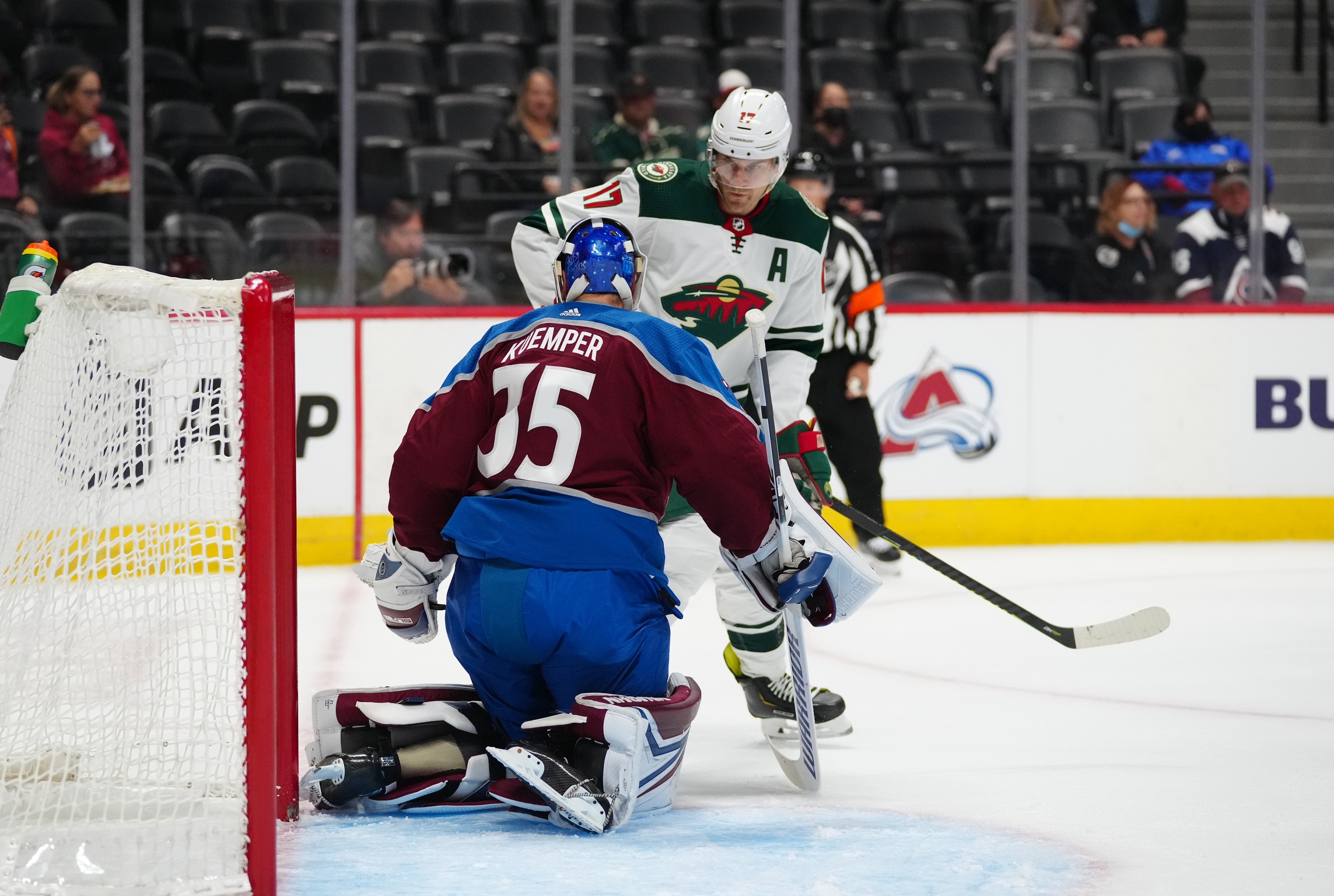 It's not often you see preseason games get as heated as this one. And if they do it's usually fringe players trying to set the tone physically to get noticed. But that wasn't the case between the Avalanche and Minnesota Wild on Thursday at Ball Arena.
The Avalanche were victorious 6-4. But the highlight of the game was the physicality in the second period involving established veteran players. There was some pushing and shoving in front of Colorado's crease after whistles. But things heated up later.
Avalanche forward Nazem Kadri, playing in his first game since serving an eight-game playoff suspension last spring, was the victim of two near-dangerous hits, the second of which came from Ryan Hartman. Kadri retaliated with a cross-check before an enraged Gabriel Landeskog jumped Hartman in defense of his linemate.
Landeskog was also upset with how quick Hartman went down after the Kadri hit.
Listen to "The One With Greg Wyshynski" on Spreaker.

Landeskog got some punches in before the gloves were dropped and was livid — as was Hartman — as the linesmen stopped the pair from fighting. Both Landeskog and Hartman received two minutes for roughing and a 10-minute misconduct.
Kadri was called for the retaliatory cross-check and later received a 10-minute misconduct of his own for arguing his case from the previous melee.
No one was hurt. But there was certainly no love lost between two of the better teams a season ago.
Anyway, let's dive into some individual performances. Because after all, that's where the focus usually is in preseason games — unless you have an angry Landeskog.
Deen's List
Nazem Kadri
Preseason, regular season or playoffs, Kadri always wears his heart on his sleeve. But he has a little more to prove coming off the aforementioned suspension. He's also in a contract year and has yet to discuss an extension with Colorado.
Kadri wants to win a Stanley Cup. But he also wants to be a factor. He came into tonight knowing he needs a reset. Kadri scored the game's opening goal and assisted on another in the first period before the craziness ensued later in the game.
Not a bad return for Kadri. He's still got it offensively. And this game was just another reminder that he can bring it physically. As long as he doesn't cross the line.
More of this, Naz.
Erik Johnson
Veterans don't always have something to prove in the preseason. But as is the case with many of the names on this list, defenseman Erik Johnson is certainly a special case.
Johnson appeared in just four games for the Avs before a concussion ended his season early. The veteran waived his no-move clause for the expansion draft to help his team but also has an itch to prove he's still a valuable top-four defenseman.
With the game tied at 1-1, Johnson scored perhaps the nicest goal of the evening. The teams were playing 4-on-4, and Johnson snuck in down low, received a pass from Landeskog and fired a shot top shelf over the shoulder of Cam Talbot from the left circle.
Johnson also added the empty-netter.
Listen to "The One With Greg Wyshynski" on Spreaker.

Darcy Kuemper
It wasn't a great performance by any means for the new Avs starting goalie. Darcy Kuemper surrendered three goals on 15 shots in 31:09 before being replaced by young Justus Annunen right around the halfway point of the game — as is usually the case in the preseason.
Before we all lose our minds and freak out, let's remember it's still preseason and Kuemper has plenty of time to right his wrongs and get his game up to speed before opening night in two weeks.
Justus Annunen
Speaking of Annunen, the 21-year-old suited up for the Avalanche for the first time. He faced a lot of shots early and didn't surrender his first goal until Minnesota's ninth shot against him in just over six minutes. He finished with 19 saves on 20 shots.
Annunen likely won't play NHL games this season and he'll battle Jonas Johansson and others for ice-time for the Colorado Eagles of the American Hockey League. But touted the goalie of the future, Annunen is a must-watch every time he gets a chance to play at this level.
Sampo Ranta
Avs coach Jared Bednar raved about Sampo Ranta's training camp performance earlier this week. And the kid is making it more difficult to keep him off the opening night roster.
Ranta scored a beauty of a shorthanded goal in the second period, sliding it past goalie Andrew Hammond to tie it 3-3. He later assisted on Oskar Olausson's game-tying goal midway through the third period.
__
Aarif Deen is our Colorado Avalanche beat reporter. He covers Avs games live from Ball Arena and attends practices, media availabilities and other events pertaining to the Avs on the daily beat. He is also a co-host of Hockey Mountain High: Your go-to Avalanche Podcast. Deen joined Mile High Sports upon completion of his bachelor's degree in journalism and master's in business administration from the University of Michigan – Dearborn. Before Mile High Sports, Deen worked for the Michigan Wolverines Athletics Department as the assistant sports information director.
Follow him on Twitter @runwriteAarif
Listen to "The One With Greg Wyshynski" on Spreaker.