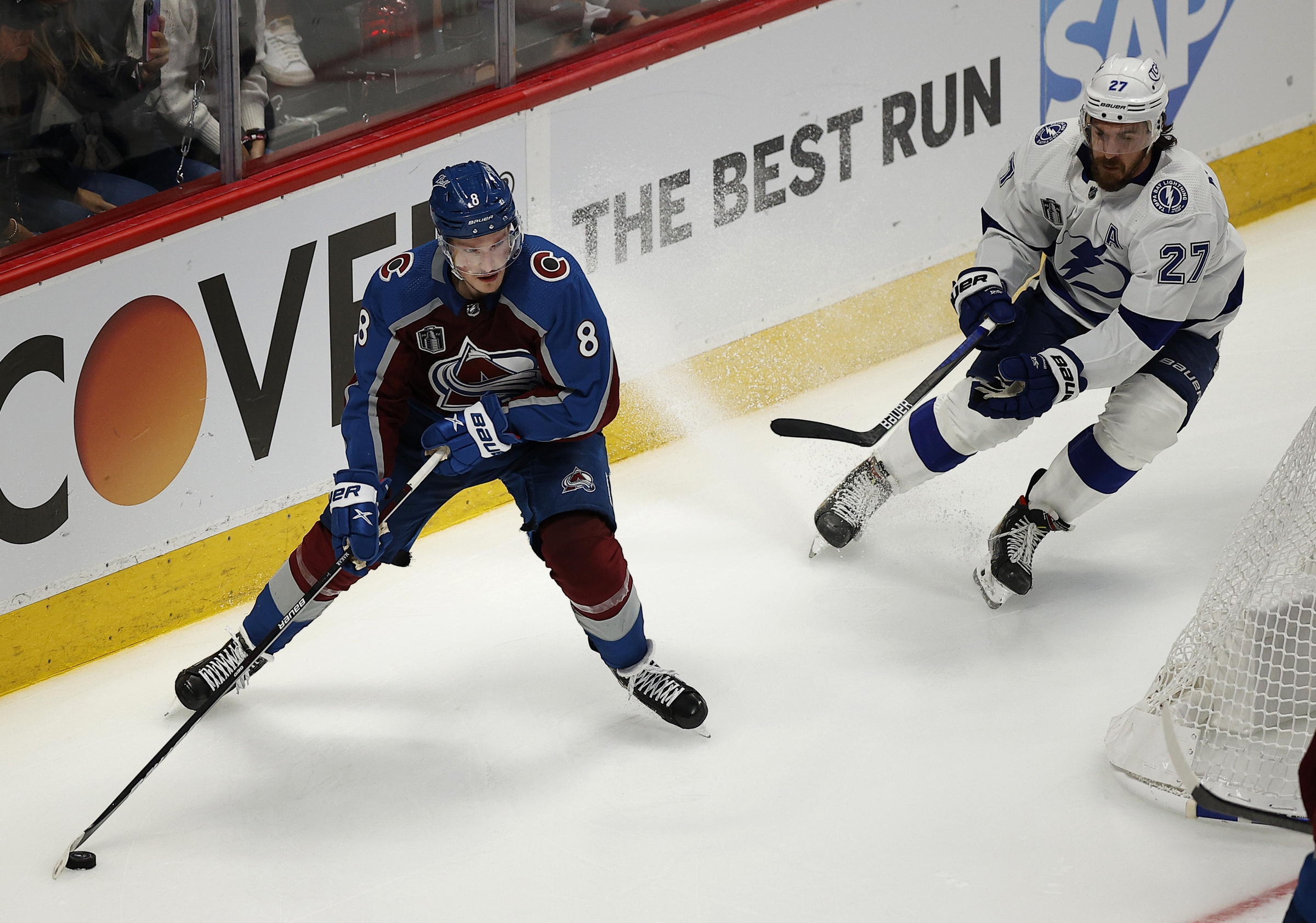 Getting one up on the Tampa Bay Lightning has been the norm throughout the Stanley Cup playoffs. At least in three of four rounds. But building off that early victory hasn't been as easy.
The Lightning are 19-1 since 2020 in bounce-back games following a loss. Their only consecutive losses came in the Eastern Conference final, where the New York Rangers won each of the first two games before Tampa Bay took four straight to close it out in six.
Safe to say, the Avs have their work cut out for them. They're going to need to make adjustments coming off of a victory to build on what was an inspiring start to the Stanley Cup Final.
Offensive Makar
Defenseman Cale Makar was held without a shot on goal for just the third time in 92 games through the regular season and playoffs. Makar put nine shots toward the net but had six blocked and three others miss the net.
"I still felt like we were creating," Makar said. "I still felt even when they were blocking them, our forwards were doing a good job of retrieving them."
the Avs outshot Tampa Bay 38-23 but had just one shot from their top pair of Devon Toews and Makar. Despite the lack of shots finding their way through, the duo doesn't feel anything needs to be changed in their approach of attacking goalie Andrei Vasilevskiy.
"We want to put as much volume on him as possible with traffic in front," Toews said.
Cogliano and Kadri
Without Andrew Cogliano and Nazem Kadri, the Avs had to dip into their depth and use both Nico Sturm and Nicolas Aube-Kubel. While it isn't ideal to be missing two crucial pieces, Avs coach Jared Bednar is very much aware that the depth this season is unlike anything he's had in past years.
This includes veteran defenseman Jack Johnson, who has had to be a regular following an injury to Samuel Girard in Game 3 of the second round.
"I look back to a couple of years ago, we've had some really good teams and it seemed like we'd get in the playoffs and get an injury or two and we're calling up guys from the American League to play for us," Bednar said. "They filled in admirably for us, but it's not the same as putting a guy in that's played 1,100 games and a veteran guy that's been around for a long time."
Kadri skated for the second straight day with a stick but has yet to take shots. Cogliano was a regular participant in practice on Friday and could return for Game 2.
Tampa Bay's bounce back
What makes the Lightning so good at bouncing back is their ability to feel out an opponent, find weaknesses and then strike when those adjustments are made.
"We know that we're gonna see Tampa's best game. They'll be better than they were in Game 1," Bednar said.
Despite trailing 1-0, 2-1 and 3-2 against the Toronto Maple Leafs, the Bolts were able to win Game 6 and 7.
"I think they just trust their system. They trust in what they do and how they found success," Avs defenseman Josh Manson said. "They know that if they do that the results usually follow. I think that's kind of the same mantra that we've taken on is if we play the way that we want to, we'll find success.
"So it's going to be a good battle tomorrow."
__
Aarif Deen is our Colorado Avalanche beat reporter. He covers Avs games live from Ball Arena and attends practices, media availabilities and other events pertaining to the Avs on the daily beat. He is also a co-host of Hockey Mountain High: Your go-to Avalanche Podcast. Deen joined Mile High Sports upon completion of his bachelor's degree in journalism and master's in business administration from the University of Michigan – Dearborn. Before Mile High Sports, Deen worked for the Michigan Wolverines Athletics Department as the assistant sports information director.
Listen to ""The Right Team Won"" on Spreaker.