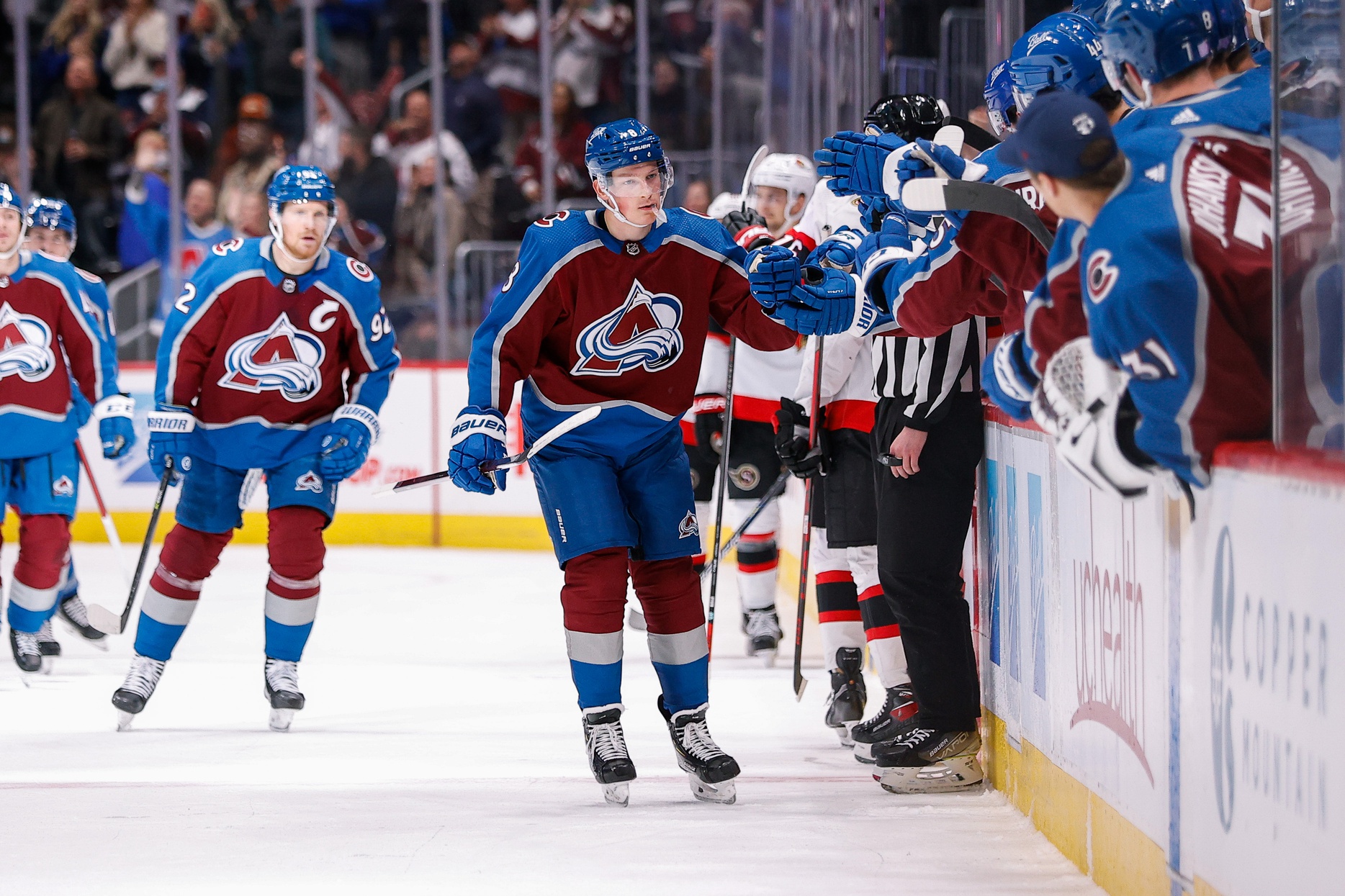 The Ottawa Senators served as a reminder to the NHL that COVID could still alter the schedule at any given time. The Sens were shutdown for three games last week after 10 players and a member of the coaching staff entered COVID protocol.
Their return to action Monday saw them take on the red hot Avalanche at Ball Arena — a game Colorado won 7-5.
We often saw teams get shutdown for periods at a time last season. It happened twice to the Avs. Most of the time, the team returning from a long COVID break struggled in its first game back. But the Senators managed to match the Avs' offense goal for goal until the bitter end. The game-winning goal from Avs rookie Alex Newhook came with just 1:33 remaining in regulation. Colorado also added an empty netter.
Ottawa was outshot 40-21 but capitalized on two-of-three power plays and forward Zach Sanford pitched in with a hat trick. Sanford had scored just two goals in 15 games since being acquired from St. Louis.
"They were the opportunistic team tonight," #Avs coach Jared Bednar said of the Sens. "I think they've been a little bit that way at times this year. Dangerous rush team. They've got some guys that can shoot the puck and I just didn't think we managed it well we had 16 turnovers in the first period."
All things considered, it's not a bad game for a team that has struggled for most of the season. It could be something they build off despite the loss.
As for the Avalanche, you take them however you can when it's this early in the season. Five straight wins is an achievement they desperately needed after a slow start to the campaign.
They'd much rather not surrender five goals in 21 shots but anytime you can score six or more goals four times in a five-game stretch is a success. Colorado has outscored the opposition 31-13 during its five-game winning streak. Their 30-plus goals in five game is a feat the Avs haven't accomplished since December of 1995.
Deen's List
Kadri's stick is magic
As long as Nazem Kadri continues his point streak, he'll continue to get highlighted on Deen's List. This time around, he would've taken center stage regardless, given the offensive outburst.
Nazem Kadri had a whopping four points to extend his point streak to nine games, which ties a career-high from back in November 2017, where Kadri recorded five goals and 10 points while playing for Toronto. He's completely blown by those numbers this time around. Kadri has five goals and 14 assists for 19 points over the last nine games.
"With MacKinnon out, he's really elevated his game," Bednar said of Kadri. "There's more urgency in this game. I think his linemates are playing well too which always helps. Power Play has gotten rolling a little bit but even tonight, I didn't think it was his best game but he made a bunch of really nice plays that led to goals or scoring chances for us."
It's far and away the best stretch of hockey he's played.
"Right now his stick is magic," Bednar said.
Listen to "Another Seven" on Spreaker.

Makar keeps scoring
Defenseman Cale Makar scored two goals for the second consecutive game. His seven goals passed Nashville's Roman Josi for most among NHL defensemen despite playing four fewer games. Makar's 15 points in 13 games keep him atop all blueliners in points per game (1.15).
Makar, who was named NHL's third star of the week following a five-point week, has five goals and seven points over his last three games. He had just eight goals in all of 2020-21 (44 games), where he placed second in Norris Trophy voting. This season, Makar has been shooting the puck more and it's leading to more goals. He had nine shots on Monday.
"We've been talking with him about that for a couple of years," Bednar said of Makar's surge in shots. "So sometimes they just do it and it works out but it's easy again to go back to a guy that's now shooting the puck more and scoring and say continue to do that."
Along with a goal from Devon Toews, Colorado's defensemen have combined for a league-best 17 goals.
Power play powers on
The Avalanche entered the game with a power-play that had scored on 8-of-17 opportunities through the first four games of the winning streak. They failed to capitalize on their first three attempts before Mikko Rantanen played give-and-go with Andre Burakovsky in the third period to tie the game at 5-5. Colorado improved to 9-of-21 on the man advantage in the last five games after scoring just four power-play goals through the first 10 to start the year.
Kuemper struggles
Starting goalie Darcy Kuemper had a strange night. He surrendered five goals on the first 14 shots he faced and made just 15 saves in total. Kuemper also had to exit the game for 2:25 in the second period because of a skate blade issue. His backup Jonas Johansson made one stop before Kuemper re-entered the game. Ottawa went on to score on its first shot on Kuemper upon his return.
Kuemper had been hot for the Avs in recent memory but has also started 13-of-15 games. In Friday's 7-3 victory over the Seattle Kraken, Kuemper allowed three goals on 15 shots in the third period.
It might be time to give him a game or two off. Especially with the upcoming stretch of games for the Avs, which includes a back-to-back right after Thanksgiving.
Second period
The Avalanche had the first 17 shots of the second period and outshot Ottawa 19-4 throughout the entire frame but were unable to lead after 40 minutes. Each team scored once.
The Sens also took a power play into the third period tied 3-3 and scored quickly to take their first lead of the evening. So in some ways, they felt better heading into the intermission than the team with the lopsided shot advantage.
__
Aarif Deen is our Colorado Avalanche beat reporter. He covers Avs games live from Ball Arena and attends practices, media availabilities and other events pertaining to the Avs on the daily beat. He is also a co-host of Hockey Mountain High: Your go-to Avalanche Podcast. Deen joined Mile High Sports upon completion of his bachelor's degree in journalism and master's in business administration from the University of Michigan – Dearborn. Before Mile High Sports, Deen worked for the Michigan Wolverines Athletics Department as the assistant sports information director.
Follow him on Twitter @runwriteAarif
Listen to "Another Seven" on Spreaker.