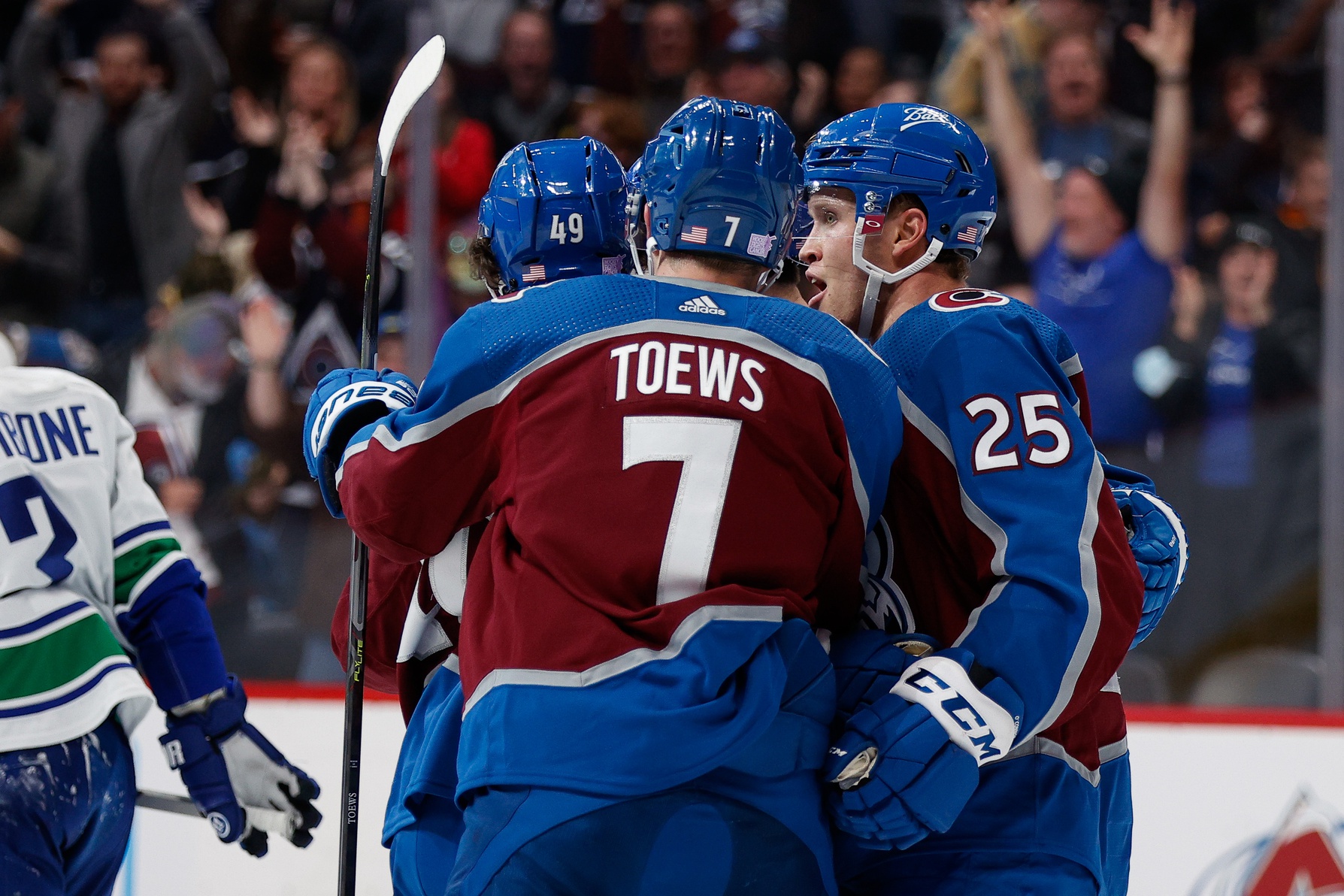 In what was easily their best game of the regular season, the Avalanche dominated the visiting Vancouver Canucks 7-1 on Thursday without superstar center Nathan MacKinnon.
Despite missing their best forward, Thursday's match was perhaps the healthiest Colorado has been all season — although rookie defenseman Bowen Byram left the game in the first period with an upper-body injury, and will be re-evaluated Friday.
Some of the more permanent duos that the Avs used in their Presidents' Trophy-winning 2021 season have rarely played together this year.
But with a fully healthy blueline (before the Byram injury) and a near healthy forward group, Bednar finally got to see some of the line combinations he's likely wanted to use since the team was constructed over the offseason. While many of those combos were ones that worked in the past, others were new-look duos that gelled almost instantly.
Here are some of those pairs that were excellent against Vancouver and should remain together throughout the season.
Devon Toews and Cale Makar
The most obvious pair of them all. Devon Toews gave Cale Makar the exact type of stability he needed to excel to new heights last season. Toews missed each of the first nine games and returned last week while Makar was hurt.
Without Toews, Makar has had an inconsistent start, albeit an inability to partake in preseason games also played a part in that. Regardless, the Makar that played at a Norris-Trophy-worthy level last year did so largely because he played with Toews.
"He's such an important player for us," Bednar said of Toews, who had a goal and an assist in his second game of the season. "Just the calming presence, the poise with the puck. The power play, penalty kill. Intelligent player, elite skater."
Makar also collected two points, both assists, in 22:42.
Listen to "Long Breaks" on Spreaker.

Valeri Nichushkin and Nazem Kadri
I don't believe we talk enough about how well these two complement each other. Nazem Kadri has played with just about every winger the Avs have this season because of injuries, COVID and an early-season suspension to Gabriel Landeskog. But Valeri Nichushkin often brings out the best in him.
"Just the way he uses his body you know he's a big guy and can skate really well," Avs forward Mikko Rantanen said of Nichushkin, who scored in his return to the lineup. "He brings like another physical player into the lineup."
The pairing of Kadri and Nichushkin is one that should remain together as long as both are healthy. Nichushkin's high IQ and ability to possess the puck mixed with Kadri's willingness to get into the dirty areas is going to lead to a lot of goals.
Especially if the third member of the line, Andre Burakovsky, can also get going offensively.
Alex Newhook and Logan O'Connor
You know that thing that you didn't know you needed until you got it and now you can't have enough of it?
That's what this duo was.
Alex Newhook was recalled after a less-than-stellar start to the season and played on a line with Logan O'Connor and Tyson Jost.
Newhook and O'Connor were electric in the first period, using their speed to cycle the puck down low and generate opportunities. The yearly progression of O'Connor mixed with Newhook's raw offensive prowess is the perfect combination for a depth scoring line.
Although he didn't record a point alongside O'Connor, Newhook did assist on the Avs' first power-play goal.
"I think we'll hopefully continue to build some more chemistry going forward, but he's done a great job here lately," O'Connor said of Newhook.
Bonus entry: O'Connor and Darren Helm on the penalty kill. More of that, too.
Samuel Girard and Bowen Byram
It was only a matter of time before Makar, Toews, Byram and Samuel Girard eventually made up the Avs' top two blueline pairs.
The Byram injury puts a damper on this, but Byram and Girard, while both smaller and more offensively-gifted defensemen, actually worked really well together.
It also gives Colorado a heavy veteran presence on the third pair in Erik Johnson and Jack Johnson.
__
Aarif Deen is our Colorado Avalanche beat reporter. He covers Avs games live from Ball Arena and attends practices, media availabilities and other events pertaining to the Avs on the daily beat. He is also a co-host of Hockey Mountain High: Your go-to Avalanche Podcast. Deen joined Mile High Sports upon completion of his bachelor's degree in journalism and master's in business administration from the University of Michigan – Dearborn. Before Mile High Sports, Deen worked for the Michigan Wolverines Athletics Department as the assistant sports information director.
Follow him on Twitter @runwriteAarif
Listen to "Long Breaks" on Spreaker.