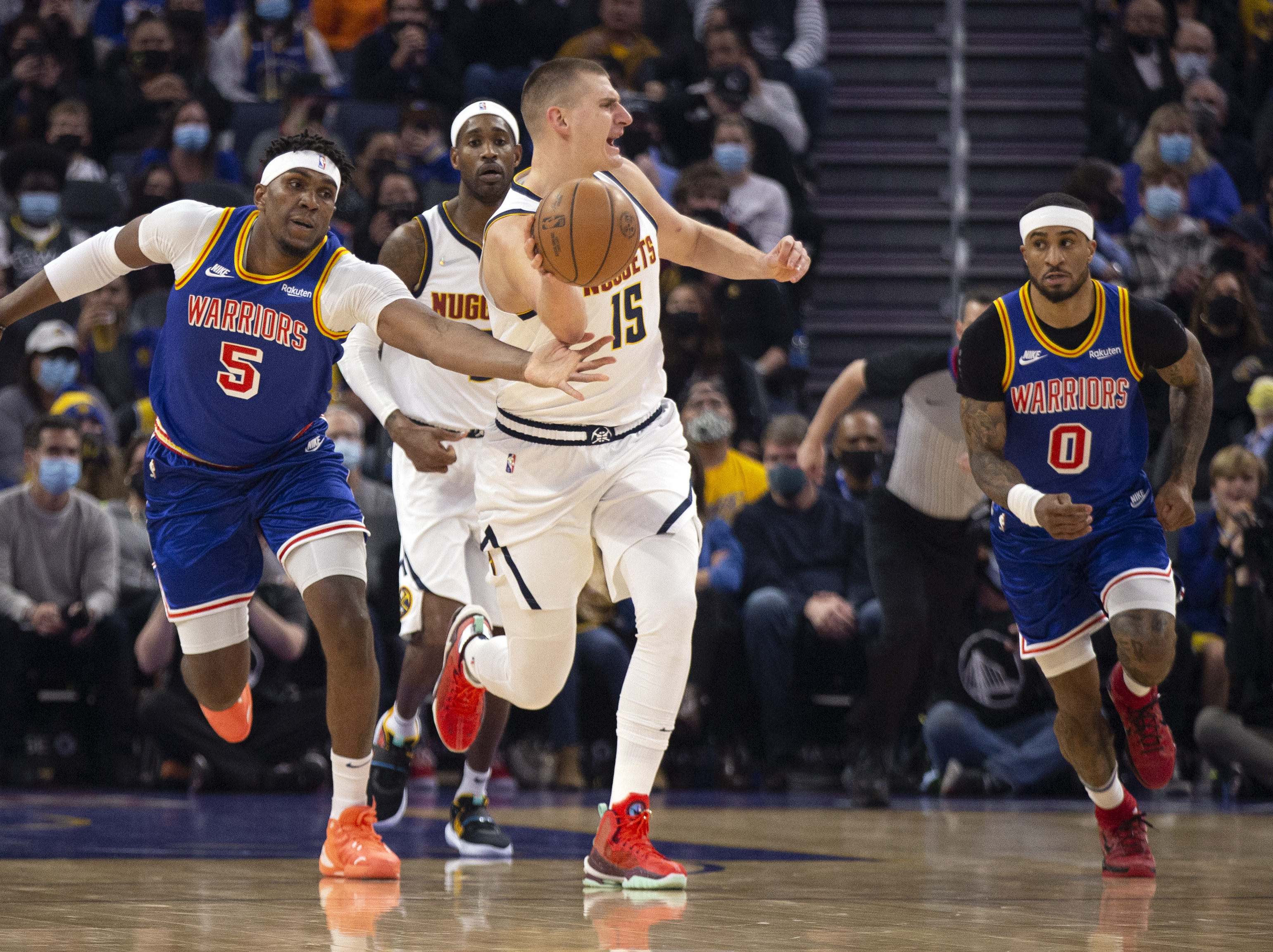 Nikola Jokic's 22 points, 18 rebounds and a key defensive play down the stretch powered the Nuggets past the Warriors in a thrilling 89-86 win. Will Barton added 21 points on 4 of 7 shooting from long range.
Denver was without Monte Morris and Aaron Gordon again on Tuesday night while the Warriors were without their key center piece in Draymond Green and Jordan Poole who had been out the last five games because of health and safety protocols.
Golden State's superstar Stephen Curry went scoreless in the first quarter but resurged for 15 points in the fourth and helped cut Denver's 24-point lead to two. Curry finished the night with 23 points on 6-16 shooting. Andrew Wiggins added 21 points and eight rebounds and held things down for Golden State while Curry was in his shooting slump.
"The main thing was not to give him any open looks," Barton said. "We all know how dangerous of a shooter Steph is so we can't give him the easy ones when we know he's going to make a couple difficult ones anyway so just try to limit any touches he can get and be there on the catch and make sure we just make it as tough as possible for him."
It took the entire Nuggets team to buy in on the defensive end to hold the 3-point leader to just eight points and 2 of 9 shooting through the first three quarters.
"It's five guys really defending as one and we went over somethings at shoot around today, somethings that we normally don't do but as I told our players when you're guarding against a great team and a great player you have to alter your defense," head coach Michael Malone said. "You can't play him with the regular defense that we use most nights."
Golden State ranks fourth in the league in offensive efficiency and Denver managed to hold it to 86 points on their home floor.
The Nuggets have been getting off to hot starts the past few games and after winning a close battle on Sunday night, they came out with the same level of intensity to start the game and went on a 10-0 run. Later in the quarter Denver went up 27-16 after a couple 3-pointers from Will Barton. He scored 14 of 21 points in the first quarter.
As a whole the Nuggets shot 60 percent from the field and went on a 13-0 to close the first quarter to go up 31-16. Denver held the Warriors to 41 percent shooting with Steph Curry going scoreless and only attempting two shots.
Andrew Wiggins stopped the bleeding and got things going for Golden State to open the second quarter. Nemanja Bjelica then hit a reverse layup to cut the Nuggets lead to 11. But JaMychal Green responded with consecutive dunks and Bones Hyland added seven points off the bench to give the Nuggets a 46-28 lead. They closed out the quarter on a 14-8 run extending its lead 60-36.
The third quarter continues to be Denver's weakness and it showed once again on Tuesday night. After taking a 24-point lead, the Nuggets saw their lead dwindle down to 12. The Warriors went on an 11-0 run and held Denver scoreless from the field for over five minutes. The Nuggets became stagnant on the offensive end shooting 25 percent from the field and 11 percent from three to score only 14 points. Golden State put up 25 points but Denver still had a 74-61 lead.
The Warriors had all the momentum in the fourth. Jonathan Kuminga was a force and scored six straight points for Golden State. Curry got his mojo back from three knocking down two triples in a row to get the Warriors to within five points. Golden State went on a 13-2 run and held the Nuggets scoreless again for another four minutes. Denver had a 79-74 lead with 7:20 left to go.
After scoring only eight points through the first three quarters, Curry suddenly went off for 15 points in the fourth quarter alone and hit another three to get the Warriors to within two points. Then Gary Payton II threw down a dunk to tie it at 84 with one minute left to go. Barton came to the rescue with a bucket and knocked down two free throws the following possession to give Denver an 88-84 lead with 32 seconds left. Wiggins was left wide open at the other end for a dunk to make it 88-86 and then Jokic turned the ball over but made up for it with a big time block on Kuminga. Facu Campazzo got fouled and went to the free throw line with 2.5 seconds left. He knocked down one of two to give Denver an 89-86 lead. The Nuggets main goal was not to allow Curry to get his hands on the ball and they executed perfectly. Andre Iguodala ended up with it and missed the 3-pointer that could've tied the game.
"They got the best record in the NBA," Malone said. "We weren't playing St. Buzzy's tonight. You know they're going to make a run but to hold that team to 86 points in their building with all the injuries and the guys out that we have even though we only scored 29 points in the second half we did enough to pull the win out. "
It didn't matter how ugly the game was, Malone was happy with his guys for pulling out another tough win. The Nuggets will be facing the Warriors again on Thursday but this time at home and will have their work cut out for them because everyone knows Curry most likely won't have an off shooting night for a second straight game.
This win puts Denver above .500 with a 17-16 record ranking fifth in the Western Conference standings.