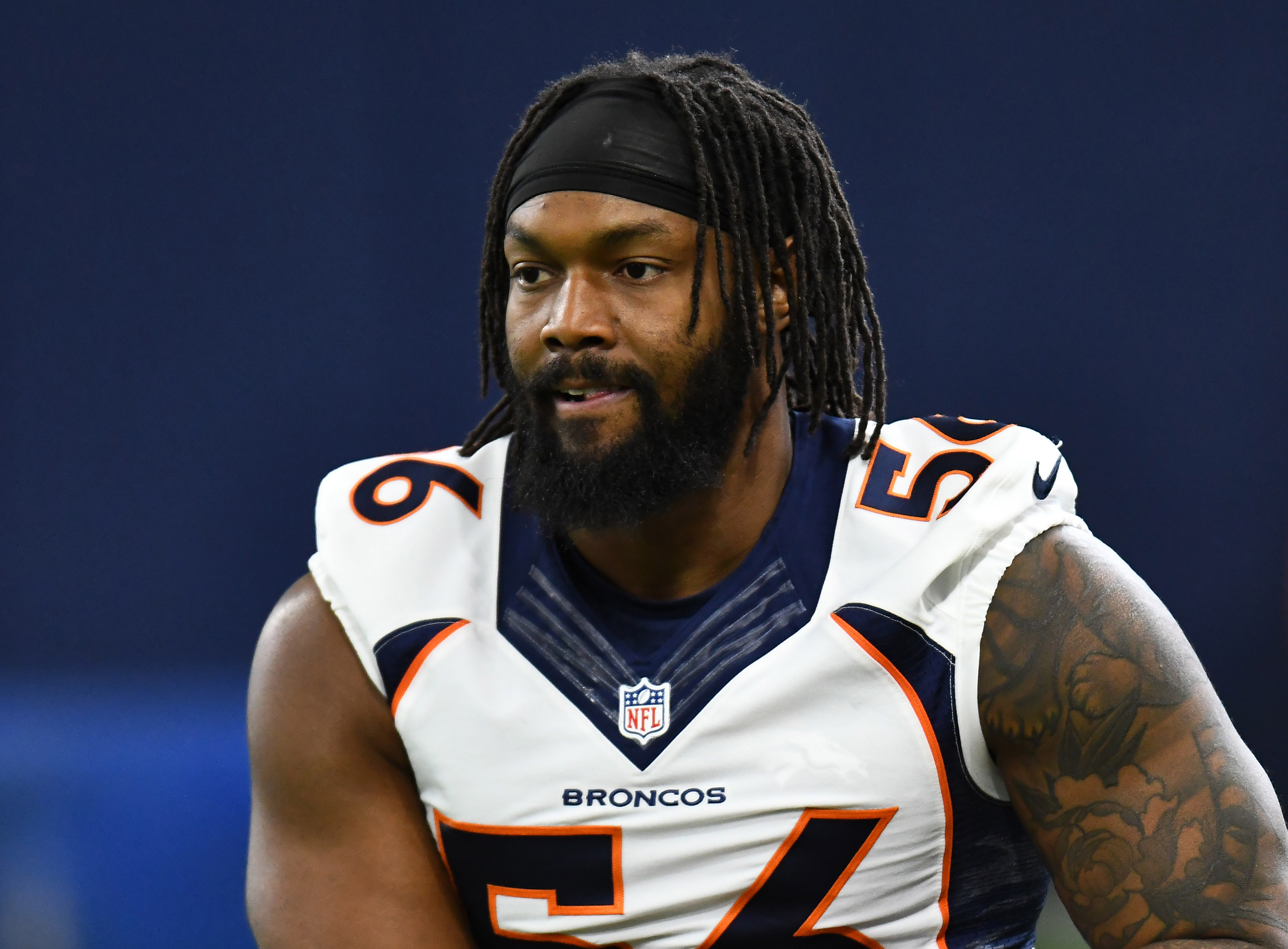 The life of a professional athlete isn't always what it's cracked up to be. Not only can you be replaced by someone that is younger, cheaper or more talented at any point – but you can also be shipped off to another city at a moment's notice.
So, when linebacker Dekoda Watson found out he was being traded by the San Francisco 49ers, it was a huge relief to be sent somewhere that he was already familiar with.
"It was kind of a sigh of relief to be honest with you," Watson said after Tuesday's practice. "When you find out you get traded, you really don't have a say to where you're going."
The Broncos acquired Watson during an NFL Draft weekend trade with the 49ers. Prior to his stint in San Francisco, Watson spent the 2016 season with the Broncos as well. According to Watson, who refers to himself as a country boy, Denver is the perfect city for him.
"Just being able to see the mountains – you all complain about this snow, but I love it," Watson said. "Just to be able to fish, to be able to do a little bit of hunting – the air smells good, tastes good, everything."
More than just an opportunity to embrace his inner mountain man, Watson is also excited to back in the Denver locker room. As Watson explained, things are a little different this time around – the Broncos have overhauled the roster and hired Vic Fangio as head coach since he was last here.
"I think there are what, four, six guys that I played with," Watson said. "… It's kind of different but at the same time it's great to be back."
While the players and coaching staff may be new, Watson's role with the Broncos is familiar. This is a big deal to the 31-year-old outside linebacker, who has been able to jump right into the swing of things throughout OTAs.
"Speaking only from my position, they're still allowing us to play fast," Watson said. "That's all I really care about."
Watson explained that he loves playing with the other outside linebackers on the roster because of the way they can fire off the ball. Then when the offense adjusts, they'll drop back in coverage and shake up the schemes. "We still have similar types of responsibilities out there on the field."
Watson also laid out how he dropped 20 pounds since last season and expects it to make a big difference in 2019. The veteran linebacker had to completely change his diet and lifestyle, but knows it was a necessary adjustment. As someone that will likely have to be a key contributor on defense and special teams as well, Watson is aiming to put his best self on the field.
"Now that I'm getting older I can't depend on my metabolism," Watson said. "As we well know, the older we get, things slow down. Things start to pick up where you didn't think they would. It's a journey but it's a fun one."
As Denver continues to prepare for the 2019 season, Watson has potential to be a nice role player for the Broncos. Watson brings a veteran presence to the locker room and has made a quality career for himself through sheer hard work and determination. Considering the Broncos are in a state of flux, having a guy like Watson to serve as a mentor can make a big impact.
"One thing that I really want to make sure that I give to the younger guys and a lot of the young players – even the rookies – is that you can make a lot of money and a lot of your bones and opportunities come from how hard to play on special teams," Watson said.
"I'm a living testimony for that. I've been doing for 10 years, and I'm still holding on. I'm glad that I didn't think that I was too good for it. I'm glad that I didn't think I was over it. And to be able to bring some excitement wherever I go when it comes down to special teams is something truly special. I just want to continue to do that as long as I can."