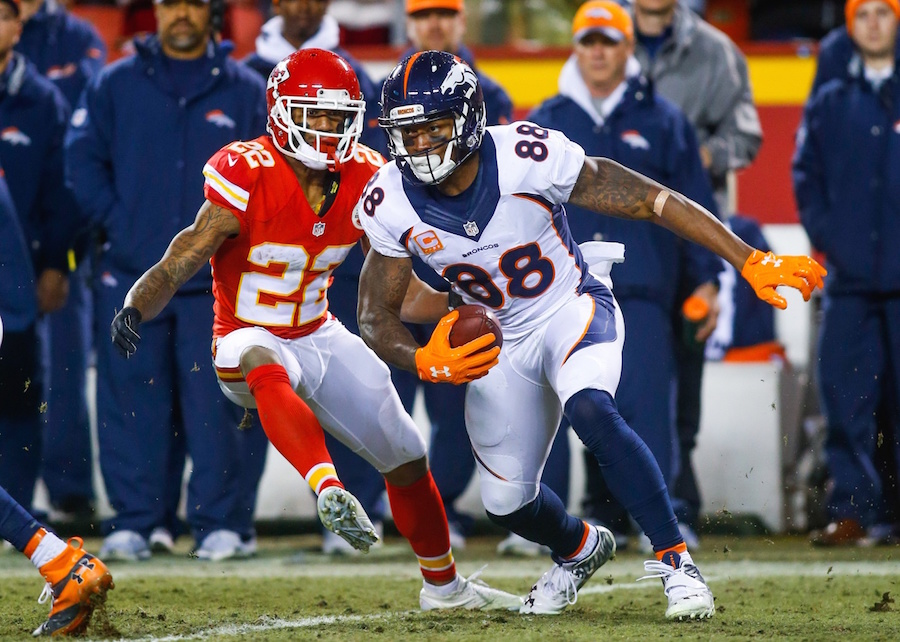 Oct. 23, 2011, the Broncos traveled to Miami and, in quarterback Tim Tebow's first start of the season, Denver defeated the Dolphins, 18-15.
Demaryius Thomas also returned from a finger fracture that sidelined him for five games. He has played every game for the Broncos since. This Sunday's matchup against the New England Patriots will be his 100th straight game played, and it hasn't been an easy path for Thomas, who has battled a multitude of injuries along the way.
Thomas has been hobbled during that span by a hip strain, a neck injury and a fractured hand. After missing 11 of his first 32 games with the team, he put his toughness on display, playing through injuries and contributing every way he could.
Now, six seasons later, the longest-tenured Bronco has become one of the standout leaders on the team, a perennial captain and regularly climbing his way up through the team record books. Thomas sits third in team history with 8,229 receiving yards, 589 receptions and 53 touchdowns, trailing only Rod Smith and Shannon Sharpe in all three categories.
The longest-tenured Bronco's toughness and work ethic has gained him the respect of not only his fellow players, but his coaches.
Thomas' grit has been on display all season. Not only dealing with double-coverage from opponents, Thomas has had to deal with a hamstring injury for the majority of the season, as well as a calf injury in Week Six that temporarily forced him from the game and left him hobbling between plays when he returned. It wasn't enough to slow him down; despite limping to the line, Thomas ran routes at full speed, eventually amassing 133 yards in the effort.
The toughest thing for Thomas had been his 13-game touchdown drought. Until his one-yard connection with Brock Osweiler in the fourth quarter against the Philadelphia Eagles, the last time Thomas had been in the end zone was in Week 10 of the 2016 season against the New Orleans Saints.
Now, with the biggest mental hurdle past, Thomas leads the Broncos into a Sunday night matchup against the New England Patriots, hoping to help kick-start a struggling offense, for his 100th-straight NFL game.