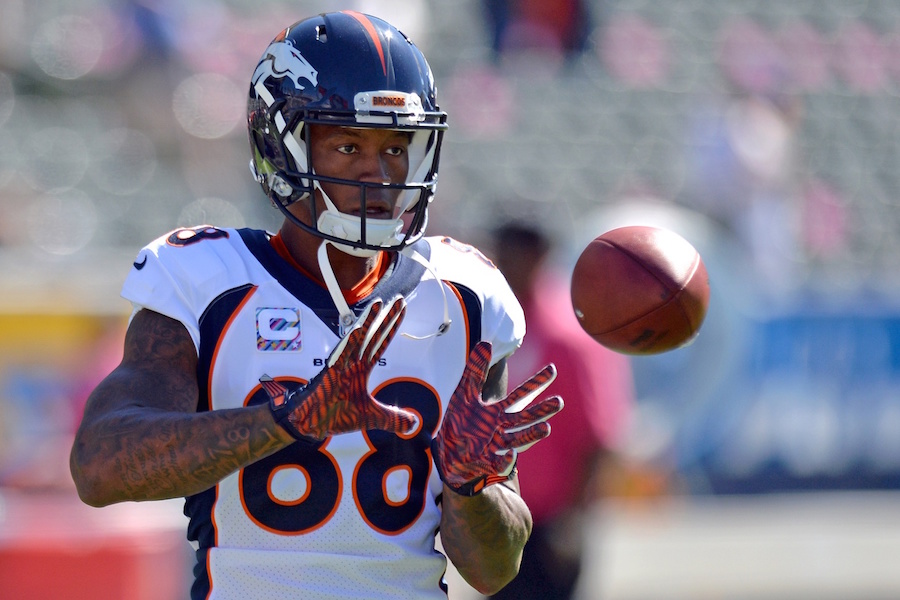 It was the play that could have been the turning point that avoided the Broncos' first shutout in nearly 25 years. It could have been an 81-yard catch and run by star receiver Demaryius Thomas that set the Broncos up in a prime position to turn the tables of a game that had been in the Los Angeles Chargers' favor all evening.
Instead, it was called an offensive pass interference penalty, wiping out the would-be 81-yard gain and pushing the Broncos back deeper into their own territory. It was just another upsetting turn of events in an upsetting 2017 season for the Denver Broncos offense. As Thomas leapt over Chargers defensive back Casey Hayward, stretching to catch the ball, Hayward was tossed tot he ground. This contact was sufficient enough for officials to throw the flag for offensive pass interference.
After the game, Thomas was asked about the penalty that erased what would have been the biggest play for the Broncos in the game.
"I don't think it was a pass interference to tell you the truth," Thomas said postgame. "We got some calls that shouldn't have been made and some calls that should've been made. As a receiver I can't do anything. If I tried to stop and catch that ball, the DB would've ran into me."
Thomas went on to discuss the negative effects from the pass interference call:
"It was a dagger. It was a big play, something we needed. It was a spark. We didn't have that in the first half. We didn't do that the whole game. You never know; it could've changed the whole game. Like I said, we could've put points up but they called it."
Thomas' final stats (two catches, nine yards) reflect an offense that has been struggling greatly after seeing some success in the early parts of the season. As the Broncos' No. 1 receiver, Thomas only ranks 19th in the NFL in receiving yards this season (389).
After the disaster against the Chargers, the Broncos have fallen to 24th in the NFL, averaging 18 points per game. Some fans and media have begun to turn on quarterback Trevor Siemian, who has failed to generate consistency on offense. Thomas refused to follow suit, commending Siemian for his toughness and placing the blame on the entire offense.
"People are going to blame whoever they want to. We aren't worried about that. We know we just have to get better as a group. I have Trevor's [Siemian] back, I don't care what anybody say. The man is a warrior to me. He got hit so much he probably got a broken nose, who knows. I don't care what anybody says."