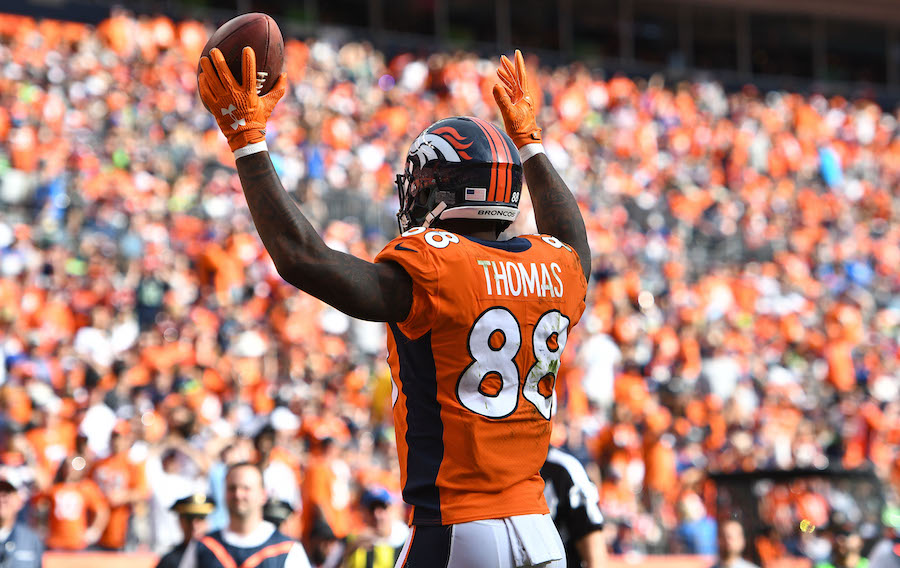 On Monday, Demaryius Thomas announced he would be signing a one-day deal with the Denver Broncos and retiring from the NFL.
"I'm Demaryius Thomas, and I've finally come to a decision to hang it up. I'm going to retire, and I'm going to retire a Denver Bronco." pic.twitter.com/Q6nNrxc59B

— Denver Broncos (@Broncos) June 28, 2021
Thomas retires as one of the most prolific wide receivers in Broncos history, and his five-year stretch from 2012 to 2016 was one of the best in NFL history. Jerry Rice is the only other player in NFL history to have a five-year span (1992-'96) featuring 535 catches, 7,332 receiving yards and 51 touchdowns, while being a member of a team that won 64 games.
Thomas also finishes his career second in Broncos franchise history in receiving yards, receiving touchdowns, yards per game and third in receptions.
With stats like that, one could certainly argue that Thomas deserves to be in the conversation with Rod Smith for greatest wide receiver in Broncos franchise history.
Yes, Thomas has 2,000 fewer receiving yards and eight fewer touchdowns than Smith over the course of their Broncos careers, but he also played two-thirds as many games in orange and blue as Smith did. He outperforms Smith on a per-game basis in both receiving yards and touchdowns, and it's not particularly close in either category.
In other words, Smith might've had the longer peak and the better overall career, but Thomas had the higher peak.
Now, of couse Thomas had the the privilege of playing with a late-stage Peyton Manning for four seasons, but the 2015 version of Manning didn't boost Thomas' production, and Smith had John Elway for the first five seasons of his career.
Also, that aforementioned legendary stretch Thomas had from 2012 to 2016 featured Brock Osweiler, Trevor Siemian, Paxton Lynch or the 2015 ghost of Peyton Manning throwing him the ball on approximately 39.6% of his targets.
Meanwhile, Rice was targetted by a quarterback other than Steve Young or Joe Montana on just 23.0% of his targets from 1992 to 1996.
No matter where you believe Thomas ranks among the Broncos' all time great receivers, he will undeniably be missed in retirement.
"[Retiring] was a tough decision, a real tough decision," Thomas said via a statement relased by the team. "… Always as a kid or always when I did something, it was always [giving] my best to go and go and go. And football was my go. Every year I tried to get better and better, and I knew I was aging, of course. It was something tough, but I'm grateful I did 10, 11 years. I'm so grateful for that and now I can move on. I'm happy, I'm healthy. And now I can try to find my next itch."
Thomas will be immortalized in the memories of fans for his long walk-off touchdown reception in the Wild Card round against the Pittsburgh Steelers, which put an exclamation point on the Tim Tebow era.
In honor of Demaryius Thomas' retirement, one of the greatest plays in Broncos history. pic.twitter.com/OtADeMN5KI

— Zac Stevens (@ZacStevensDNVR) June 28, 2021
With moments like that throughout his career, it's no surprise that Thomas doesn't have any regrets.
"No regrets at all," Thomas said. "There's no reason to. I'm here, I'm blessed. … I tried to do what I could do every play — if it was catch a ball, if it was to block somebody. I tried to put my everything in it every time."