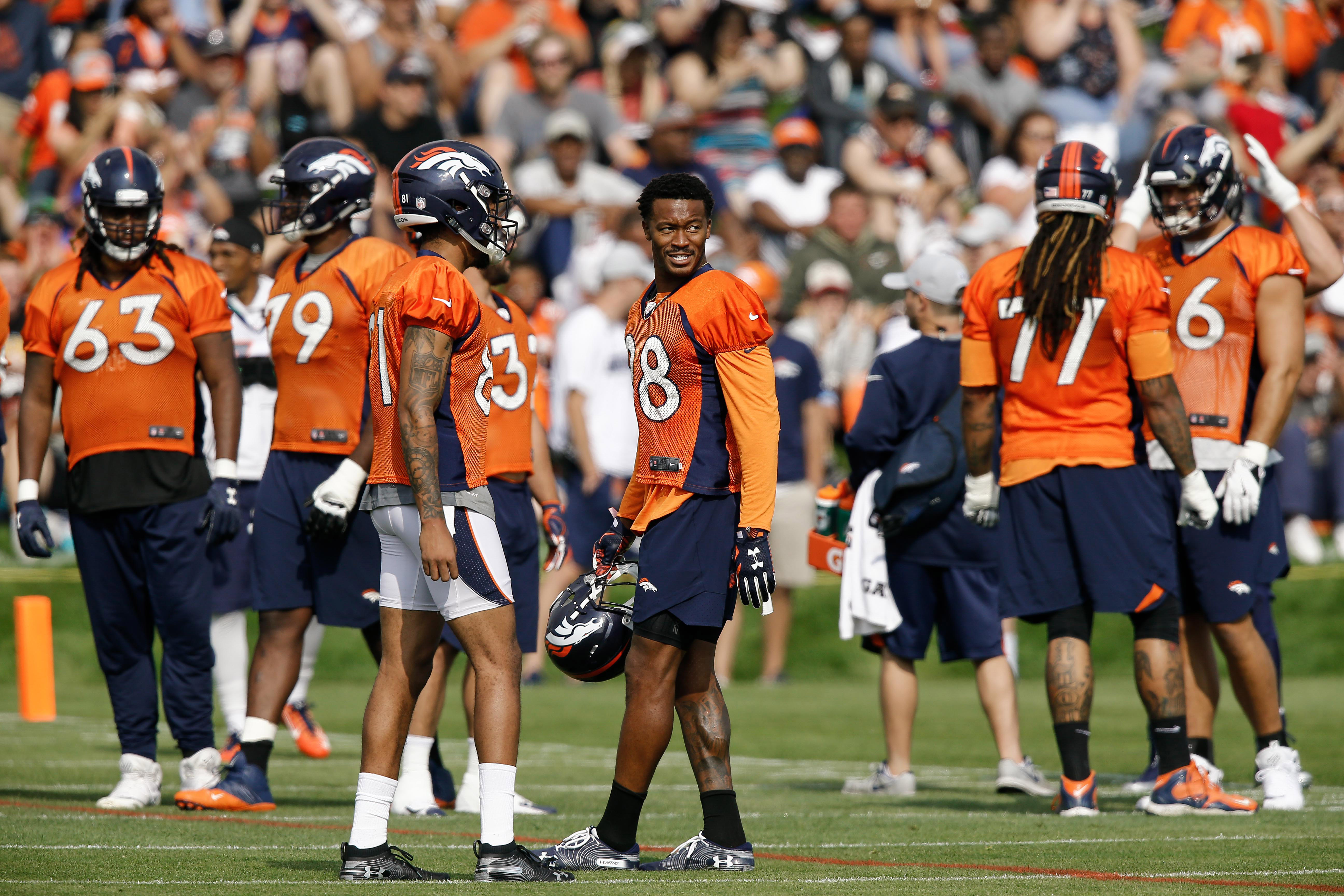 After Friday's practice, head coach Vance Joseph took some time to praise wide receiver Demaryius Thomas, noting that the leadership he's put on display with rookies Courtland Sutton, DaeSean Hamilton and newly-signed former Colorado Buffalo Bryce Bobo is making them better players.
Thomas, of course, doesn't have to do that — but he believes it's worth the extra effort. "I think it's something you probably don't get to see as much. It is a point of emphasis," Thomas said. "You've got a lot of young talent that's coming in and its smaller things that can help these guys' game. I'm the guy that stands in the back of the line, tell them what they can do differently and the first day, of course you make a player comfortable if you come to them and try to help them out instead of just letting him do his own thing."
Sutton, in particular, has stood out. The big strong rookie from SMU reminds onlookers of, well, Thomas. But the genuine article doesn't see it that way. "No, he is his own self," Thomas said. "I can't say that I wasn't excited when I first found our he was coming. Big guy can run. But when I first saw him on the field, I had no idea he could run routes like he does. Big fellow, he can run routes, he can catch the ball at the highest point. I think he does well staying loyal when he runs his routes, and that's big. That's big to be a big guy and can do the things he can do."
One of those "things he can do" is leap for contested balls in a way that's constantly surprising even veteran Broncos defender. "It's like he's going up for a rebound. That's big for us. He can do it instead of me," Thomas said with a chuckle.
Thomas is clearly enjoying the notion that defense will have to pick their poison in coverage. "It's going to help a lot because you've got to pick. Do you want to put your best corner in the slot on 'E' [Emmanuel Sanders]? Or do you want to leave him outside and let 'E' have a field day? Or let Courtland make plays, and then you can't forget about DaeSean. He also makes plays as well," Thomas explained. "I think the main thing is [that] we've still got to build. On paper it looks good, but we've still got to get better and better every day, because we're going to be going up against some good defenses, some good defensive lines and some other good football teams. We're just going to go out and continue to get better and better, and we'll see what happens."
Click the video for more from Broncos head coach Vance Joseph, including:
The coaches' difficult decisions with a talented group of receivers
Former teammate Peyton Manning visiting the Raiders' camp
Playing with Emmanuel Sanders for his fifth season
… and more!
VIDEO CREDIT: Denver Broncos/Facebook