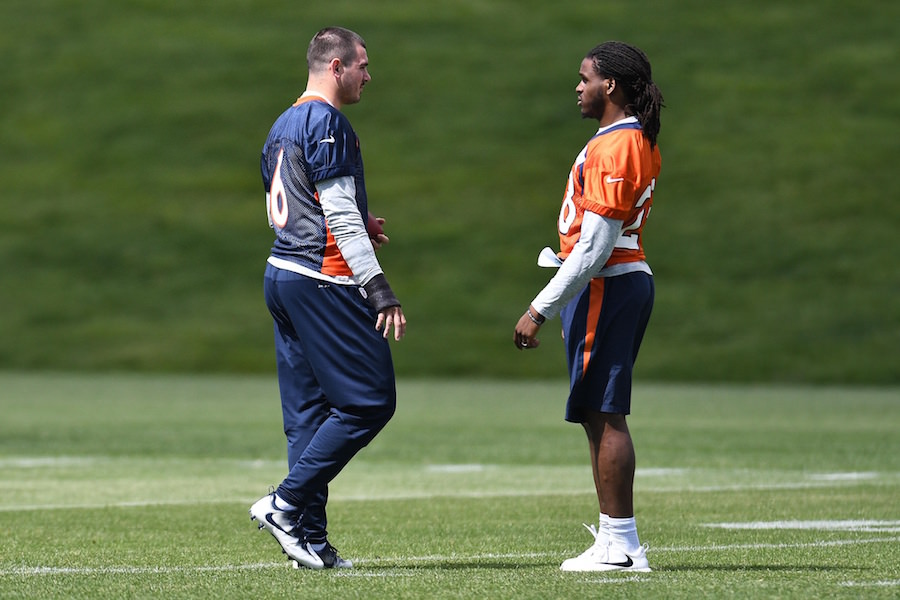 Injuries are an unfortunate but inevitable part of every training camp. Roster spots can be lost or gained as a result.
As Denver Broncos training camp rolls on, we'll provide a running log of injury reports coming out of UCHealth Training Center.
Important Note: Many of these reports will be preliminary in nature. We'll do our best to update each situation as more information is available.
Monday, August 14 – AM
#Broncos TJ Ward not practicing. I imagine will be cautious w hamstring injury. No reason not to @DenverChannel

— Troy Renck (@TroyRenck) August 14, 2017
Injury concerns continue for Broncos. Jared Crick went down during 11-on-11 drills. Was helped off field on a cart. #4Broncos

— Michael Spencer (@MichaelCBS4) August 14, 2017
T.J. Ward will not travel with team to San Fran. Will stay in Colorado for treatment (hamstring).

— Nicki Jhabvala (@NickiJhabvala) August 14, 2017
Vance doesn't have an update on Crick but acknowledged it's a back issue. Derek Wolfe is day to day after injuring his ankle on Saturday pic.twitter.com/mide3RhnaC

— Ryan Edwards (@redwardsradio) August 14, 2017
Vance Joseph's injury report:
– Wolfe day to day
– Henderson day to day after surgery
– Crick is getting MRI, thinks it might be back spasm

— Dave Althouse (@davealthouse) August 14, 2017
Saturday, August 12 – AM
Broncos have placed Billy Winn (Knee) on IR and signed DL Nelson Adams.

— James Palmer (@JamesPalmerTV) August 12, 2017
Todd Davis (shoulder) practicing. Jamaal Charles too.

— Nicki Jhabvala (@NickiJhabvala) August 12, 2017
TJ Ward (hamstring) not practicing.

— Nicki Jhabvala (@NickiJhabvala) August 12, 2017
#Broncos Wolfe leaving on cart @DenverChannel

— Troy Renck (@TroyRenck) August 12, 2017
He limped off into locker room favoring right leg. Couldn't put weight on it @DenverChannel

— Troy Renck (@TroyRenck) August 12, 2017
#Broncos VJ said Wolfe has right ankle injury. Doesn't believe will be serious. Will get MRI @DenverChannel pic.twitter.com/ZYcHWkKrMD

— Troy Renck (@TroyRenck) August 12, 2017
Appreciate the love. Dodged a bullet.#DEFWU #blameitonthecleats

— Derek Wolfe (@Derek_Wolfe95) August 12, 2017
#Broncos Carlos Henderson missed practice today. Has thumb injury @DenverChannel

— Troy Renck (@TroyRenck) August 12, 2017
Thursday, August 10 – Preseason Game 1
Trainers tending to #Broncos Max Garcia on bench. Was testing out his right shoulder. @DenverChannel

— Troy Renck (@TroyRenck) August 11, 2017
#Broncos Max Garcia is in on this drive.. So checked out OK it appears

— Troy Renck (@TroyRenck) August 11, 2017
Billy Winn injured on the play for the Broncos. Trainers attending to his right knee. #4Broncos

— Michael Spencer (@MichaelCBS4) August 11, 2017
The cart is out for Billy Winn. Looks like a knee. Lot of guys around him. He's well-liked and animated at practices.

— Nick Kosmider (@NickKosmider) August 11, 2017
Injury update for the Broncos: DE Billy Winn (knee) is OUT for the game.

— Patrick Smyth (@psmyth12) August 11, 2017
Vance Joseph said Billy Winn will have an MRI tomorrow

— Nicki Jhabvala (@NickiJhabvala) August 11, 2017
Check out how hard Orion Stewart hits Josh Bellamy if you ever see that last completion again.

— MileHighReport (@MileHighReport) August 11, 2017
Injury update for the Broncos: S Orion Stewart (neck) is questionable to return.

— Patrick Smyth (@psmyth12) August 11, 2017
#Broncos Doss appears to be undergoing testing for possible concussion. @DenverChannel

— Troy Renck (@TroyRenck) August 11, 2017
Tuesday, August 8 – AM
Todd Davis (shoulder) and TJ Ward (hamstring) not practicing. Don't see Bernard Pierce (hamstring) out here.

— Nicki Jhabvala (@NickiJhabvala) August 8, 2017
#Broncos entire Oline back together today with Leary, Watson at practice @DenverChannel

— Troy Renck (@TroyRenck) August 8, 2017
#Broncos Paradis not expected to play Thursday, per plan. McCovern is back up center. @DenverChannel

— Troy Renck (@TroyRenck) August 8, 2017
Charles and Paradis won't play on Thursday. McGovern is starting Center

— Ryan Edwards (@redwardsradio) August 8, 2017
Todd Davis and T.J. Ward will not play on Thursday.

— Zac Stevens (@ZacStevensBSN) August 7, 2017
Monday, August 7 – PM
#Broncos Menelik Watson going through the paces at walk through. Good news in regards to him practicing Tomorrow @DenverChannel

— Troy Renck (@TroyRenck) August 7, 2017
Monday, August 7 – AM
No Todd Davis and Menelik Watson practicing. Davis has shoulder issue. Watson hip. Watson expected back Tuesday @DenverChannel

— Troy Renck (@TroyRenck) August 7, 2017
Shane Ray here wearing a cast on his surgically repaired left wrist pic.twitter.com/rioc2LcO8i

— Nicki Jhabvala (@NickiJhabvala) August 7, 2017
#Broncos Demaryius Thomas moving slowly after planting and catching pass. Trying to walk it off @DenverChannel

— Troy Renck (@TroyRenck) August 7, 2017
https://twitter.com/TroyRenck/status/894597735453646849
Saturday, August 5
T.J. Ward, who suffered a hamstring injury yesterday, is attending practice but is not participating.

— Nick Kosmider (@NickKosmider) August 5, 2017
Linebacker Todd Davis is not practice today. Missed yesterday as well after having a vet day on Thursday. #4Broncos

— Michael Spencer (@MichaelCBS4) August 5, 2017
#Broncos Menelik Watson at practice. Not participating. Parks in for @BossWard43 @DenverChannel pic.twitter.com/xXTAvsQcCq

— Troy Renck (@TroyRenck) August 5, 2017
#Broncos Joseph on Watson: has strained hip muscle. Be back Monday. And Ward slated to return after Chicago game @DenverChannel

— Troy Renck (@TroyRenck) August 5, 2017
Friday, August 4 – AM
Todd Davis had a sprained shoulder. TJ Ward is being evaluated for a hamstring injury.

— Andrew Mason (@MaseDenver) August 4, 2017
Big vet off day. Von, Sanders, Wolfe, Marshall, Harris, Charles, Stewart. I will say the sunglasses game in that group is strong today.

— James Palmer (@JamesPalmerTV) August 4, 2017
#Broncos Todd Davis, Brandon Marshall, Chris Harris and Emmanuel Sanders among those getting vet rest day @DenverChannel

— Troy Renck (@TroyRenck) August 4, 2017
Adam Gotsis not practicing. Second-year DE saw more action yesterday, but Jospeh has said he'll be brought slowly after June knee scope.

— Nick Kosmider (@NickKosmider) August 4, 2017
Thursday, August 3 – AM
Appears rest days for #Broncos Talib, Ward, DT, Peko, Green, Davis. Pierce still dealing w injury @DenverChannel

— Troy Renck (@TroyRenck) August 3, 2017
Ron Leary back in pads. Virgil Green out of pads today.

— Andrew Mason (@MaseDenver) August 3, 2017
Wednesday, August 2 – AM
Ron Leary sitting out again today.

— Andrew Mason (@MaseDenver) August 2, 2017
Bernard Pierce not at practice

— Nicki Jhabvala (@NickiJhabvala) August 2, 2017
Only #Broncos missing are RB Pierce and DB Rios. Both been dealing w injuries @DenverChannel

— Troy Renck (@TroyRenck) August 2, 2017
Monday, July 31 – PM
Derek Wolfe at walk-through. Don't see Domata Peko though.

— Nicki Jhabvala (@NickiJhabvala) July 31, 2017
Jamaal Charles is going to start participating in 7 on 7 periods Wednesday after Tuesday's off day, then add team probably in the next week.

— James Palmer (@JamesPalmerTV) August 1, 2017
Monday, July 31 – AM
As we speculated on the show this morning, Ron Leary not practicing today. #Broncos

— Ryan Edwards (@redwardsradio) July 31, 2017
Don't see Bernard Pierce at Broncos practice.

— Nicki Jhabvala (@NickiJhabvala) July 31, 2017
Only #Broncos missing due to injuries are RB Bernard Pierce and DB Marcus Rios @DenverChannel

— Troy Renck (@TroyRenck) July 31, 2017
Derek Wolfe had shoulder stinger early in practice. #9sports

— Mike Klis (@MikeKlis) July 31, 2017
Sunday, July 30 – AM
Donald Stephenson not in pads today. #Broncos

— Ryan Edwards (@redwardsradio) July 30, 2017
Broncos RB De'Angelo Henderson not practicing either.

— Nicki Jhabvala (@NickiJhabvala) July 30, 2017
I don't see Jamaal Charles yet either. Again plan to ease him into the fold. So would not be surprise if not in pads today @DenverChannel

— Troy Renck (@TroyRenck) July 30, 2017
Only three running backs practicing today: Anderson, Ridley and Thompson. Charles, D.Henderson (ankle), Pierce (hamstring) not out here.

— Andrew Mason (@MaseDenver) July 30, 2017
Ron Leary leaving the field with a trainer again. Not limping.

— Nicki Jhabvala (@NickiJhabvala) July 30, 2017
Leary came back out but he's just watching team drills holding his helmet.

— Nicki Jhabvala (@NickiJhabvala) July 30, 2017
Saturday, July 29 – PM
I have not spotted rookie RB DeAngelo Henderson at walkthrough. #9sports

— Mike Klis (@MikeKlis) July 29, 2017
De'Angelo had his ankle taped and missed a few plays while trainers tended to him https://t.co/KqHnom5lIQ

— Troy Renck (@TroyRenck) July 29, 2017
#Broncos pass-rusher Shane Ray had successful surgery on his wrist earlier today. He likely will play with a cast early on to stabilize it.

— Ian Rapoport (@RapSheet) July 29, 2017
Saturday, July 29 – AM
RB Bernard Pierce & OLB Shane Ray are the only players on the active (non-PUP or NFI) roster who are not practicing today.

— Andrew Mason (@MaseDenver) July 29, 2017
#Broncos Watson left field. Will keep an eye on it. @DenverChannel

— Troy Renck (@TroyRenck) July 29, 2017
Ron Leary walking off the field with a trainer. Not limping or anything though. Looked shaken up.

— Nicki Jhabvala (@NickiJhabvala) July 29, 2017
Leary on the sidelines hanging with the defense during team drills.

— Nicki Jhabvala (@NickiJhabvala) July 29, 2017
Friday,  July 28 – PM
Coach Joseph: LB Shane Ray (torn ligament, wrist) will miss 6-8 weeks.

— Denver Broncos (@Broncos) July 28, 2017
Thursday, July 27 – PM
Derek Wolfe is here at afternoon walk through after missing practice with a "stomach issue". #Broncos

— Ryan Edwards (@redwardsradio) July 27, 2017
DeMarcus Walker out here too.

— Nicki Jhabvala (@NickiJhabvala) July 27, 2017
Thursday, July 27 – AM
Derek Wolfe showed up for first day of camp with stomach bug. Was sent home to rest. #9sports

— Mike Klis (@MikeKlis) July 27, 2017
Broncos rookie Demarcus Walker left practice early because of a heat issue.

— James Palmer (@JamesPalmerTV) July 27, 2017
Pre-Training Camp Injuries
RB Devontae Booker expected to go on PUP with a wrist injury. Hurt late in OTAs and it flared up. Expected to need to get it repaired.

— Nicki Jhabvala (@NickiJhabvala) July 27, 2017
Broncos RB Devontae Booker to undergo surgery Friday to repair the fracture in his wrist. Headed to PUP.

— Nicki Jhabvala (@NickiJhabvala) July 27, 2017
Chad Kelly, Shaquil Barrett and Jake Butt will enter Broncos camp on non-football injury list. Kyle Peko will be on PUP.

— Nicki Jhabvala (@NickiJhabvala) July 24, 2017