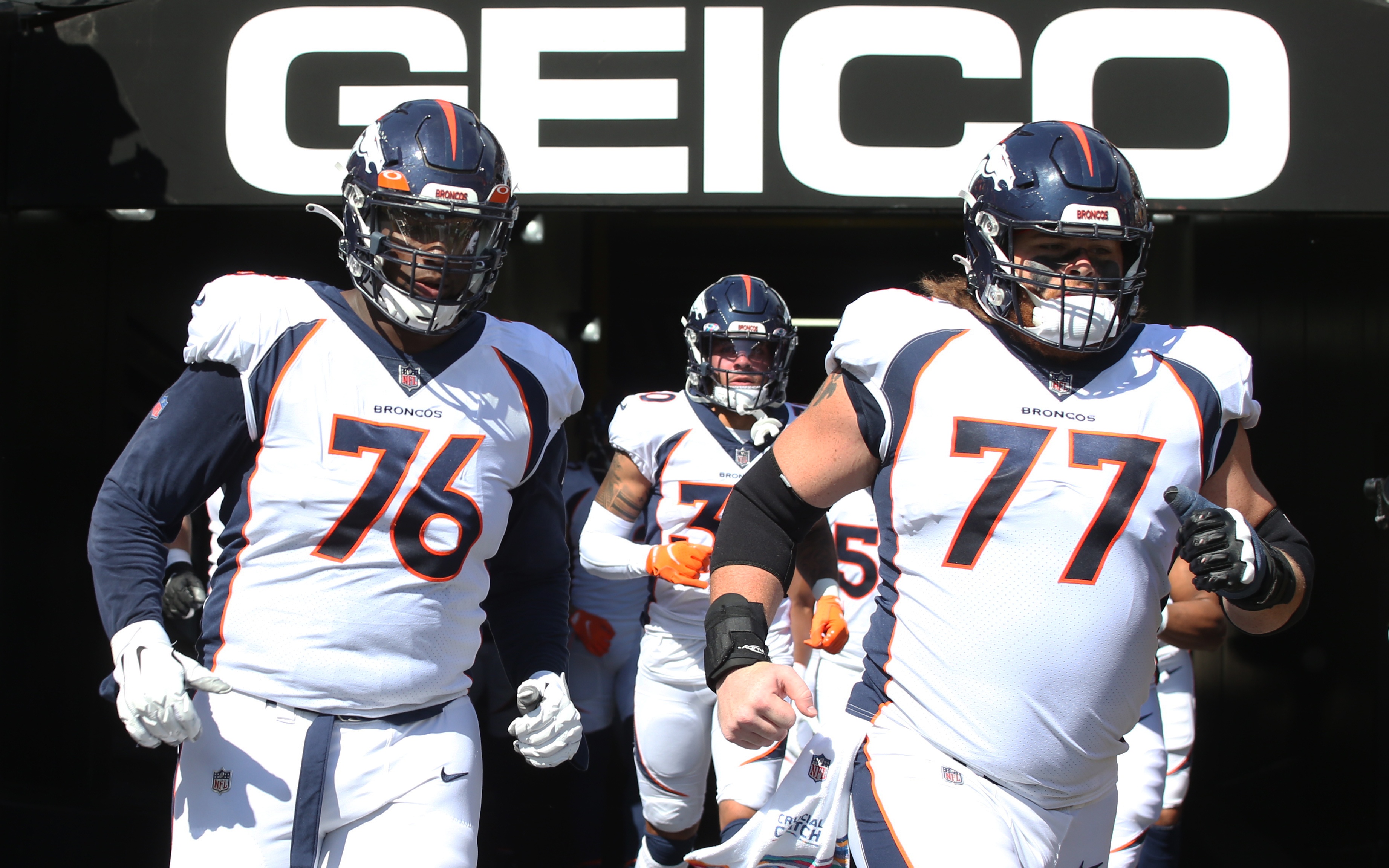 The Denver Broncos offensive line is a work in progress. The truth is, that's the case for most teams in the NFL. And it's not a bad thing when a team is serious about competing for a Super Bowl, so they bring in depth for healthy competition during training camp.
When the 2022 NFL Draft took place a few weeks ago, some were wondering why the Broncos didn't take more offensive linemen. There's a glaring need at right tackle and Lloyd Cushenberry hasn't been great at center, either.
Denver's George Paton did draft one lineman, Luke Wattenberg, a center out of Washington in the fifth round. Unfortunately, it looks like the Broncos reached for him, though, as Wattenberg was expected to go undrafted despite being a four-year starter in the Pac-12.
Still, the Broncos must've liked what they saw from the young man who can play both center and left guard, and the team in general knew there was a big-time need for depth along the line.
That continued to be the case on Monday when the Broncos signed guard Zack Johnson back to the team:
We've signed G Zack Johnson.

📰 » https://t.co/jwV1G9oAEz pic.twitter.com/ZlFX7YfKPU

— Denver Broncos (@Broncos) May 16, 2022
Johnson was an undrafted free agent out of North Dakota State who was with the Broncos on their practice squad last year, and then was cut last Thursday before being re-signed.
So, now the Broncos have eight players who can play guard, and four of them who have experience at center. In the middle, the job is currently Cushenberry's, who's started as the offense's snapper for the last two years. After a tough start to his career, "Cush" did improve in 2021, earning a 64.2 grade from Pro Football Focus as the 21st-best at the position.
This year, he'll battle against Wattenberg — the rookie — as well as possibly Quinn "The Gut" Meinerz. Meinerz started nine games last year at guard, partially filling in for Graham Glasgow, who was injured.
This year, Glasgow looks to be the starter at right guard, with Dalton Risner penciled in as the starter on the left. But, with eight guards on the roster, the competition is surely to heat up, just as the weather does into the summer.
As Pro Football Focus broke down all 32 teams' rosters recently, they sited the interior offensive line as the Broncos' most important and intriguing battle grounds for playing time.
"It appears as if three players — Graham Glasgow, Quinn Meinerz and Lloyd Cushenberry III — will be in competition for two spots at center and right guard. Cushenberry and Glasgow have started at those two positions in each of the past two years, but it looks as if both Glasgow and Meinerz will get reps at both spots. Meinerz started eight games at right guard for an injured Glasgow at the tail end of last season and played well in that role."
And that doesn't even mention Wattenberg and Johnson.
Outside, Garett Bolles has finally emerged as a franchise left tackle. On the right, Calvin Anderson is the favorite to start at that spot, though there will be competition there, as well.
And new offensive coordinator Justin Outten weighed in on the competition late last week:
"It's just a matter of just getting on the field and practicing—that's the bottom line," Outten explained. "It's way too early to go through that. It's just the evaluation part of this. We're all new and just feeling each other out. That's the fun part about this transition. The guys understand that this is a competitive environment but it's also good to help your teammates. If you go down with a shoelace and you're not coaching that guy up and taking him under your wing, that's the next guy up that's going to help us try to win the [AFC] West. You're all working together as a team and those guys have been really feeding off each other in that room."
For Denver to have a shot at beating the Kansas City Chiefs for the first time in six years — let alone win the AFC West — they'll need a strong offensive line. The good news is, they're working to build that group up right now.
It's imperative the Broncos are able to protect their new franchise quarterback Russell Wilson in the passing game while also opening up holes in the running game for Javonte Williams and Melvin Gordon. PFF graded Denver as the 19th-best offensive line at the end of 2021, so they definitely have some room for growth.