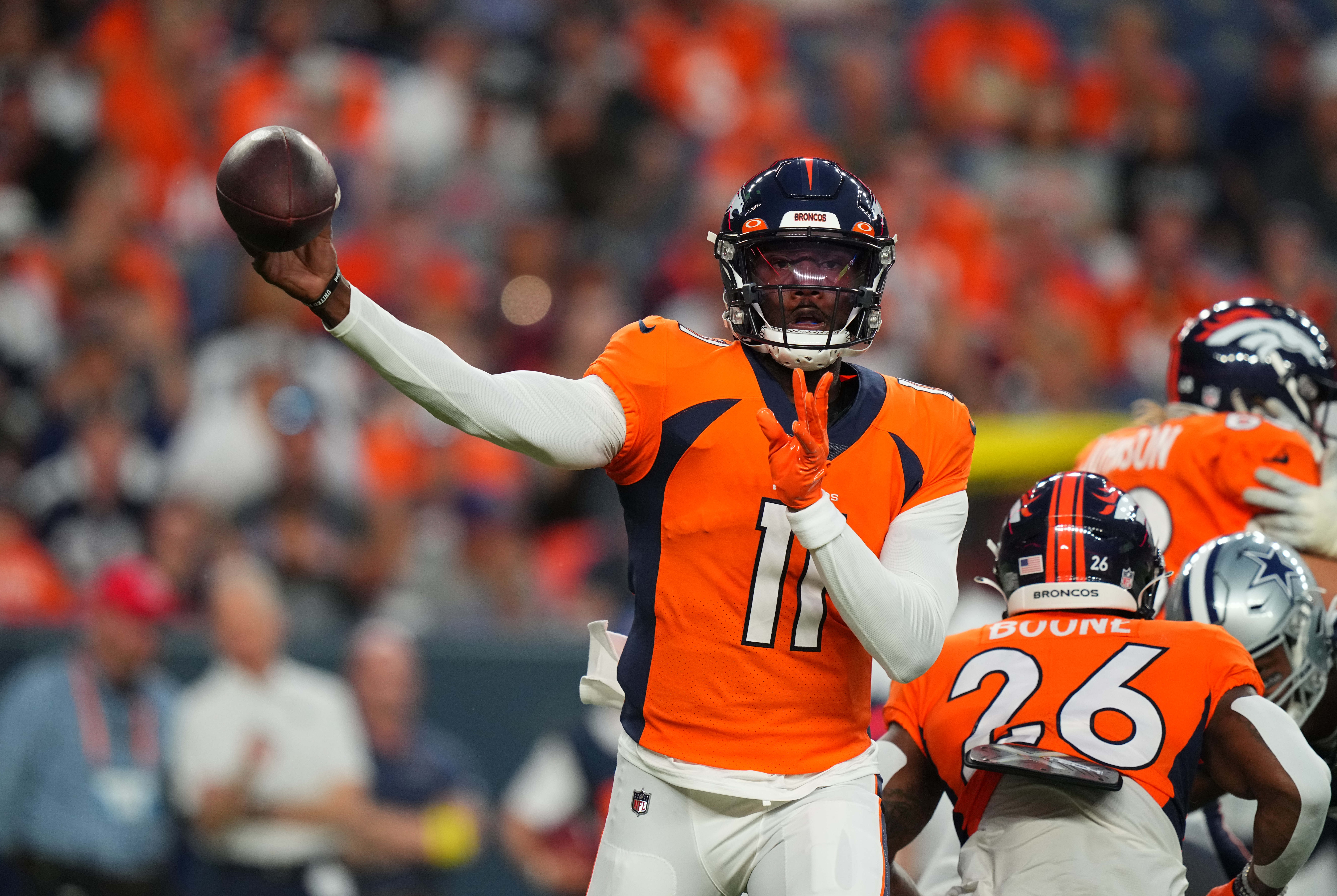 When the Denver Broncos take the field on Saturday to take on Von Miller and the Buffalo Bills starters, Russell Wilson will not be under center.
How will the Broncos backups fare against the Bills starters for Week 2 of the NFL preseason?
Denver Broncos will start Josh Johnson against Von Miller, Bills starters
Broncos fans will have to wait until Week 1 of the regular season in order to see Russell Wilson throw his first pass and take his first snap under center.
Josh Johnson will get the start for the Denver offense for the second consecutive week according to Broncos head coach Nathaniel Hackett.
Johnson and the offense face the tough task of avoiding running into a familiar face.
Former Broncos great Von Miller will see his first action of the preseason on Saturday after Bills head coach Sean McDermott said his starters will see "a healthy amount" of playing time.
The starters will play a "healthy amount" on Saturday for the Bills, according to Sean McDermott.

— Sal Capaccio 🏈 (@SalSports) August 18, 2022
Despite Wilson and the starters not expecting to play, Hackett believes players like Miller, Gregory Rousseau, and the Bills defense will be a great test for the second team unit on Saturday.
"That's the best evaluation you can possibly get," Hackett said following Thursday's practice. "We want to see who can come out there and play versus the best in the league. It's an unbelievable opportunity for those guys to step up and show what they can do."
Calvin Anderson and Cam Fleming will face the task of preventing Miller from getting to Johnson.
Aside from limiting the Bills' pass rushers from impacting the game, the Broncos offense will try to get the run game going after struggling to establish it against the Dallas Cowboys, rushing for 39 yards on 22 rushing attempts.
"They are a pretty good defense right out the gate," Hackett said on Thursday. "We want to do what's right versus those guys. It's another defensive front compared to what we see every day, so I think it will be great work on that—being able to go after a four-down front. We're going to try to mix it up as much as we can. Whether we're throwing the ball or running the ball, we just want to see both be efficient."
Mike Boone, JaQuan Hardy, and Stevie Scott will each see adequate time rushing the ball on Saturday.
Denver Broncos defense shines during Thursday's practice
During Thursday's practice, the Broncos defense got off to a hot start against Russell Wilson and the offense.
In the first team period, the Broncos offense struggled to move the ball against the defense.
One catalyst stood out during Thursday's practice: third-year safety P.J. Locke.
Locke has continued to carve out a strong role for himself, having a strong training camp and coming away with an interception against the Cowboys during the Broncos first preseason game.
During Thursday's practice, Locke came away with two interceptions in the team period.
His play has earned recognition from Broncos defensive coordinator Ejiro Evero.
"He's really worked at playing in the deep part of the field and playing the deep half and the deep middle," Evero said on Thursday. "He's done a really good job, and he's definitely a trusted agent now."
Another trusted agent was on display during Thursday's practice, the redzone defense.
Wilson and the Denver offense struggled to find open windows against the secondary that saw Patrick Surtain and Ronald Darby covering Courtland Sutton, Jerry Jeudy, and Brandon Johnson.
The Broncos defense appeared locked in from the 20-yard line inside.
The front seven and secondary tightened things up within their alignment, making it difficult for the offense to throw or run the ball effectively.
Denver's first-year defensive coordinator emphasized the importance of playing fundamentally sound in the redzone.
"[In] tight areas, everything happens fast," Evero said on Thursday. "You just have to be ready to anticipate and be ready to play fast. You have to be on your details with stuff, so that's what we stress."
Once the Broncos transitioned to their two-minute, move-the-ball period, Wilson and the offense responded by driving down the field and capping things off with a touchdown.
When it comes to defense, no starters are expected to play against Josh Allen, Stefon Diggs, but Evero expressed how big the opportunity is for some of the younger players to play against that level of talent.
"It's a great opportunity for them to play against the best—Josh Allen, some of those receivers and linemen," Evero said. "They should all relish that opportunity."
Michael Ojemudia and Damarri Mathis are expected to start at cornerback with Locke and Caden Sterns anticipated to get the first reps at safety on Saturday.
Broncos special teams unit still growing
During Saturday's 17-7 win against the Dallas Cowboys, it appeared as if the special teams unit turned in a solid performance.
Despite the kick coverage showing notable improvement, special teams coordinator Dwayne Stukes believes they could have done better.
"To be completely honest, whenever you have missed tackles, it's never what you wanted," Stukes said on Thursday. "We had an opportunity to stop Dallas inside the 20 [yard line] twice and we didn't do it. [I'm] a little frustrated by that, but it was our first time in a live setting as far as tackling goes."
Denver will face the tough task of trying to contain former Bronco Isaiah McKenzie and a sprinkle of rookie Khalil Shakir, and rookie Raheem Blackshear.
When asked whether or not a dangerous return option changes their game plan on special teams, Stukes response touched on the combination of embracing the challenge and trusting technique within their scheme.
"We're going to be smart in everything that we do," Stukes said. "We're never going to go out there and play reckless. So yes, we do take into account the returner, but also, we have confidence in our guys as well. You can't be at the top of the NFL as far as a unit without kicking the ball in play and seeing those guys go down and cover. Absolutely, we plan to kick the ball in play, regardless of the returner, and hopefully our guys stand up because they know how important it is as far as field position goes. It's about a want to. [If] you want to get down the field and you want to make this play, you'll do it."
The Denver Broncos will kick off Week 2 of the preseason against the Buffalo Bills on Saturday at 11 a.m. MT on the NFL Network and locally on 9News.