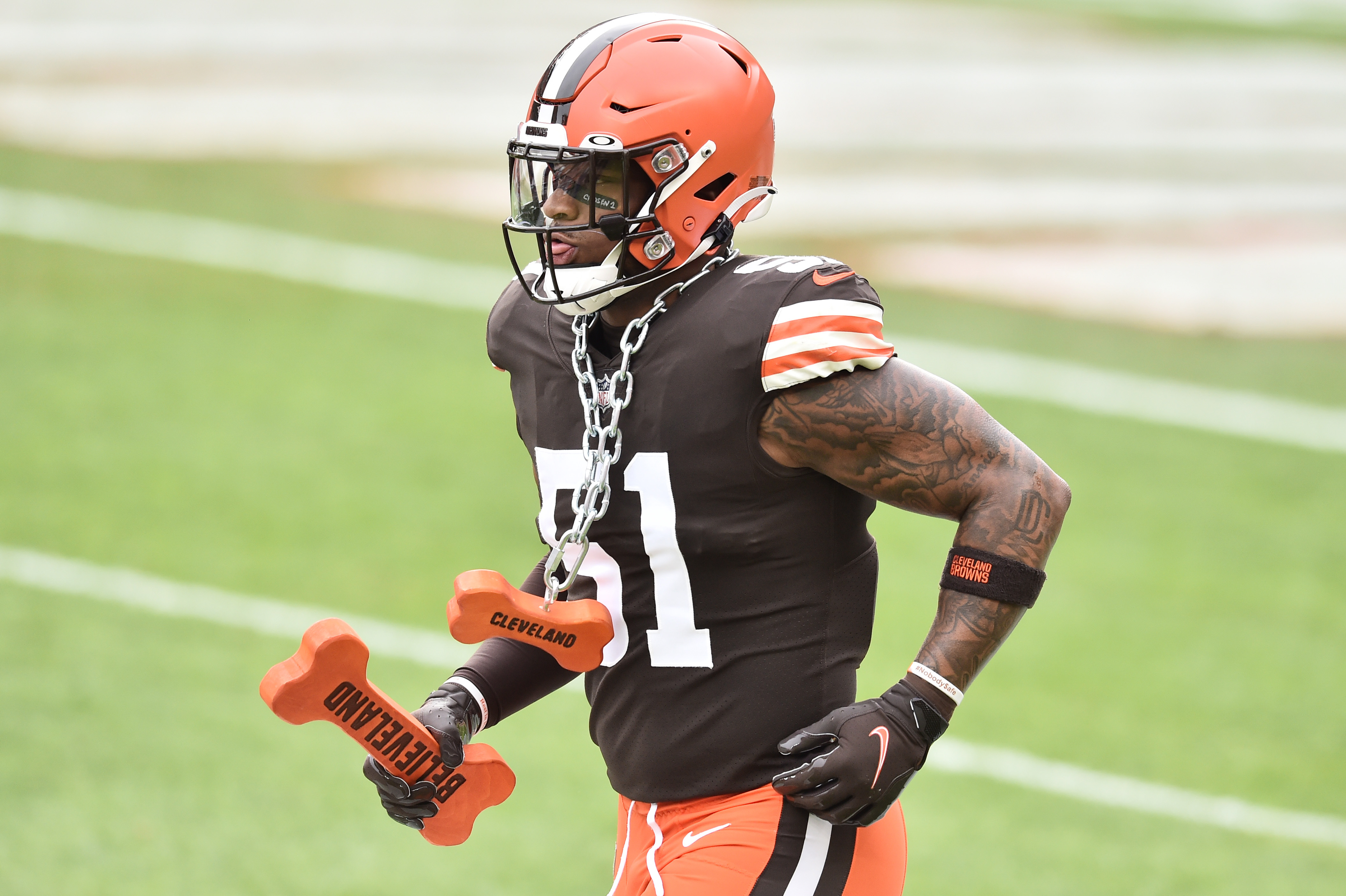 The Denver Broncos are a talented football team but they must continue to add to their depth. Adding competition at each spot should be a priority for the general manager, George Paton.
One way NFL teams improve overall talent is by identifying buy-low trade targets on other rosters. This method is often used by New England Patriots and the Kansas City Chiefs, two elite organizations.
Paton could look to use back-end draft capital to bring in more players during training camp to solve immediate issues or plan for the long-term.
One possibility previously discussed is upgrading the offensive line by targeting offensive tackle Greg Little, but one we haven't yet discussed is addressing depth at the inside linebacker position. Current starters Alexander Johnson and Josey Jewell are in the final year of their contract. With continued progression, both players may price themselves out of Denver this offseason.
Last year's draft selection, Justin Strnad, is returning from missing the entire 2020 campaign. Baron Browning, the Broncos' 2021 third-round selection has had injuries issues all offseason.
With Jewell and Johnson's status beyond this season unsure coupled Strnad and Browning unproven in the league, Paton would be wise to add more talent.
However, there may be a trade candidate the team could target this offseason — Mack Wilson. He probably wouldn't cost much and could be a long-term fixture for the organization at a troublesome position.
Why is potential Broncos trade target Mack Wilson available?
The Browns have an ascending second-year linebacker in Jacob Phillips and a veteran in Anthony Walker at linebacker. Add the improved play of Sione Takitaki with the addition of second-round selection Jeremiah Owusu-Koramoah and Wilson may not have a spot.
The 2019 fifth-round pick showed some tremendous flashes in his rookie campaign. However, he was not selected by the current staff and seems to not be in the team's plans moving forward.
"Wilson could be expendable, and somebody could jump at a chance to see if a new environment could help him rediscover the magic that he flashed on and off as a rookie fifth-round pick in 2019," Brad Gagnon of Bleacher Report wrote.
Any time a team has a chance to add a talented player for a late-round draft pick, they should explore it.
Wilson was drafted on Day 3 of the 2019 draft but there were plenty of discussions he could much earlier.
NFL.com draft analyst Lance Zierlein's comparison was former Pro Bowler C.J. Mosley of the New York Jets. That projection and an opportunity to be coached by one of the greatest linebacker coaches in the game, Vic Fangio, is an enticing thought.
Wilson blends adequate size and speed. He has enough quickness to cover backs and tight ends while having enough size to hold up in the running game.
The third-year linebacker possesses a nice blend of awareness and processing speed to identify offensive run concepts.
He uses clean footwork to attack the correct hole. Wilson's power and leverage allow him to shed blockers and make the play. All of which could even be amplified with the coaching of Fangio and the Broncos staff.
#TeachTapeTuesday via Alabama LB Mack Wilson showcasing efficient footwork, processing, leverage, and power in run support: pic.twitter.com/mNR6vFlAci

— The Scouting Academy (@TheScoutAcademy) February 26, 2019
Additionally, Wilson has shown the capability to play in coverage. In this clip, Wilson recognizes his coverage responsibility and closes on the receiver quickly. Not only does Wilson get to the receiver, but he also has the awareness to make a play of the ball.
The young linebacker uses his above-average hands to make the interception and tremendous athleticism to score. This type of playmaking skill would be a welcome addition to a defense lacking turnovers.
🚨 Pick six alert!

Mack Wilson takes it all the way back for the TD.#WASvsCLE

— PFF (@PFF) August 9, 2019
In the same game, the former Alabama star shows tremendous zone recognition to make a play. In this clip, the quarterback tries to make a throw in the seam. Wilson recognizes the throw and shows the tremendous athleticism to adjust to the ball and come down with the pick.
Mack Wilson with his second interception of the game for the Browns 💪

(via @thecheckdown)pic.twitter.com/0fW7ad8QoT

— SportsCenter (@SportsCenter) August 9, 2019
Lastly, the Broncos have continuously struggled on special teams. If Wilson was unable to crack the starting lineup, he could be a special teams dynamo.
When Mack Wilson absolutely destroys Speedy Noil 😳 (2016)

Is this the greatest hit in Alabama history? pic.twitter.com/aMOiKyicDS

— Alabama Diehards (@AlabamaDieHards) March 20, 2020
Why Wilson is a buy-low candidate
Wilson simply has not stayed healthy in his football career. Wilson was injured several times at Alabama, and again last season in Cleveland.
Additionally, Pro Football Focus has not graded Wilson well with a grade of 41.4 in 2019 and 36.2 in 2020. His inconsistency could be a predictor of future performance or simply growing pains in a young player's career.
The Nick Saban disciple has yet to take off. This can be concerning considering the type of coaching players get for the Crimson Tide.
The Broncos should explore the risk, only because the cost will be minimal. The team can bank on better coaching in their building to bring the best out of Wilson. If he does not work out as a starter, he hopefully can continue to be a good backup and depth piece.
But, if he is anything like the player he was at Alabama, the Broncos may have another piece on their top-flight defense for 2021 and beyond.
Conclusion
For Wison to succeed in the NFL, he needs a change of scenery. Coming to Denver may just be the kickstart needed to further his career.
If Wilson has a chance to come in and grasp the defense, he could contribute to the team there, or special teams. Ideally he would be able to contribute in both phases, as that's fairly necessary for this team to compete at a high level.
Additionally, the current Browns' linebacker has one more year left on his deal after this season. His cost is low, as would the expected compensation going to Cleveland.
If he connects with coaching in Denver, he could be a star and team up with either Strnad or Browning for years to come.
Trading for the third-year pro should be cheap and provide the team with a high-upside player at a critical position for Fangio's defense.
Per Over the Cap, Wilson's cap hit is just over $900 thousand in 2021 and just over $1 million in 2022. All with minimal dead cap hits if the team moves on from him.
If Wilson does not crack the lineup, he provides good depth. Regardless of where he ends up on the depth chart, the risk of acquiring him is very minimal.
Paton can do a lot worse in addressing the linebacker depth than adding youthful talent line Wilson.