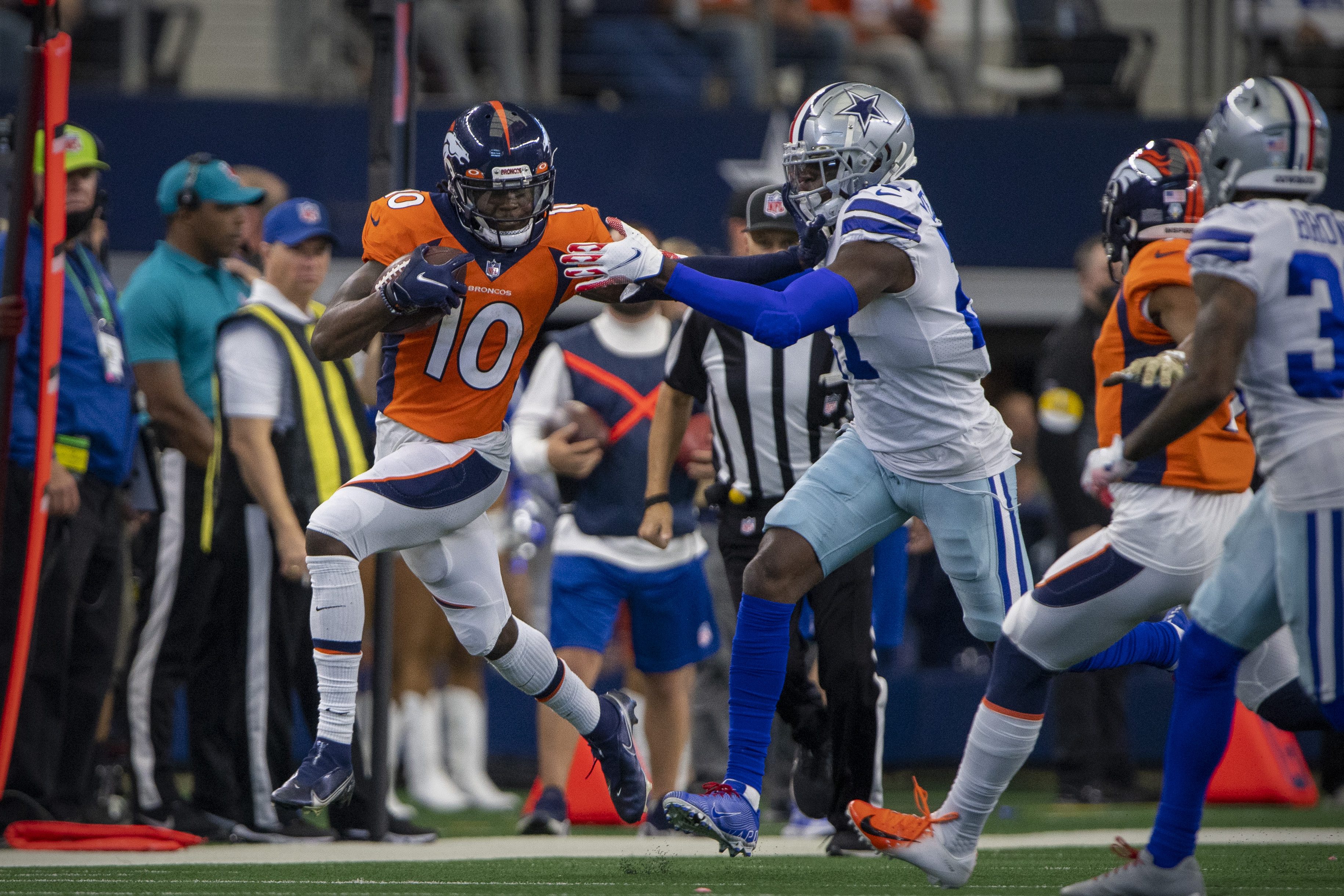 It is clear to see the talent at the offensive skill positions for the Denver Broncos.
Courtland Sutton, Jerry Jeudy and Tim Patrick form a very gifted trio of receivers, Melvin Gordon and Javonte Williams are one of the best one-two backfield punches in the league, and Albert Okwuegbunam and Greg Dulcich project to be dangerous pass-catching tight ends. Unfortunately, the production hasn't met the talent level yet, but ESPN's Bill Barnwell is projecting that
"I expect the raw numbers for Denver's offensive threats to rise dramatically after it swapped out quarterbacks Drew Lock and Teddy Bridgewater for Russell Wilson," Barnwell wrote. "Jerry Jeudy, Courtland Sutton, Tim Patrick, Albert Okwuegbunam and even injured deep threat KJ Hamler have the potential to post spike weeks throughout the season. Their numbers should all improve overall. Second-year back Javonte Williams could be the 2022 version of Jonathan Taylor. The Broncos could legitimately rank No. 1 in these rankings next year if everyone lives up to expectations."
Barnwell does note that it's unlikely that all these offensive stars can make a sizable developmental leap, but he does make cases for why Sutton, Jeudy and Okwuegbunam — in particular — can take that next step.
"Sutton has a 1,112-yard season under his belt, which at least establishes a baseline of success," Barnwell wrote. "Jeudy's second season was marred by a right high ankle sprain. When healthy, he has averaged 1.8 yards per route run and a target share of just under 23%, which is roughly what Michael Pittman Jr. has done over his first two years. Okwuegbunam has averaged just over 2.1 yards per route run in a small sample over the past two seasons, and now he gets to play for a quarterback who has routinely helped his tight ends become red zone threats."
Barnwell closed by highlighting how beneficial Wilson's presence can be for running backs, and how Williams should produce better this season as a result. Not only that, but Williams should also be the clear lead back now, as Gordon slides into a supporting role.
If the Denver Broncos' skill group can take that next step this season, it could be what puts the team over the top.