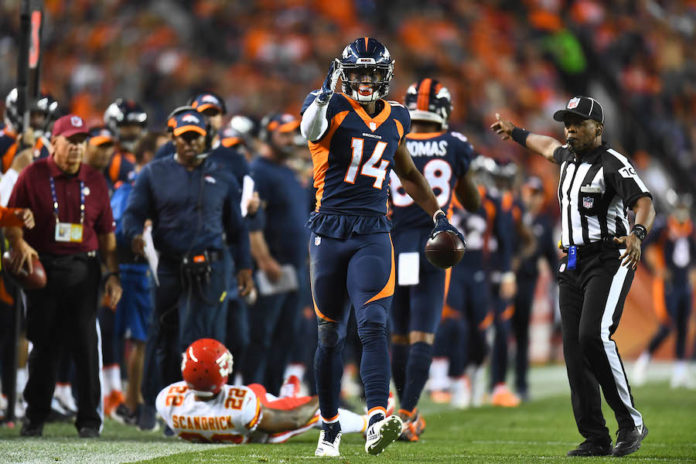 Jerry Jeudy has gotten most of the hype out of Denver Broncos training camp, and rightfully so. The 2nd-year receiver is learning from his struggles last season and ironing them out. Jeudy continues to develop this offseason and has a chance to be a tremendous player in the NFL.
Additionally, uncertainties around quarterback drown out the story of The Comeback Season.
In the hoopla surrounding last year's 1st-round pick or who plays under center, the league needs to be reminded just how good Courtland Sutton is.
The wide receiver room is the best position group on the offense. One step further, the Denver Broncos have one of the best wide receiver rooms in the NFL. Recognition of the group is in large part due to Sutton's return this season.
The desire to enjoy the "next best thing" is understandable. We all experience recency bias. Leading to our focus is on the person in front of us, and not who wowed us yesterday.
Sutton amazed us all through the 2019 season. He was primed to do it again last season. An injury delayed fans a chance to see just how good he can get.
What is clear is Sutton is a dominant force and primed to put the NFL on notice once again.
The hype was real before Sutton became a Denver Bronco
Former Broncos' 2nd-round selection came into the league with immense physical talents. With fantastic measurables, Sutton was pegged to be a project.
Measuring in at 6-foot-3 and almost 220-pounds, th10th-overall pick ran an impressive 4.53 40-yard-dash.
His body control reminded scouts of a young Alshon Jeffery.
Meet Courtland Sutton: the do-it-all threat that some are comparing to Alshon Jeffery 👀 pic.twitter.com/CT98Atx20S

— Bleacher Report (@BleacherReport) April 3, 2018
Sutton dominated lower levels of competition, but his natural talent came onto display early and often in 2019.
The beast developed so quickly Demaryius Thomas and Emmanuel Sanders were traded during the next two seasons.
Sutton was just getting started.
Sutton is King of the 70/30 jump ball
No. 14's rise to prominence came in large part to his ability to win contested catches. Which is one of the most important skills for an NFL wide receiver. NFL cornerbacks are so good that you cannot expect separation on every play.
For Sutton, he is always open. The Broncos floundering offense was only able to move the ball regularly because of his ability to win in close quarters.
Through 2019, Sutton's quarterbacks were uninspiring to stay the least. He played with Joe Flacco, Brandon Allen, and a rookie named Drew Lock.
Sutton's consistency was on display whenever a ball came into his facility. Against the opposition's best cornerbacks, Sutton dominated his competition.
As you can see in this play, "Jump Ball King" tracks the ball tremendously before snatching it right over his defender.
COURTLAND SUTTON WANTED IT 💪💪@SuttonCourtland | #CLEvsDEN

📺: CBS
📱: NFL app // Yahoo Sports app
Watch free on mobile: https://t.co/GjhTr4sGG6 pic.twitter.com/VkQzoFu26D

— NFL (@NFL) November 3, 2019
As Sutton continued to win contested catches, confidence in him grew. What used to be considered a 50/50 proposition, now became a 70/30 chance the Jump Ball King reels in the ball.
The pass does need to be high, just close. No matter where the ball is, Sutton will come down with it.
FULL EXTENSION FOR COURTLAND SUTTON 😱 #SCtop10

(via @NFL) pic.twitter.com/IQRRcySaAW

— SportsCenter (@SportsCenter) December 1, 2019
Now, this does not mean Sutton is a one-trick pony. The 4th year pro has developed into an all-around player.
Broncos' Courtland Sutton is a complete player
Mr. 70/30 has worked on his game since the day he was drafted.
Most young players get too comfortable in what they do well and fail to challenge themselves with the failure that comes with growth.
This does not apply to Sutton. He continues to develop his game. This young man wants to be great, and there is no reason he will not be.
Short and intermediate routes are not a formidable part of his repertoire.
Before suffering an injury, the star receiver was primed to take another huge step in his development. The small sample size of what come occurred in the game against the Pittsburg Steelers no. 3 ranked defense.
Courtland Sutton had one of the best 31-snap seasons you'll ever see in 2020 pic.twitter.com/rKXMFzfHpD

— Ian Hartitz (@Ihartitz) March 31, 2021
Sutton's impact on the team is visible in the running game. Like the former Broncos greats, Rod Smith and Ed McCaffery, Sutton takes pride in helping in the running game.
With his size, he can be a real force for running backs. His desire to mix it up in the running game creates separation from him and other wide receivers in the league.
Courtland Sutton really does this blocking thing 😤😤 @SuttonCourtland @Broncos

(h/t @BrandonThornNFL) pic.twitter.com/nWFOtGuAze

— The Checkdown (@thecheckdown) January 3, 2020
His versatility also lends itself well to diversifying the offense. Sutton has shown to be capable in a variety of ways.
The cannon of a right arm was on full display on a pass play to Tim Patrick in 2019.
Casual. 😅

WR Courtland Sutton connects with Tim Patrick on this 38-yard dime 🎯

(via @Broncos) pic.twitter.com/QKQj2Sc2aW

— FOX Sports: NFL (@NFLonFOX) November 17, 2019
It is not hyperbole to say there is nothing Courtland Sutton cannot do.
In 2019, Sutton ended the year with an impressive 83.1 score from Pro Football Focus. He did all of this with one of the worst quarterback rooms in the NFL.
In 2020, Sutton suffered an ACL injury. Most estimations for athletes indicate that he would not be ready for football activities until training camp. That itself is a generous prognosis.
However, Sutton is participating in OTAs and mini-camp.
Don't 😴 on the comeback. #BroncosOTAs x @SuttonCourtland pic.twitter.com/wAozShgJgL

— Denver Broncos (@Broncos) June 1, 2021
His drive to be great is on full display during his rehabilitation. Sutton fought his way back to be back on the field. That fight has him in Pro Football Focus's Top-30 receivers.
Simply put, he is better than that projection.
Sutton will raise expectations. He will remind the league of what it missed last season.
Let Courtland Sutton reintroduce himself. League, you're officially on notice. You are about to witness 2021 Comeback Season.