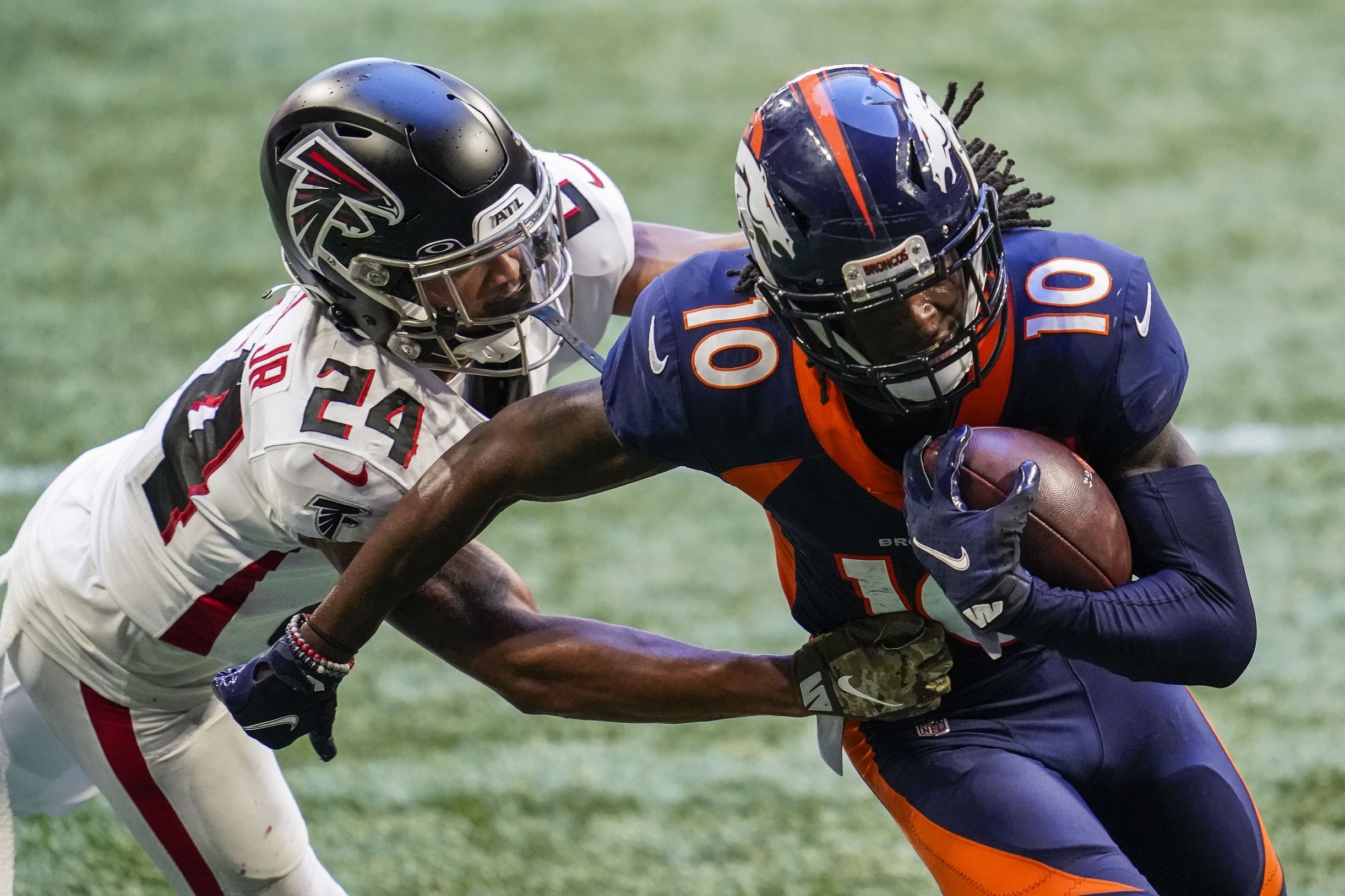 The Denver Broncos receiving unit is as deep as it has been in ages, which is a good problem to have as an NFL franchise. That is not necessarily the case for fantasy football gamers attempting to put together a winning roster.
Being deep at the wide receiver position does not directly relate to success within the fantasy sphere and makes analysis difficult for the forward-thinking dynasty builder.
The wide receiver position for Denver is especially difficult to assess given the battle at the quarterback position between Teddy Bridgewater and Drew Lock, as well as the swirling rumors around Aaron Rodgers.
Wading through the morass of numbers and advanced statistics can be mind-numbing, so let's look at the facts.
The roster lock
Let's start with the obvious Denver Broncos receiving threat that you must roster on your fantasy team and that is Courtland Sutton.
Just two seasons ago Sutton was a 24-year-old pro bowler with 1,112 yards and 6 touchdowns. That put him squarely in the top-20 fantasy receivers. Unfortunately for Sutton and fantasy footballers alike, his 2020 was cut short due to a season-ending knee injury. Therefore, he was robbed of an opportunity to expound upon that impressive outing.
Today, Sutton is the best receiver on the Broncos roster and his big-play, jump-ball ability makes him a threat on all levels of the field and a continual start-worthy player on your fantasy roster.
Courtland Sutton: 10th highest-graded WR in 2019pic.twitter.com/ennz3qbD0L

— PFF (@PFF) March 9, 2020
Keep an eye on him early though, and be prepared to pick your spots. His talent is immense but coming off major knee surgery and missing the vast majority of last season may mean he gets off to a sluggish start.
Be strategic in where you draft Sutton as well. ESPN's most recent wide receiver rankings have him listed as the 26th best receiver in PPR leagues behind players like Ja'marr Chase and DJ Moore, guys who he could easily surpass as the season wears on. He could end up being a steal in middle rounds as your draft trudges on, so do not let him fall too far and regret not striking while the iron was hot.
Bubble guys
A few guys to keep an eye on as the season rolls on are Jerry Jeudy, Tim Patrick and KJ Hamler. None of these players are projected to be break-out fantasy studs, but arguments can be made for the addition of one, if not multiple, to your fantasy team.
Jeudy had a very solid rookie campaign posting 52 catches for 852 yards and three touchdowns.  But as a fantasy player, he didn't really do enough to significantly impact the game. This season could be different for the young Broncos receiver, though.
Jeudy suffered ten drops last season, some at critical times during games, and even acknowledged it as a problem that held back his production as a rookie.
Now a year wiser and with a full off-season to improve, he should be primed to take the next step in his development and build upon his solid 2020 numbers. He has been putting in the work in a number of ways and with Sutton back who will require a lot of attention from opposing defenses, he will have flex play potential, especially in standard PPR leagues.
Tim Patrick is the less sure fantasy football prospect but one worth putting on your watch list.
Unlike previous seasons, in 2020 Patrick was able to stay healthy and in doing so, put up very solid receiving numbers, including 6 receiving touchdowns. He is a very solid jump-ball receiver which boosts his value in and near the end zone nicely and, with Sutton and Jeudy to get the majority of the defensive attention, he should be afforded some very favorable matchups.
Patrick should not be a player you draft right out of the gate but to be aware of as your league progresses forwards. Pesky bye weeks and player injuries can catch even the most prepared fantasy player in a bind, but a player like Patrick can be the one that just gets you by on a touch snake-bitten week.
Lastly, KJ Hamler is not a draftable asset yet, but his big-play ability is intriguing.
Hamler has traits that allow him to be explosive on the football field and that makes him a thread to make a huge play at any moment. His rookie season was nothing to marvel at but he flashed multiple times and that upside is always alluring to the watchful eye of fantasy pros.
Speed kills. ⚡️@Kj_hamler | 📺: CBS pic.twitter.com/1zTMeQS3da

— Denver Broncos (@Broncos) December 13, 2020
Of all of the Broncos receivers to consider as a fantasy contributor, he is still the least likely to make an impact and, like Patrick, shouldn't be drafted.
Hamler is more of a hail mary, lightning in a bottle player that, if timed perfectly, could tip the scales in your favor on an otherwise hopeless week.
These players are by no means must-haves for your fantasy roster but don't count them out and be ready to pounce if they begin to emerge as regular contributors.