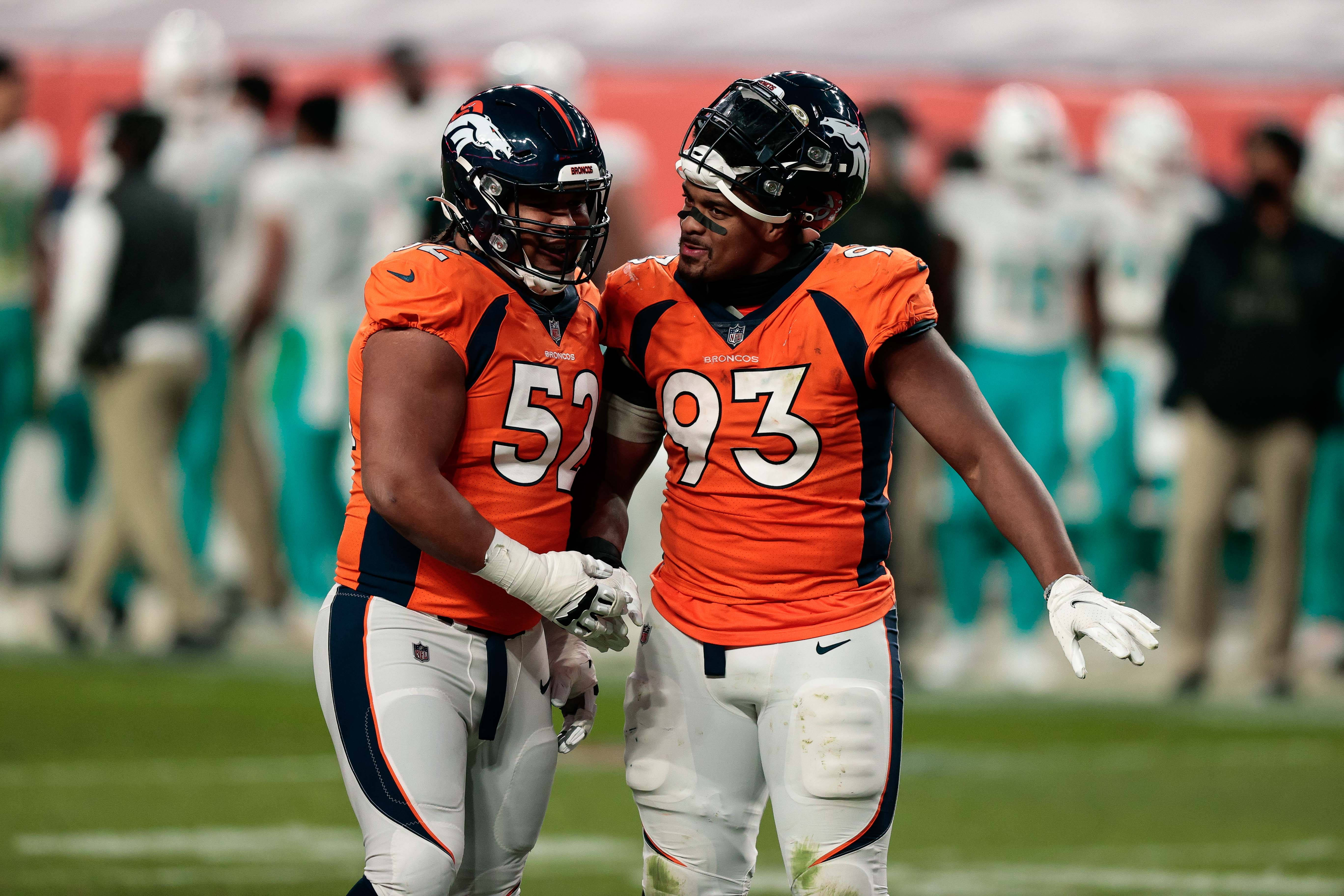 The Denver Broncos offensive guard Netane Muti had an impressive showing against the Minnesota Vikings. In the team's first preseason game, the youngster showed glimpses of the player he can be.
But really, the former Fresno State standout's performance should not come as a surprise.
Muti is an absolute physical specimen. According to draft analyst Matt Miller's profile, "When healthy, Muti would be a top-five interior prospect in this class."
However, availability is the best ability and Muti struggled to stay healthy throughout his time in college. Muti's injury history led him to be selected in the sixth round of the 2020 draft by the Denver Broncos.
In the NFL, the guard has remained healthy while developing under offensive line coach Mike Munchak and his development seems to have taken significant steps while being on full display Saturday in the afternoon matchup with the Vikings.
Broncos' guard flashes immense potential
Muti's strength was clear as he dominated in pass protection. Here, No. 52 stifles a defensive lineman with one arm. He does this all while preserving the pocket giving plenty of time to quarterback Teddy Bridgewater.
This dude @netanemuti, who did not get a single rep at LG all week in Minnesota, was out here blocking grown ass men with one arm 😳💪🏽 pic.twitter.com/RHEvWbaeg3

— Jedi Master Mario (@MileHighMario) August 15, 2021
Muti moved well to get getting to the second level in the running game. Here, at left guard, he combos with the tackle creating a double-team at the point of attack. He moves laterally while keeping his eyes on the linebacker and then successfully disengages from the lineman and engages the second-level defender.
#Broncos rookie RB Javonte Williams —

Five carries vs. MIN — with two rushes of 10+ yards. Finds some daylight here. @NFLMatchup pic.twitter.com/WKFYviXTyd

— Matt Bowen (@MattBowen41) August 16, 2021
Finally, the Broncos' second-year player shows off some nastiness this team could have more of. The young lineman scans the field for someone to block, peeling to his left and obliterates a defender.
Just another day at the office for former @FresnoStateFB @netanemuti GO DOGS! @DogWiredDudes who's next?! @KalenDeBoer @GrubbRyan @FSAthletics @Broncos pic.twitter.com/WQfMYN8aoE

— Eric Barboza (@Front_RowSports) August 14, 2021
To win this season, the Broncos must establish a tough and physical personality in the trenches. Muti adds to the mean streak of players like Broncos' left guard Dalton Risner and left tackle Garett Bolles.
He's played so well, Muti's progression is leaving an impression on his head coach as Vic Fangio has talked about him a great deal during this training camp.
Honestly, it is not crazy to believe Muti is ready to push for a starting spot. However, the answer is not quite yet.
The exciting part for Broncos fans is the young man is gaining ground, however, the aforementioned Risner and right guard Graham Glasgow are a good starting pair and consistent performers. Muti has yet to show he can be consistent, but when he does watch out NFL.
If his play continues to come closer to his potential, you may see Muti in the starting lineup soon.