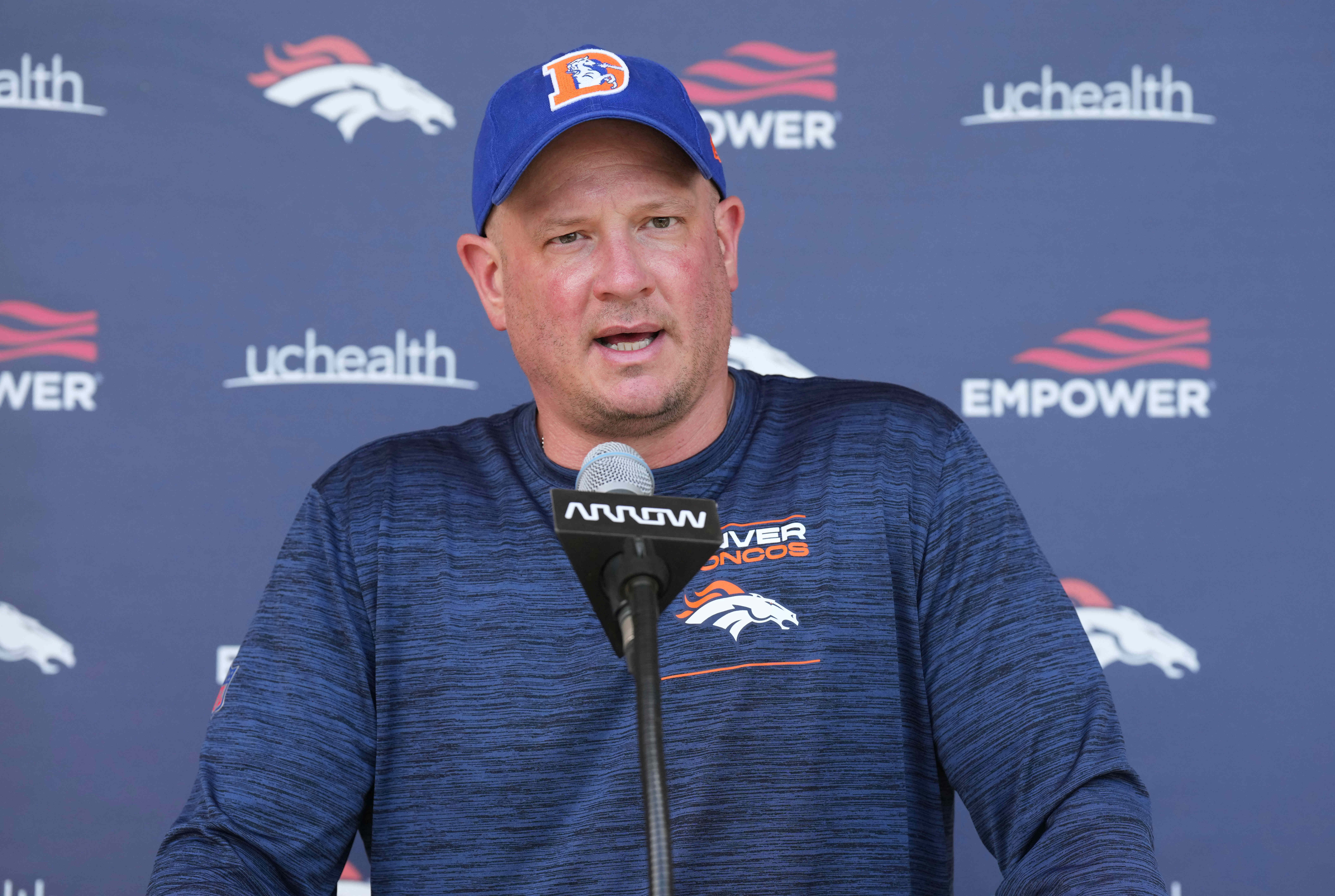 It's not easy being the head coach of a professional football team. Heck, it's not easy coaching the game of football, and Denver Broncos head coach Nathaniel Hackett acknowledges that.
After a disappointing loss in the Broncos season opener, Hackett reflected on the outcome of his first regular season game.
Hackett reflective after loss
Broncos fans entered the 2022 regular season with high expectations for the team they love to root for.
Unfortunately, Denver dropped their season opener against the Seattle Seahawks 17-16 in Nathaniel Hackett's regular season debut.
Tuesday's talking point amongst local and national media hounded on the same topic.
Why did Hackett elect for Brandon McManus to kick a 64-yard field goal rather than entrusting Russell Wilson to convert on 4th and 5?
Football is reflective and often at times a hindsight business.
We can all easily sit on our couches or in the pressbox and "coach" without being near the action or understanding the process of being in Hackett's position.
It's easy to say what should have been done, but take it from somebody who has coached, it's one of the more difficult decisions to make when you're on the sideline.
Tendencies, environment, and decisions to make without there being much time to second-guess typically have a bigger focus under the microscope.
Hence, hindsight.
On the other hand, coaches also know there are no excuses.
On Tuesday, Hackett lived by the rules he had set for his team.
Team First.
No Excuses.
Be On Time.
The nearly three-hour flight home served as a time to reflect for the Broncos first-year head coach, as he and other coaches watched the film on their trip back to Denver.
If Hackett could have a do-over from Monday Night, he'd elect to go for it on 4th and 5 with his franchise quarterback.
"Looking back at it, we definitely should have gone for it," Hackett said in his Tuesday press conference. "It's one of those things where you look back at it and you say, 'Of course we should go for it.'''
Hackett knows that time machines don't exist, but as a coach, he believes in his players and the plan they had in the moment.
"We missed the field goal," Hackett reflected. "But in that situation, we had a plan. We knew that [the] 46-[yard line] was the mark. We were third-and-15, I think, third-and-13. I'm more upset about that play before, to lose yards. Getting that there would have definitely been better able to call that same play and get extra yards, but he dumps it out to [RB] Javonte [Williams]. Javonte makes a move, goes a lot farther than I think we had anticipated. We were expecting to go for it on fourth down and then you hit the mark. The mark that we had all set before we started. We said 46-yard line was where we wanted to be, and we got there so we had to make a decision.  We wanted to give it to [K] Brandon [McManus], and we did. It didn't work, it sucks but that a part of it."
Broncos fans, Hackett deserves the benefit of the doubt, and the opportunity to learn from Monday before impulsively being written off the moment something goes wrong.
He cares: About the game, his players, his coaches, and the fans, even if they boo him.
He's human, he's reflective, and he wants to win just as badly as fans want the team to win.
It takes time, and luckily, Denver has plenty of it.
Can the Broncos bounce back in Week 2 against the visiting Houston Texans?
That's the question the Broncos must answer among themselves this week on a short turnaround.
Denver will host the Texans on Sunday with kickoff being slated for 2:25 PM MT.