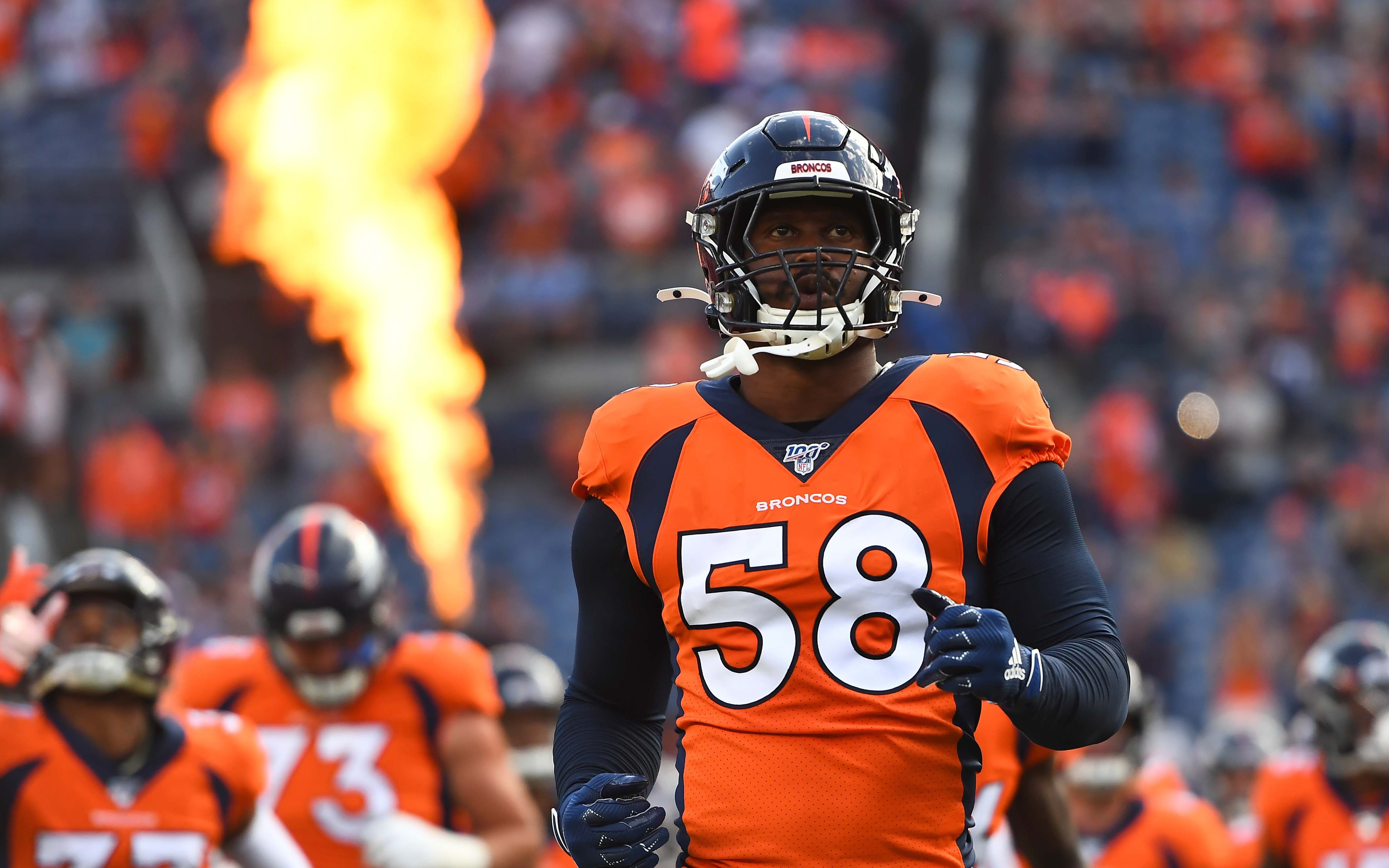 What are the key individual matchups between the Denver Broncos and the New York Giants?
Football is the ultimate team game. However, individual matchups on offense and defense heavily influence the success of each play. Oftentimes, a handful of plays determine whether a team wins or loses.
Each week, two critical individual matchups will be examined for the Broncos needed to win in each game.
This week, the team heads to the east coast to face Daniel Jones and the Giants. Like Denver, the Giants are looking to climb out of their division basement and make a playoff run. Look for this team to come out inspired as another slow start for New York could signal significant changes heading into the offseason.
The Giants are beaten up with injuries, yet the Broncos cannot afford to have a letdown. To get their first September win in the Vic Fangio era, these individual players have to play big in the Big Apple.
Key individual matchup: Broncos offense vs Giants defense
To be successful offensively, the Broncos' interior offensive line must be stout against Giants defensive lineman Leonard Williams.
By far the team's best defender, Williams inked a three-year extension with the Giants after an 11.5 sack breakout campaign last season.
Williams is a physical specimen. His size and explosiveness create a problem for any offensive lineman. He has an ability to cause penetration and get into the backfield often. The former first-round pick of the New York Jets is a strong player who can stand his ground in the running game or bull rush his way to the quarterback.
The versatile Williams will move up and down the offensive line to maximize his matchup.
Leonard Williams wasn't having it 😡 @leonardwilliams @Giants

📺 #CLEvsNYG on NBC pic.twitter.com/6J1cwhGXxu

— The Checkdown (@thecheckdown) December 21, 2020
To have success, the Broncos offensive linemen must win their individual matchups for group success. This is especially true for left guard Dalton Risner, center Lloyd Cushenberry III, and right guard Graham Glasgow in this game. They will be put to the test all game long against Williams.
There is no question the Broncos want to run the ball and use play/run action to create big plays downfield. For that offensive game plan to be successful, the inside trio must get movement against Williams.
This group showed well during training camp and the preseason, but Williams is a different matchup.
Look for offensive line coach Mike Munchak and offensive coordinator Pat Shurmur to use double teams to keep Williams in check. If the Broncos inside group wins their matchup, the offense should move the ball with success against a good Giants defense.
Key individual matchup: Denver defense vs Giants offense
Von Miller returns after a year on injured reserve. By all accounts, the former All-Pro has looked good throughout camp and in his limited preseason action.
"The best thing I can say about @VonMiller is that he looks like @VonMiller."@markschlereth previews #DENvsNYG » https://t.co/pqZwb7DtmX pic.twitter.com/Tj52VJm8hM

— Denver Broncos (@Broncos) September 9, 2021
He will be matched up with fellow 2011 first-round draft pick Nate Solder. The University of Colorado alum moved from the left to right tackle this offseason.
Solder took the job over former second-year tackle Matt Peart.
The Giants starting offensive line on the "unofficial" depth chart:

LT Andrew Thomas, LG Shane Lemieux, C Nick Gates, RG Will Hernandez, RT Nate Solder.

Definitely notable that Solder is listed ahead of second-year tackle Matt Peart.

— Jordan Raanan (@JordanRaanan) September 7, 2021
The Giants' plan could not have been for the former Patriot to hold off the youngster. Either Solder showed that missing the entire 2020 season was beneficial to let him rest up, or the 2020 draft pick failed to impress. Either way, this matchup will be key in how much success the Giants have on offense this week.
For the Broncos, Miller is a game-wrecker. Even on his worst day, he is capable of creating a strip-sack or stuffing a critical third-down running play.
Poised to re-establish himself as a Defensive Player of the Year candidate, Miller wants to start quickly in 2021. Miller wins with a tremendous burst off the line, and bend around the corner.
Solder, a tall player, wants to keep Miller at bay using his tremendous length. Additionally, look for Giants' offensive coordinator Jason Garrett will utilize chip blocks to slow down Miller.
Tight end Kyle Rudolph will most likely line up to Miller's side often. Rudolph will likely chip against the former Super Bowl MVP. However, if Miller gets home, there is a good chance he can create a turnover. Jones is turnover-prone and gets shaken with pressure in his face.
Look for the Broncos to use combinations between Miller and defensive end Dre'Mont Jones. This can get No.58 in some one-on-one matchups in passing situations.
Conclusion
In the end, the Broncos want to run the ball often with running backs Melvin Gordon and Javonte Williams. Both are adept at running inside, so to be successful Risner, Cushenberry III, and Glasgow need to create room against big No. 99. For quarterback Teddy Bridgewater to be successful he must have a clean pocket. Keeping Wiliams in check will go a long way to helping this offense stay on schedule.
Defensive success comes with turnovers. Simply put, Miller should be able to get pressure against Solder. The future Hall of Famer causing havoc against the Giants' offense could lead to game-changing turnovers.
If the Broncos win these two individual matchups they will come out of the gate with a critical win to start the 2021 season.