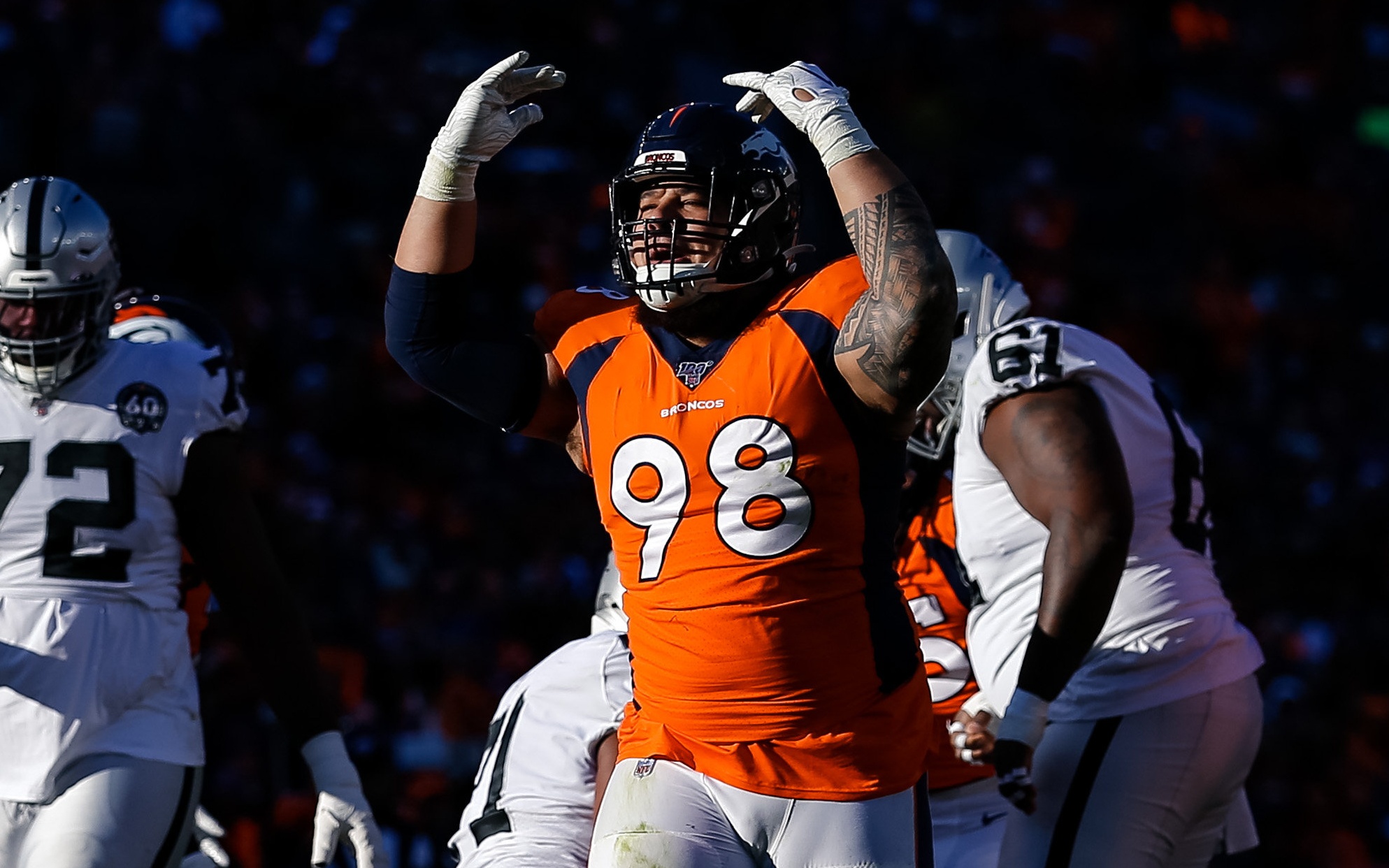 While the Broncos beat the Jaguars in dominant fashion in Week 2, they did not leave unscathed.
Unfortunately, as most are already aware, the Broncos will be missing two core players for a significant amount of time due to injuries that were sustained in Week 1. Those two are wide receiver Jerry Jeudy and cornerback Ronald Darby and the Broncos went into last week hoping this trend would come to a stop.
To their dismay, this was not exactly the case. While there is hope that many players will return to action this week, the Broncos did suffer a significant injury to yet another key player.
For the Jets, in comparison to the Broncos, they are fairly healthy. Like the Broncos, they have not gone unscathed but nowhere near to the same degree.
Denver Broncos
Bradley Chubb (Out 5-6 weeks)
After missing Week 1 with an ankle injury, the Broncos finally allowed Chubb to play against the Jags, reuniting him with what was supposed to be one of the scariest pass rush duos in the league with Von Miller manning the other side.
Only playing five times together heading into this game, the trend continued. Chubb went down with another ankle injury, which then was later announced he had to have surgery on.
There is good news though. Chubb is not expected to miss the entire season and has a timetable to return set at five to six weeks. This aligns almost perfectly for Chubb's return to be right after their bye week and contribute to a late playoff run.
In his absence, Malik Reed will be the pass rusher opposite Miller. With plenty of experience under his belt, Reed should be a serious contributor until Chubb returns.
Josey Jewell (Injured Reserve)
Another significant loss for the Broncos, Jewell was playing the best football of his career until he tore his pectoral muscle on a special teams tackle last week.
Jewell, playing so well early, will be a tough player to replace for the Broncos but second-year linebacker Justin Strnad is next up to bat.
Strnad has been getting rave reviews from both coaches and analysts since the last offseason but this will be the first time seeing real game action for an extended period. With both Jewell and Alexander Johnson being on the last year of their deal, this is a great opportunity for Strnad to prove he is the linebacker of the future for the Broncos.
Mike Purcell (Questionable)
Purcell sustained a reported knee injury in last week's game against the Jaguars.
Missing the majority of last season, the big nose tackle's time missed was noticeable. He is a terrific run defender and is a key piece to the Broncos' success in base defense.
Luckily, his injury doesn't seem to be too substantial, being a limited participant in Thursday's practice. While his status for the game is still in the air, his participation in practice is a good sign. He is listed as questionable on the Broncos injury report, which means he's got a 50-50 chance of playing.
Noah Fant
Being a massive piece to the Broncos' passing attack, Fant's availability is of tremendous value to the Broncos.
Despite being limited in both Wednesday and Thursday's practice, he was a full participant on Friday. Fant is good to go and is available to play a vital role in the Jets game.
Graham Glasgow (Questionable)
Glasgow left the Week 1 game against the Giants in an ambulance due to an irregular heartbeat.
After not playing in Week 2, Glasgow looks good to go against the Jets being a full participant in Thursday and Friday's practice.
This is fantastic news for the Broncos as the interior offensive line has been a point of concern for them up until now. Glasgow, being the best interior lineman they have, will be tested this week playing against stud defensive tackle Quinnen Williams.
Shelby Harris
Much like last week, Harris was listed on the injury report (wrist) despite the injury not being to serious.
Harris was limited on Wednesday's practice but has been a full participant since. He is expected to play on Sunday.
Tim Patrick
Patrick was limited in practice participation on both Wednesday and Thursday with a hip injury but was a full participant on Friday.
With no injury status listed, Patrick is expected to be the Broncos' No. 2 receiver this Sunday.
Diontae Spencer
While Spencer doesn't have much of an impact on the offensive side of the ball, he is one of the return men in the league and can flip field position in an instant.
Luckily for the Broncos, his reported ankle injury doesn't seem too serious and is expected to play this Sunday.
New York Jets
Jamison Crowder (Doubtful)
Crowder was supposed to play in last week's game but suffered a setback on Friday's practice to an already injured groin and ended up missing their game against the Patriots.
This week, Crowder has not participated in any practice making his status a game-time decision. If he doesn't play, Braxton Berrios will play in his place for the majority of slot receiver snaps for the Jets.
John Franklin-Meyers (Questionable)
Opposite Williams on the Jets' interior defensive line is Franklin-Meyers. Already with two sacks on the season, he is a big piece to the Jets' overall success upfront.
So far, Franklin-Meyers did not participate in Wednesday's practice but did limitedly on Thursday's. His status is questionable ahead of Sunday's game.
Tevin Coleman (Out)
Coleman is a do-it-all running back for the Jets and was listed on the top of their depth chart before being ruled out with a non-COVID-related illness.
In his place, Javonte Williams' former teammate and fellow rookie Michael Carter will split carries with Ty Johnson.
Zach Wilson
The Jets rookie signal-caller has been a full participant all week and is expected to play against the Broncos this Sunday despite a groin injury.
He has no official status for the game making the likelihood of him playing all but certain.
Denver (2-0) hosts New York (0-2) with a 2:05 p.m. MT kickoff scheduled on Sunday.