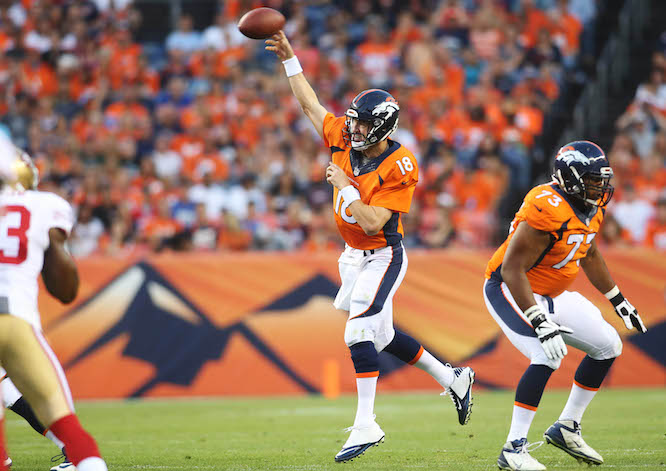 The Denver Broncos quarterback situation has been in flux the last six months.
Questions arose about whether or not Peyton Manning would come back in 2015. That was a two part equation. First off, did Manning want to return for another NFL season? Second, and the less reported angle, did the Broncos even want Manning back?
John Elway and Co. ultimately brought Manning back, but under their terms. No. 18 was forced to take a $4M pay cut, money he can earn back if he wins the AFC Championship ($2M) and then the Super Bowl (another $2M). Even with the pay cut some feel a lot of the Broncos brass was ready to hand the reins to Brock Osweiler and finally see what the fourth year man out of Arizona State could do, but that obviously didn't happen.
While Manning and Osweiler remain Nos. 1 and 2 on the depth chart after a long window of uncertainty, one thing that did officially change was the Broncos No. 3 quarterback. Out is Zac Dysert and in comes the Broncos seventh round pick out of Northwestern, Trevor Siemian, who played quite well in the preseason, particularly down in Houston.
So with all that as a backdrop, how do the Broncos QBs stack up entering 2015? Let's take a look — and also explore a scenario that could shake things up.
No. 1 — Peyton Manning
September 6th, 1998: Peyton Manning played his 1st NFL game. @Jaboowins and Marcus Mariota were both 4 years old… pic.twitter.com/eGrDI2zARK

— NFL Network (@nflnetwork) September 6, 2015
Yes, he's been playing for a long time, but Manning is still firmly in charge in Denver. You don't pay a QB $15M to not be No. 1 on the depth chart and the clear cut starter. The crazies can call for Brock all they want, but it's PFM's team and that's not changing anytime soon. That's what happens when you go 38-10 your first three years in town while tossing 131 touchdowns and just 36 interceptions.
No. 2 — Brock Osweiler 
#Osweiler ends a solid preseason by starting with a flourish. INSTANT ANALYSIS http://t.co/VNmr6MM1PO pic.twitter.com/hBJY8Pi50E

— Denver Broncos (@Broncos) September 4, 2015
Osweiler is the most curious case in the NFL right now. He finally had a pretty nice preseason after three very mediocre ones the last few years, but the former second round pick will be a free agent after this year. So what do the Broncos do? Frankly, they should trade him and get some value now while they can. If not, some mystery team will overpay Osweiler this offseason and it'll go down as one of the worst picks in Broncos history after they let him walking for nothing.
No. 3 — Trevor Siemian
Sounds like the #Broncos are keeping 3 QBs, with the final one being Trevor Siemian, a rookie from Northwestern.

— Ian Rapoport (@RapSheet) September 5, 2015
Siemian completed 23 of 40 passes in the preseason good for just a tick under 300 yards and a couple of touchdowns. His most impressive drive came in Houston when he led the Broncos on a game winning touchdown drive in the closing minutes. Did Siemian do enough to prove he could be a solid NFL backup? This scribe says yes; just another reason the Broncos should get some value for Osweiler and simply carry two QBs on the roster this season. It'd be the all in move.