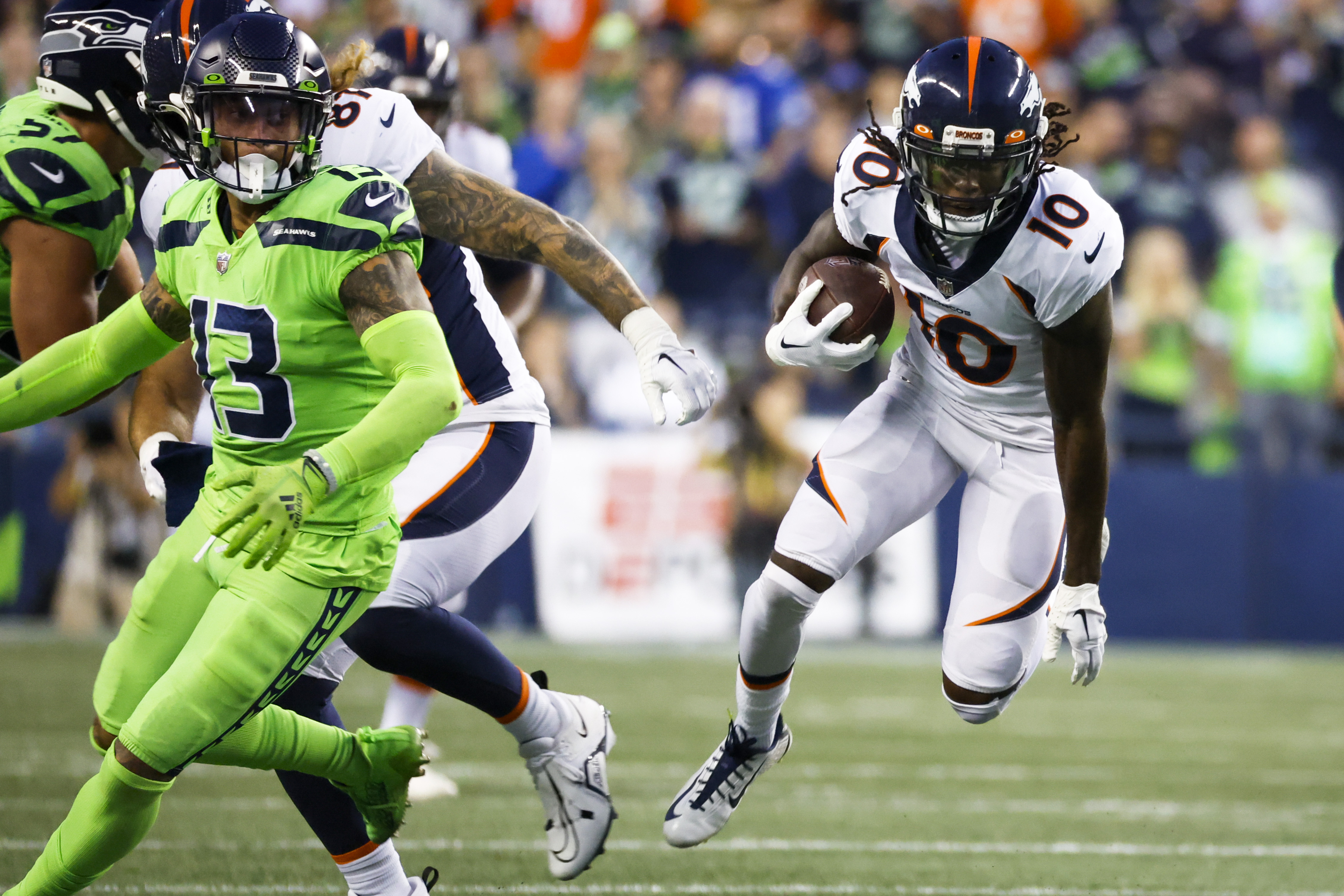 The Denver Broncos held their breath following Sunday's victory against the Houston Texans as they awaited word on the injury status of wide receiver Jerry Jeudy and cornerback Patrick Surtain.
Will the Broncos see both players return vs the San Francisco 49ers in Week 3?
Denver Broncos receive good news on injury front
As first reported by NFL Network Insider Ian Rapoport, both Jerry Jeudy and Patrick Surtain are considered day-to-today after initial tests came back with promising results.
The chest/sternum injury occurred after Jeudy was tackled in the first quarter, landing on the ball.
He left the game and did not return.
Surtain's test results on his shoulder came back clean and he is also considered day-to-day.
During Sunday's win, quarterback Russell Wilson relied on veteran wide receiver Courtland Sutton to shoulder a majority of the load after Jeudy exited with the injury.
"Well [WR] Courtland [Sutton] was so big for us today," Wilson said in his post-game press conference. "He made some great plays for us. He was so critical on key third downs and fourth down."
After Surtain left the game with an injury, the Broncos benefitted from rookie cornerback Damarri Mathis stepping in and stepping up against Brandin Cooks and Nico Collins.
Mathis redeemed himself early on after losing a Texans receiver on a zig route who almost caught a touchdown.
On the very next play, Mathis read a corner route by the Texans number two receiver, got in phase and squeezed the receiver out of bounds forcing the ball to fall incomplete.
Mathis is focused on improving with each repetition.
"Just continue to be better on my technique and just being able to tackle better," Mathis said on Sunday. "Just keep stacking days, stacking weeks and be the best that I can be."
Will Jerry Jeudy or Surtain play on Sunday against the San Francisco 49ers?
As the Denver Broncos prepare for the San Francisco 49ers, the game-day status for Jerry Jeudy and Patrick Surtain remains questionable at the beginning of the week.
The hope is that both players can give it a go on Sunday especially against a premier San Francisco offense and defense.
Surtain's presence would be necessary for covering a player like star do-it-all athlete Deebo Samuel.
Jeudy's presence would be critical for forcing the 49ers to allocate resources across the field rather than just focusing their coverage on Courtland Sutton.
Denver Broncos head coach Nathaniel Hackett confirmed both players will be considered day-to-day.
Initially, he said the Broncos thought their injuries were bigger and would have kept them out longer.
Going into Sunday's game against the 49ers, Hackett said their status is up in the air.
"They're day to day," Hackett said. "We're not sure if they're going to be able to be to the game, but we're hoping and crossing our fingers for that."