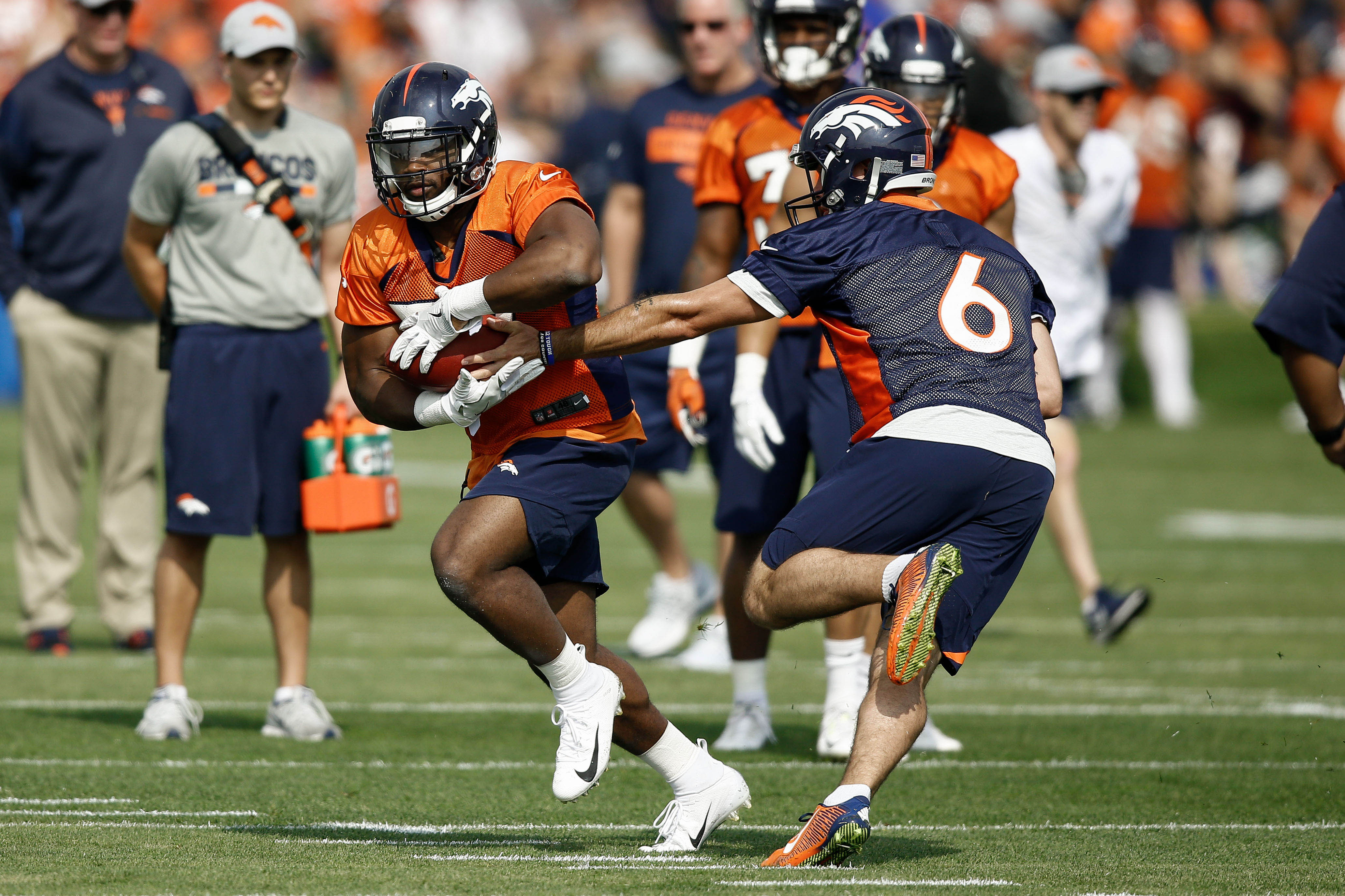 After the Denver Broncos cut C.J. Anderson, they suddenly found themselves trying to find their next starting running back. With multiple options currently on the roster prior to the regular season starting, it seemed inevitable that the role would be decided upon during training camp based off of the play of each runner.
Now, the answer of who will start for Denver at running back is beginning to become more clear.
First of all, Broncos head coach Vance Joseph knows that there can be only one starter at tail back, but that does not mean that there are not necessary roles to fill in the backfield. Denver is going to need a plethora of weapons to be able to keep opposing defenses on their heels and having three backs — Devontae Booker, Royce Freeman, and Phillip Lindsay — will allow the Broncos the versatility that they crave. When Joseph was asked about the differences of Booker and Freeman — he was not asked about Lindsay — he spoke on the fact that they are going to need both guys.
"I have been impressed with both guys," Joseph told the media. "We need both guys and they are both really different in what they do for our offense."
The reason that Lindsay — who was an undrafted free agent — was not mentioned is because he is still earning his stripes. He is on the outside looking in at a starting spot, but he is working his way towards carving out some kind of role on the offense. Lindsay has been a strong route runner out of the backfield, has shown his burst and quickness when operating in the open field, and has surprised offensive coordinator Bill Musgrave with his instincts running between the tackles. Lindsay has proven that he is a capable and versatile weapon out of the backfield when given the opportunity. In his first game action of his NFL career, Lindsay amassed 47 yards from scrimmage including a 19-yard touchdown reception. When Musgrave was asked if Lindsay is perceived as a receiver out of the backfield, this is what he had to say:
"That is one of the roles," Musgrave told the media. "Right now, we are still working through the process. We are hoping that he has another good day of practice tomorrow and Thursday, and a good game Saturday night. He can catch; he is also a good runner as we know — not just an outside runner but he seems to have very good instincts on those inside runs as well."
Still, it seems nearly certain that Lindsay will not be the starting running back when the regular season comes around. Instead, both Freeman and Booker are fighting for first team reps, but who has proven themselves to be the de facto first-team tail back?
Freeman has shown the ability to pick up yardage early by putting his head down and barreling through defenders and that talent was on full display in the first preseason game of the year. Freeman finished with just four rushing attempts, but he managed to accumulate 38 yards including a 23-yard touchdown run. For a Broncos offense that will need a productive run game to open up their passing game, having a strong and steady runner like Freeman gives Denver the benefit of avoiding third-and-long situations more often — or that is the idea, at least.
"Royce is a downhill pounder," Vance Joseph told the media. "He is a one-cut runner with pretty good vertical speed."
When Joseph discussed Booker, his tone was different. Unprompted, he spoke about Booker as if he will be the third-down back. Booker is more of a well-rounded runner which gives Denver more versatility to work with on third downs. He is best in space either in outside zone schemes or catching the screens, but he is strong enough to put his head down and get Denver two yards if needed.
"Book is Book. I have been around Book for almost two years now so I have watched him play and he is doing what he does well," Joseph told the media. "Third downs, catching the ball, outside zone is his best run."
When the head coach says that a specific running back is best on third downs, it tends to illuminate which running back is looking at a starting spot and who will be playing as the reserve back. In this case, Freeman looks to be the front-runner to start at tail back with Booker playing behind him and on third down with Lindsay filling in the gaps as a 'change-of-pace' type runner.
Only time will tell, but it seems that Freeman has the leg up on the starting role as of now.
---
For the rest of Vance Joseph's press conference, watch the video below from the Denver Broncos Facebook page:
For the rest of Bill Musgrave's press conference, watch the video below from the Denver Broncos Facebook page: