In 2017, this columnist, who was still in high school, wrote a sprawling, several-thousand-word-long manifesto to the editor-in-chief of Mile High Sports Magazine and was miraculously granted an internship. Then, after a year of writing up whatever table scraps needed writing, the internship was moved to the digital side, and to the Denver Broncos.
At the onset of that 2018 season, one of the first things written was a series titled, '3 up, 3 down' which highlighted three players that performed better than expected, and three that failed to live up to expectations. Over the next five seasons, this columnist helmed that series, and it's become something to feel immensely proud of.
Unfortunately, it will soon be time for a new chapter, and while the Denver Broncos Stock Report will continue to live on somehow, someway, this will mark a farewell, for now.
So, with that in mind, let's go out with a bang, and dive into another manifesto-sized scroll to discuss the Denver Broncos that defined the 2022 season, both for the better, and for the worse.
Denver Broncos Stock Up
Jerry Jeudy
Outside of Garett Bolles, few Denver Broncos have been as reviled by the fanbase as Jerry Jeudy.
Jeudy's drops in the 2020 season, paired with the red-hot Drew Lock Civil War, and the explosion of Justin Jefferson and CeeDee Lamb mixed to create the perfect blend of toxicity, and as a result, Broncos fans were very low on Jeudy at the start of the 2022 season.
But as Courtland Sutton's struggles began to mount, it opened the door for the third-year receiver to finally have his breakout season.
Career highs in yards, receptions & TDs. 💪@jerryjeudy's top plays from 2022: pic.twitter.com/rlFPooikdc

— Denver Broncos (@Broncos) January 21, 2023
Jeudy solidified himself as the team's No. 1 option in the passing game, thanks to finally improving enough at the catch point to maximize his gifts as a route-runner and as a runner after the catch. In the past, those special abilities were never on full display, as Jeudy wasn't able to make the catch consistently. That limited the impact of Jeudy's separation skills (because separation doesn't mean a thing if you don't catch the ball), as well as his ability to create after the catch (because you can't create after the catch if you never make the catch).
In 2022, Jeudy posted a catch rate in the 49th percentile and a drop rate in the 53rd percentile. By definition, that's average production at the catch point, which isn't impressive in a vacuum, but it does become impressive when you consider this is the very weakest aspect of Jeudy's game.
With that Achilles Heel improving from being a glaring weakness to just being functional, Jeudy became one of the most efficient receivers in the entire league.
Jerry Jeudy clips vs. the Arizona Cardinals pic.twitter.com/YRXxwSkSNP

— Frankie Abbott (@FrankiesFilm) December 20, 2022
He averaged 2.53 yards per route run, making him the NFL's sixth-most efficient receiver overall, and he averaged 4.19 yards per route run against man coverage, which was the best in the NFL by a dominant margin. Since 2014, which is as far back as the data goes, only four receivers have had a season in which they averaged more than 4.00 yards per route run against man coverage, and only one receiver has had a season in which they averaged more than 4.19 — Cooper Kupp, who earned MVP votes for that performance.
Sudden & decisive release from Jerry Jeudy

— Anthony Cover 1 (@Pro__Ant) October 7, 2022
Plus, Jeudy reached those heights of efficiency operating in a woefully inefficient passing game. If the Denver Broncos' offense can just be average next season, Jerry Jeudy should be special.
For more on Jeudy, check out our wide receiver review!
Alex Singleton
In terms of overhauling the perception of oneself, no one did more this season than Alex Singleton.
Singleton was viewed as a low-level backup linebacker, who could at least help shore up the Denver Broncos' paltry special teams unit, and his contract reflected that perception. Singleton's salary was just a hair over $1 million dollars, and his low-level guarantees of $150,000 suggested he was far from a lock to even make the 53-man roster.
Not only did he wind up on the final roster, but he was forced into starting action in Weeks 1 and 2, and immediately began proving skeptics wrong. Over that two-week audition, Singleton led the team in tackles, and although he was returned to his reserve role, he had made a lasting impression that resulted in him taking over the starting job in Week 6, and never looking back.
At this point, Singleton had climbed from backup to starter, and would have a case to be mentioned in the 'stock up' section, but he only continued to climb.
His Week 6 audition saw him total 21 tackles, including 19 solo tackles, which is probably why he wound up never looking back. That means that in his first three starts of the season, he totaled 35 tackles.
Alex Singleton clips vs. LAC pic.twitter.com/i8IOgKM94R

— Frankie Abbott (@FrankiesFilm) October 21, 2022
Singleton was able to soak up tackles in the middle of the field thanks to a glass-eater mentality and lightning-quick reaction speed, which was highlighted by Ejiro Evero (who has 15 years of NFL coaching experience) as the best he had ever coached.
HUGE praise for Alex Singleton 😲😲 pic.twitter.com/e0pOkSUT5G

— DNVR Broncos (@DNVR_Broncos) December 1, 2022
Then, at season's end, Singleton received two second-team All-Pro votes, further highlighting his ascension.
All season long Evero has weaponized Singleton/Jewell as blitzers.
On this 3rd and short it's Singleton who generates the pressure and lands a huge shot on Colt McCoy, causing him to airmail a pass for Marquise Brown into the welcoming hands of Justin Simmons for the INT. pic.twitter.com/qiHOOX56lg

— Frankie Abbott (@FrankiesFilm) December 20, 2022
Few players in the entire league had a rise as grand as Singleton did this season.
Ejiro Evero
It's funny to think how much has changed since last offseason, but the frequent discussion surrounding the Denver Broncos was once, "the offense should be really good with Russell Wilson, but we'll have to see how far the defense drops now that it doesn't have Vic Fangio."
Little did Broncos Country know they just happened to stumble upon one of the NFL's next great defensive minds.
When Evero came to Denver, he decided to keep all of Fangio's vernacular in place, to keep the defense playing fast, free, and without hesitation, as Evero put the learning curve on himself. He clearly familiarized himself quickly, as he ran the defense flawlessly while incorporating brilliant new wrinkles that made him a trailblazer league-wide. Simulated pressures (a pass rush look where you bring second-level defenders, giving the look of a blitz, but still only bring four pass rushers, allowing you to keep seven coverage defenders and minimize how many holes you're opening up) are the latest buzzy concept for NFL defenses, and prior to the bye week — when Evero's defense was still relatively healthy — the Denver Broncos ranked second in the league in terms of simulated pressure rate.
Evero took the brilliant guiding philosophies of Fangio's defense — disguise, forcing long drives, bending instead of breaking — and infused the most cutting-edge defensive concepts into it, and made it more aggressive, and the results speak for themselves.
As a defense, they allowed fewer yards per game, fewer rushing yards per game, fewer passing yards per game, a lower passer rating, and were dramatically better on third downs, leaping from 28th in the NFL in Fangio's last year to second in Evero's first. Advanced analytics and rate statistics evidence the leap clearest, as some of Fangio's struggles were hidden by long, slow drives that limited possessions and scoring opportunities. From 2021 to 2022, the Denver Broncos jump up from 20th in total defensive DVOA to 10th, and from 20th in pass-defense DVOA to seventh. They also improve from 20th in yards allowed per drive and 29th in plays allowed per drive, to fourth in both categories under Evero, all while allowing slightly fewer points per drive.
From NFL Now: The #Colts have begun the process of second interviews, with Jeff Saturday and Ejiro Evero among the first couple. Expect it to slide into next week. pic.twitter.com/LKnXDfnlQo

— Ian Rapoport (@RapSheet) January 25, 2023
What other proof might you need to see that Ejiro Evero's stock is skyrocketing? Here's some, he joined the Denver Broncos as a position coach with zero coordinating experience. He now has multiple teams bringing him back in for a second head-coaching interview. That's a steep climb for the stock of Evero.
Patrick Surtain II & Justin Simmons
It's amazing that Patrick Surtain and Justin Simmons could even possibly be considered as some of the Denver Broncos' biggest risers from the 2022 NFL season, considering how high the bar was already set. Nonetheless, Surtain and Simmons cleared that hurdle brilliantly.
Simmons missed five games of the 2022 season with injury — the most he's ever missed — and still had the most impactful season of his NFL career, as he changed the outcomes of games on a near-weekly basis upon returning from injury.
He created nine takeaway opportunities for the defense, including six interceptions, both of which are the high-water marks for his career, and they all seemed to come in big moments.
What a play by Justin Simmons.. phenomenal catch on the INT pic.twitter.com/XAQDnsPCJg

— Jordan Lopez (@J22Lopezz) October 30, 2022
His first interception came in Week 8, against the Jacksonville Jaguars, with Jacksonville on Denver's one-yard line, set to go up 14-0. His interception prevented Jacksonville from taking the lead and swung the game in the Broncos' favor.
Then, in Week 13, Simmons nearly single-handedly willed the Denver Broncos to victory over the Baltimore Ravens, as he created three turnover opportunities in the one game, all of which could have impacted the scoreboard. His first interception of the game was returned to Baltimore's 40, and Denver scored a field goal, despite going three-and-out. His second interception came in the endzone and prevented a score. His forced fumble came on the Baltimore Ravens' game-winning touchdown drive, and, had it not tumbled out of bounds, could have won the game for Denver.
In Week 15, against the Arizona Cardinals, Simmons added two more interceptions, with the first coming on an attempted downfield play. The other was returned inside Arizona's 10-yard line and set up the score that proved to be the dagger.
By virtue of his 2 INTs on Sunday against AZ, @jsimms1119 tied Ring of Famer Louis Wright with 26 INTs as a Denver Bronco, which is good for seventh all-time in franchise history! With his 25th INT, Justin Simmons surpassed Hall of Famer @SteveAtwater27 (24 INTs) in the category. pic.twitter.com/CyI3GNCAOt

— Mile High Moments (@MileHighMoments) December 21, 2022
The rematch against the Kansas City Chiefs, in Week 17, saw Simmons intercept Patrick Mahomes in the end zone, saving the Broncos from a 13-3 deficit. The very next week, against another divisional foe, Simmons forced two fumbles that impacted the scoreboard. His first set up a short field for the Denver Broncos and was ultimately converted into a field goal, in a game Denver won 31-28, while his second came on a deep shot to Deandre Carter, who was in the process of carrying the ball inside the Broncos' 10-yard line when Simmons forced the fumble, and arguably saved the game.
Of Simmons' eight completed takeaways, seven were either forced in the redzone and therefore, saved points from being scored against the Denver Broncos; or resulted in the Broncos scoring points of their own, thanks to the advantageous position Simmons put them in. The only one where that wasn't the case, saw McManus miss a field goal.
On top of all that, Simmons made an All-Pro team despite appearing in just 12 games — the fewest of anyone on either 2022 All-Pro team.
Now, for Patrick Surtain II, who requires no introduction.
Pat Surtain II was named to the All-NFL team, which makes it a clean sweep for him after already being named a Pro Bowler and an AP and NFLPA first-team All-Pro.

Surtain (obviously) also made the All-AFC team. No other Broncos chosen. https://t.co/GsOORpLI1D

— Aric DiLalla (@AricDiLalla) January 23, 2023
Surtain, despite Simmons having arguably the best season of his entire career, stole the title of 'best player on the Denver Broncos' and it's hard to imagine him ever turning back. He was voted the team's MVP by the media, and became a first-team All-Pro, while Simmons was once again stuck as a second-team selection.
#Broncos cornerback Patrick Surtain II is our @MileHighSports Season MVP. The elite cornerback continued to impress this year. pic.twitter.com/c6OgDIi2Ij

— Cody Roark (@CodyRoarkNFL) January 19, 2023
With that honor, Surtain joins Sauce Gardner (who also earned the spot this year) and Ronnie Lott as the only 22-year-olds to ever be named first-team All-Pro at the cornerback position.
Surtain is the prototypical, perfect, modern cornerback, and that was demonstrated this year not only by his outstanding play the oodles of awards he hauled in, but also by his peers, who couldn't stop gushing about Surtain.
Richard Sherman, Darius Slay, and Stephon Gillmore were all quick to heap praise on Surtain early in the season, demonstrating that Surtain's play is remarkable no matter who you are.
Damarri Mathis & Greg Dulcich
It's hard to know what to expect from third- and fourth-round picks.
Dre'Mont Jones was a third-round pick, but so were Michael Ojemudia, Lloyd Cushenberry III, and McTelvin Agim (all of whom could've appeared in the stock-down section if they didn't already enter the season with perilously low stock). Josey Jewell was a fourth-round pick, but so was DaeSean Hamilton in the very same Denver Broncos draft class.
So far, Greg Dulcich and Damarri Mathis are trending towards the Josey Jewell and Dre'Mont Jones end of the spectrum, after rookie showings that greatly outpaced what you would expect from a tight end and cornerback drafted as late as they were.
Dulcich struggled throughout the offseason, and at both the front-end and back-end of the season, operated in the NFL's most-anemic and worst-coached offense, and still managed to produce a top-15 rookie tight end season of all-time, from a yards-per-game and receptions-per-game standpoint.
Greg Dulcich clips vs LAC
-Runs sharp routes, great feel for open space against zone
-lined up/used all over; inline run-blocking, big slot, split way out at the X
-up/down day as a blocker, not bad but some poor angles
-Want to see a more diverse route tree for him pic.twitter.com/wH8WNS6dWs

— Frankie Abbott (@FrankiesFilm) October 20, 2022
Dulcich's smooth transition to the league is a product of blending an innate understanding of how to manipulate the opponent's leverage and take advantage of the defense's soft spots, and his fluid athleticism and buttery soft hands, created a really nice NFL tight end, though growth as a blocker is still desired.
Meanwhile, Mathis was tossed into the flames of the crucible that is the cornerback position when Ronald Darby went down with a torn ACL, only to perform admirably.
Broncos rookie Damarri Mathis does a great job sitting on AJ Green's route and closing down for the PBU as soon as Green breaks out.

Mathis, a fourth-round pick out of Pitt, has played a lot as a rookie and shown plenty of promise. pic.twitter.com/o1fvSCnFY4

— Seven Rounds in Heaven (@7RoundsInHeaven) December 18, 2022
His hyper-aggressive style led to some mistakes in the run game, but you'd rather your cornerbacks err on that side of the spectrum, as opposed to hyper-passiveness. He just has to become a little more accurate with his strikes.
What an open-field tackle by Damarri Mathis!

Dameon Pierce was rolling on the day. Big play by the rookie corner to limit this to minimal yards. pic.twitter.com/404HMD5YCB

— Joey Richards (@JRDrafts) September 20, 2022
Meanwhile, in the passing game, where corners earn their money, Mathis was extremely sticky and showed the physical gifts to match up with any boundary receiver in the league. If he gets more coaching from Christian Parker, the Broncos could have a high-end young cornerback tandem to build their defense around for the next half-decade, or more.
For even more on Mathis and Dulcich, check out our 2022 NFL Draft grades.
Denver Broncos Stock Down
Russell Wilson
Russell Wilson has to be discussed as the biggest 'stock down' candidate for the Denver Broncos this season, as Nathaniel Hackett has been relieved from duty, and because it's practically impossible to imagine Wilson yielding either four top-40 picks and two starters in a trade or $250 million in contract negotiations, if he were to be put on the market today.
He went from franchise savior to potential franchise destroyer.
It's grim.
Even if you want to argue that, 'Russell Wilson's stock hasn't declined this year, and that clearly any struggles were entirely the product of coach Nathaniel Hackett,' this columnist would protest that in the first halves of those post-Hackett games, Wilson didn't even play like an NFL quarterback, for the most part.
One of these is post-Hackett Wilson in the first half. The other is 2022 Nathan Peterman. Can you tell me which is which?

35 dropbacks garnering 166 yards (4.74 per) while completing 53.1% of passes

26 dropbacks garnering 133 yards (5.12 per) while completing 56.0% of passes

— Zach Segars (@Zach_Segars) January 22, 2023
He saw 45 percent of his first-half production come on a single drive at the end of the half against the Chargers, and even with that considerable outlier buoying his production, he basically performed like the 2022 version of Nathan Peterman.
Unless your idea of cozy is paying $50 million per year to a quarterback that is practically Nathan Peterman 50 percent of the time, the Russell Wilson situation remains unfixed, even in the wake of Nathaniel Hackett.
This is because, although many of this team's offensive problems tie back to Hackett, plenty of them point back to Wilson, and a decline in his ability, as well.
To start, Wilson was a lot less accurate this season than he has otherwise been throughout his whole career. In the era of analytics, which can help us measure a quarterback's accuracy, none have been tremendously accurate as consistently as Wilson, but this year, he was subpar relative to the rest of the league.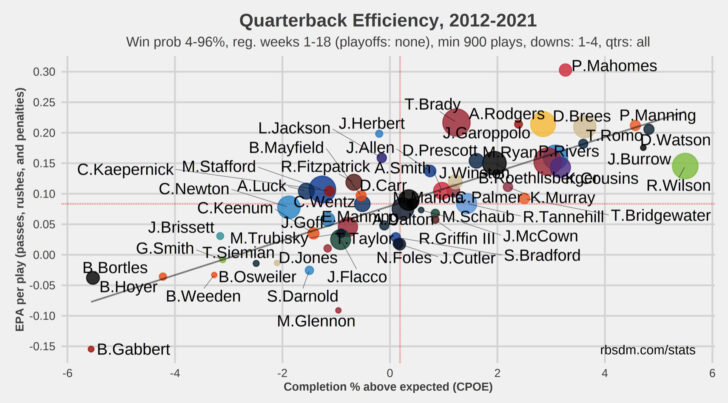 These two graphs demonstrate that point, as both show a quarterback's accuracy, on the X axis, relative to the difficulty of throws they're asked to make (using Next Gen Stats' data) to make a formula called CPOE, or completion percentage over expectation. Above, you can see Russell Wilson, on the far right, in green, as the league's most accurate quarterback from 2012 to 2021. Below, you can see Wilson, just left of center, in orange, as a below-average 2022 quarterback, in terms of accuracy.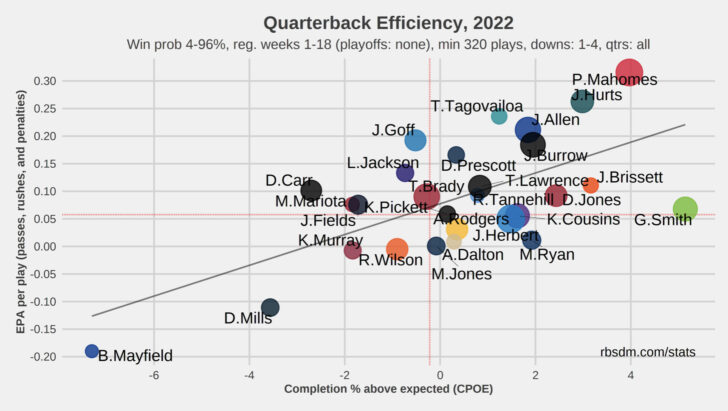 Accuracy is something that's hard to blame the coaching staff or the surrounding talent for, especially a drop of that magnitude. Like, Nathaniel Hackett was incompetent, but do you truly believe he was instructing Wilson to misfire on his passes? Seems pretty far-fetched.
Another area where Wilson demonstrated decline was in his ability to manage pressure.
Don't blame Bolles for this sack on Russell Wilson. pic.twitter.com/HgPNgbrdef

— Joe Rowles (@JoRo_NFL) September 26, 2022
Now, he's always held the ball longer than most, and his 2022 time-to-throw of 2.94 seconds is right in line with his average in recent seasons (2.97 seconds from 2017 to 2021), yet, he saw a much higher rate of his pressures turn into sacks. While he was sacked on 19.4% of pressures over the five seasons that preceded 2022, he was sacked on 27.0% of pressures, which represents a dramatic escalation.
So, despite getting rid of the ball a hair quicker, Wilson's pressures were turning into sacks at a much higher rate.
Russell Wilson chooses to not throw the wide-open short pass on 3rd-and-2 and instead takes a sack.

"Now this is on Russell Wilson… can't get more open than that."- Troy Aikman pic.twitter.com/c1EsgqIL37

— Awful Announcing (@awfulannouncing) October 18, 2022
Now, it might be tempting to blame this on Denver's porous offensive line, but the fact we're looking at pressure-to-sack rate, as opposed to just sack rate, should minimize that. The rate aspect minimizes the impact of the number of pressures or sacks, and is instead looking at how frequently these allowed pressures were turning into sacks. In the past, Wilson could avoid that negative outcome of a sack more than 80 percent of the time, and now, he's avoiding that outcome just 73.0% of the time.
Also, sacks and pressures are a quarterback stat, as well as an offensive line stat, and can either be the product of a quarterback managing the pocket poorly and/or holding onto the ball too long. Pro Football Focus charts Wilson as being responsible for 17.9% of his pressures this season, while he was responsible for 18.5% of his pressures over the last half-decade of his Seattle tenure. That does suggest that the Denver Broncos' offensive line was worse than what Wilson was used to, but only by the slimmest of margins, and not by nearly enough to justify how many more of Wilson's pressures turned into sacks this season, than in most seasons.
This is why Uchenna Nwosu more than earned NFC Defensive Player of the Week honors for #Seahawks.

Watch the effort in pursuit – he actually dropped back into coverage here before chasing down Wilson scrambling to his left for the sack. pic.twitter.com/ikKo4UAppc

— Corbin K. Smith (@CorbinSmithNFL) September 14, 2022
Now, his torn lat (Latissmus Dorsi) and hamstring injuries could easily be the reasons behind his declined escapability and accuracy, and in a best-case scenario, those are the reasons. However, that still shows the decline of Wilson's 'Ironman' image, and it also raises questions about if his desire to play through injury will continue to hurt the team.
That brings us to the conclusion, which is, if Wilson is no longer elite in terms of accuracy or his ability to extend plays, he'll likely never be worth the investment the Denver Broncos have made in him, and the franchise would be wise to avoid falling prey to the sunk-cost fallacy.
Even when Wilson was a top-five quarterback, he was one of the league's worst quarterbacks on quick-game concepts, as he struggled to see pockets of the field near the line of scrimmage.
this is unserious gameplay https://t.co/Mcblob6LMC

— Derrik Klassen (@QBKlass) June 16, 2022
Now, he could work around these issues in the game in the past, because he was able to extend plays for tremendous lengths of time, creating openings downfield, as the defense could only hold up in coverage for so long. This ability to escape the pocket also aided Wilson, as it made it so he wouldn't have to worry about seeing around his offensive line.
Pair that talent with maybe the best downfield accuracy we've ever seen in an NFL quarterback, and you have a pretty exciting recipe for dominance, however, as Wilson's escapability and accuracy diminish, the concoction is becoming much less potent.
On top of that, the Fangio-ification and Saleh-ification of the NFL's defenses have led to the proliferation of split-safety looks (defensive alignments that have two deep safeties) around the league, and split-safety looks force the opposing quarterback to operate quick-game concepts in the short-to-intermediate part of the field, which is precisely what Wilson struggles with, precisely where Wilson can't see.
Wilson's game was always in risk of a steep decline once his accuracy and mobility declined, but the way NFL defenses are evolving is only making that decline steeper.
Think of Russell Westbrook.
Westbrook was a hyper-athletic point guard, who struggled as a shooter, but could minimize the negative impact of those struggles with his piping-hot motor and dazzling ability to attack the rim. But, as Westbrook aged, and as those abilities waned, suddenly his inability to shoot the ball and his propensity to cause a turnover mattered a lot more, and it wasn't until the Los Angeles Lakers turned him into a bench player, that they were able to maximize what was left of his abilities. Unfortunately, a great sixth man isn't worth all the Lakers sacrificed to acquire Westbrook.
Denver Broncos fans should be hopeful that the exit of Nathaniel Hackett could make the offense a lot better, but unfortunately, they must also remember that 'a lot better' might not be good enough, considering how far they have to climb, and just how much they've invested in their crestfallen quarterback.
George Paton
Similar to what we said with Wilson, no matter whether or not you think George Paton is the guy moving forward, it's impossible to deny that his stock took a hefty hit in 2022.
This time last year, he was an infallible figure in the eyes of the majority of Broncos Country, who was coming off a sterling 2021 NFL Draft, and was getting set to make his first head coach hire and make a blockbuster trade to acquire Russell Wilson.
Unfortunately, both of those two moves, and the 2022 NFL Draft, demonstrated quite a few missteps from George Paton.
We've already dissected Russell Wilson, so we won't spend too much time there, but it has to be noted that Paton traded four top-40 picks (including two in the top-10) and two starters for a quarterback that no longer appears to be among the 10 best players at his position. He might not even be among the 15 best.
Then, Paton compounded that issue by unnecessarily giving him a sizable contract extension, sight unseen, that has now mortgaged the Denver Broncos' future.
The biggest gaffe of Paton's tenure so far though is the hiring of Nathaniel Hackett, who was so inept that he became the first first-year head coach to be fired in-season, without kicking one of his own players and being filmed in a distant city getting a lap dance, since the 1970s.
That's an extreme 'whoopsie daisy'.
Lastly, the injured nature of the Denver Broncos' roster might be brought up as a reason Paton deserves to avoid critique, and while that holds some merit, it can't be used to sweep up all of Paton's mistakes. Who was responsible for investing so heavily in players with scary injury histories, like, Randy Gregory, Baron Browning, Courtland Sutton and Billy Turner? Who was responsible for constructing the roster's depth?
Excuse those above missteps however you want, but George Paton was the architect of the 5-12 Denver Broncos, who needed Week 18 to dodge the title of 'worst Broncos team ever'. That's a massive fall from the 'infallible' image he once possessed.
And, if you still somehow want to argue that Paton's standing with the Denver Broncos hasn't diminished at all, explain why George Paton is suddenly facing explicit reports that he'll be excluded from the second round of head coaching interviews.
Maybe that happens elsewhere in the league to secure general managers, but if it does, there isn't one single report that demonstrates that to be the case. At the very least the fact it's being leaked that Paton is being excluded is a demonstration of his declined power.
Garett Bolles
The start of Garett Bolles' career couldn't have gone much worse, but a strong close to the 2019 campaign, and the hiring of Mike Munchak seemingly had his development turned in the right direction. He looked like one of the NFL's 10-or-so best left tackles in both 2020 and 2021 and was even named second-team All-Pro in 2020.
Unfortunately, following Munchak's firing, Bolles demonstrated a steep decline, and then suffered a season-ending broken leg injury.
Through the first five games of the season, the period prior to the injury, Bolles had allowed one sack and 10 pressures, while being penalized six times. That puts him on a season-long pace of allowing 3.5 sacks and 34 pressures while being penalized 20 times.
Between 2020 and 2021 combined, Bolles allowed just five sacks and 35 pressures, while being penalized a grand total of 15 times.
His 2022 struggles reflected a decline to the pre-Munchak days of 2019, when Bolles allowed 31 pressures and four sacks while being penalized 17 times.
Unless Munchak returns to the coaching staff, the concern of 'how much of Bolles' development was a product of Munchak' will continue to linger.
On top of that, Bolles is now on the wrong side of 30 and is returning from that broken leg, when his mobility has long been the biggest strength of his game. Do we see more holding calls now, if Bolles struggles to kick out wide in pass protection, assuming he loses some of that mobility?
It also has to be noted that the Denver Broncos stand to gain $9.8 million by moving on from Garett Bolles, so, depending on the new staff and the state of Bolles' injury rehab, he could be elsewhere in 2023.
Bolles went from franchise cornerstone to potential cut candidate in one year. That's the textbook definition of 'stock down'.
Courtland Sutton
In 2019, Courtland Sutton earned the nickname 'Baby Megatron' from his peers, thanks to his ability to dominate defenders at the point of attack, and he seemed primed for a massive 2020 leap, but his ACL tear suffered in Week 2 robbed Broncos Country of that.
In 2021, it looked like Sutton wasn't entirely back, but the expectation was that in 2022 — with a full offseason and nearly 24 months to recover from the injury — that he would hopefully conjure up images of Calvin Johnson for the viewers once again. Unfortunately, that didn't quite happen.
In training camp, and through the first four weeks of the season, he seemed like a top-end receiver. He made every Broncos defensive back not named Patrick Surtain II look silly at various points of the offseason and was among the top five receivers in the NFL in DYAR (an advanced receiving yards stat from Football Outsiders that operates a lot like Wins Above Replacement, and also considers the quality of opponent faced) after the Denver Broncos' first bout with the Las Vegas Raiders.
Sutton's play quickly tailed off from that point though, and he showed struggles at the catch point, which is especially concerning considering that was where he had been so dominant in the past.
Drew Lock's first TD pass made extra special by Courtland Sutton. pic.twitter.com/nyYOXHyRyk

— ThatsGoodSports (@BrandonPerna) December 1, 2019
In 2019, Sutton dropped just 4.0% of his targets and came down with 56.5% of his contested catch opportunities, while tallying six touchdowns. In 2022, Sutton dropped 8.3% of his targets (better than only Kendall Hinton and Montrell Washington, among Broncos wide receivers) and completed just 42.4% of his contested catch opportunities, compared to a league average of 47.2%.
His greatest strength has now become a deficiency, and at this point, it's fair to wonder if it will ever return to what it was.
Sutton has also lost a lot of his ability to create after the catch.
You can also see this in the rate at which he's forcing missed tackles
2018: 14.3%
2019: 22.2%

2021: 5.2%
2022: 4.7%

— Zach Segars (@Zach_Segars) January 27, 2023
Before his ACL tear, he averaged 4.6 yards after the catch, per catch, and forced opposing defenders to miss their tackles 19.3% of the time. Since his ACL tear, Sutton has averaged just 2.3 yards after the catch, per catch, and forced opposing defenders to miss their tackles just 4.9% of the time.
Courtland Sutton just choke slammed dude at the end of this catch and run. pic.twitter.com/GMXhygpWcL

— Zach Bye (@byesline) October 27, 2019
It would be one thing if we were seeing signs of progress in those areas, but instead, 2022 was worse than 2021 for Sutton after the catch. In fact, he ranked last in the NFL in YAC/reception in 2022, among receivers with at least 50 targets.
2021 wasn't a great season for the former second-round pick, but, there was at least hope that Sutton would return to form as he became further and further removed from the injury. This off-season, that hope has dampened considerably, and as a result, Courtland Sutton ends up here.
Albert Okwuegbunam
This one is fairly self-explanatory, as Albert Okwuegbunam dropped from 'clear No. 1 tight end' following the trading of Noah Fant, to 'tight end who can't even see the active roster' by mid-October.
To make matters worse, it doesn't even appear like that was a product of Okwuegbunam's play, and instead, a product of the coaching staff believing his play style was too redundant with Dulcich's to keep him on the active roster.
Again, that wasn't necessarily Okwuegbunam's fault, but instead of being a projected starter, we're now left wondering if he'll be on an NFL Week 1 roster in the fall, and that's a dramatic fall.
Brandon McManus
For a long time, the Denver Broncos have remained stagnant at kicker, as the reliability of Brandon McManus was preferable to the uncertainty of the free-agent kicker market. After 2022, that might no longer be the case.
McManus ranked 22nd in Football Outsiders' field goal and extra point rating, which considers how far the kicks are and what environment you're kicking in, to determine an overall rating. He also ranked 28th out of the 32 kickers with at least 10 attempts in raw field-goal percentage, at 77.8%.
Meanwhile, he's being paid like the NFL's eighth-best kicker in 2023, from a salary cap standpoint.
That's a level of asymmetry that's problematic, especially for a team operating on a razor-thin margin for error, given their grand and questionable quarterback investment.