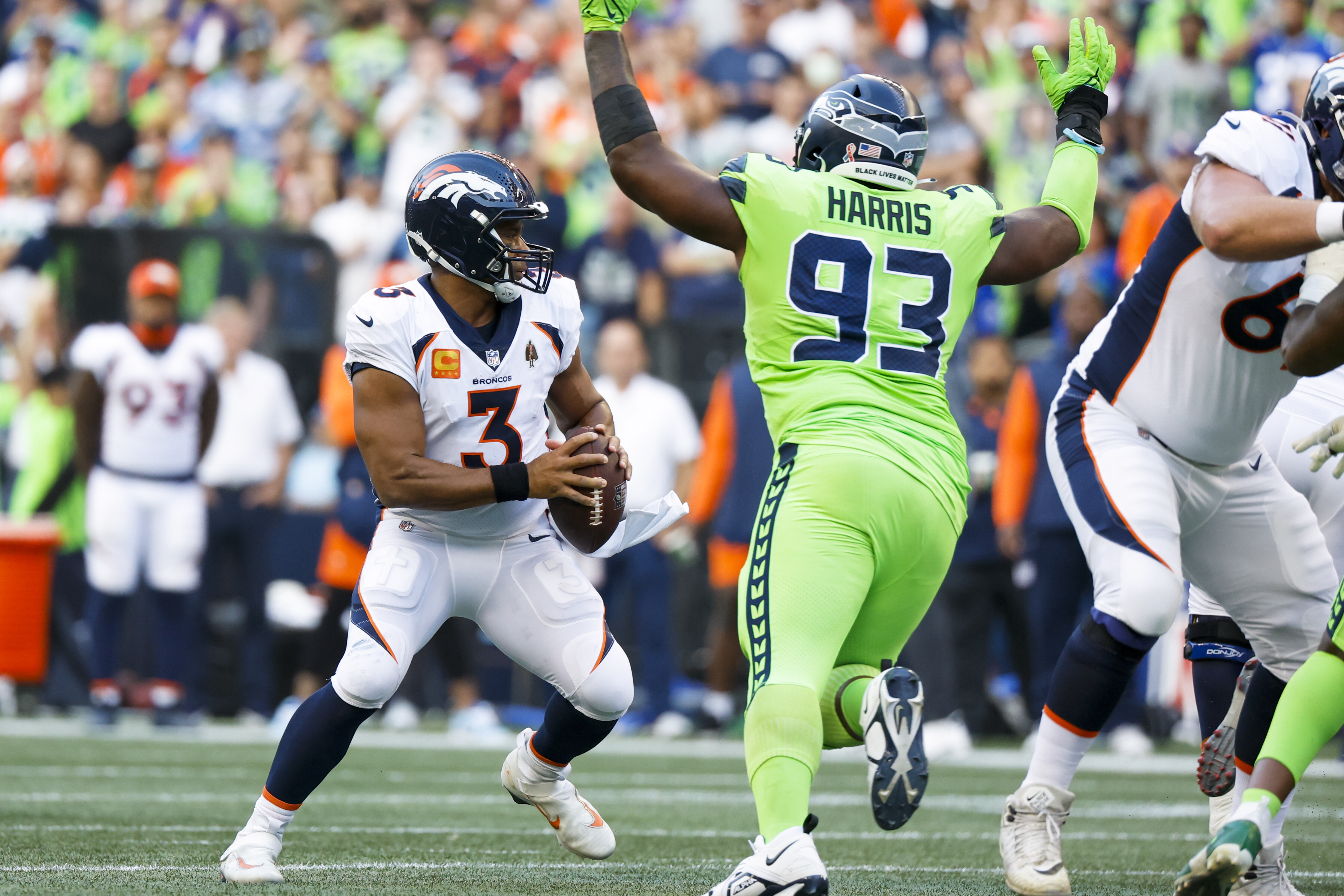 The Denver Broncos suffered a 17-16 loss in their season opener to the Seattle Seahawks in Russell Wilson's return to Lumen Field.
Inconsistency, penalties, and missed opportunities summarized the game.
Seahawks spoil Russell Wilson's return to Seattle
On a 74-degree evening in Seattle, Washington, the former home of now Denver Broncos quarterback Russell Wilson took to Lumen Field on Monday Night to a chorus of boos from his former home crowd.
Despite Wilson bringing Seattle various division titles and a Super Bowl trophy, Seahawks fans loudly showcased how they felt about him moving on.
On nearly every instance Wilson was under center, boos rang out.
Suddenly it got quiet in the second quarter with 5:46 on the clock as Wilson found Jerry Jeudy wide open for a 67-yard touchdown to tie the game at 10.
For Jeudy, he hauled in his first touchdown catch since the 2020 regular-season finale.
Seattle's offense responded with a drive of their own that resulted in a touchdown against Denver's defense.
On Denver's final drive of the first half, Wilson orchestrated a possession downfield including finding wide receiver Courtland Sutton for a 30-yard catch and run.
However, Seattle's defense nearly intercepted Wilson on an attempt in the end zone.
Then, the Seahawks defense got to Wilson after Cody Barton came away with a sack to push Denver's offense backward which resulted in Brandon McManus kicking a field goal to trim the deficit to 17-13.
Broncos offense fumbles opportunity in second half
To open the second half, Wilson helped march Denver's offense downfield to the Seahawks' one-yard line, but Melvin Gordon fumbled after attempting to cross the plain, resulting in a turnover on 4th and goal.
But, Denver's defense came up big with Randy Gregory ripping the ball out of DK Metcalf's hands allowing Justin Simmons to recover the fumble.
The Broncos offense found themselves in the red zone once again, again disaster struck as Javonte Williams fumbled on the one-yard line gave the Seahawks the ball back.
Denver's defense would hold strong to start the fourth quarter, forcing the Seahawks to punt.
Once again, fate would grant the Broncos another opportunity to fix their mistakes.
Wilson orchestrated another drive into the red zone, taking Denver all the way down to the Seattle three-yard line.
Another penalty.
A false start on the offense negated a touchdown by Andrew Beck, backing up the Broncos offense once again.
On the next play, Wilson was pressured, hit as he threw resulting in an incompletion.
A 15 play, 72-yard drive that took 6:37 off the clock, resulted in no touchdown.
McManus would trim the deficit to 17-16.
Looking back, the Broncos had five red zone appearances: FG, FG, fumble, fumble, FG.
Once again, Denver's defense came up big in the second half as Bradley Chubb screamed off the edge, sacking Geno Smith and forcing a punt.
4:02 remaining, Wilson and the offense possessed a chance to win the game.
After a long drive, the Broncos let the clock run instead of calling one of their three remaining timeouts. That put them in tough position in 4th and 5 with 20 seconds to play
So, with the offense facing a 4th and 5 on the Seahawks' 46-yard line, McManus lined up for a 64-yard field goal, missing it wide left.
The loss marks a 0-1 start for the team for the 2022 campaign.
Denver Broncos news and notes
Penalties plagued the Broncos in their regular season opener with 12 of them accounting for 121 lost yards.
In the first half alone, Denver had 7 penalties for 71 yards. An indicator of not playing starters in the preseason or missed assignments?
Key free-agent off-season acquisition Billy Turner (knee) did not play in the season opener.
The Broncos and Turner are both on the same page as they continue to ease him back into the swing of things with the offense.
Turner was limited in practice all week long.
One thing to watch for is when Turner becomes a full participant in practice and begins to work in during Denver's team period.
In Turner's absence, the Broncos started veteran offensive tackle, Cam Fleming, at right tackle.
Right guard Quinn Meinerz suffered a hamstring injury in the Broncos loss and did not return.
He was ruled out forcing veteran guard Graham Glasgow to fill in for him on offense.
Broncos Gameday Inactive list
The following players were made inactive against the Seattle Seahawks:
Rookie wide receiver Jalen Virgil.
Inside linebacker Josey Jewell was ruled OUT with a calf injury prior to kickoff.
Rookie defensive lineman Eyioma Uwazurike.
Offensive tackle Billy Turner.
Rookie safety Delarrin Turner-Yell.