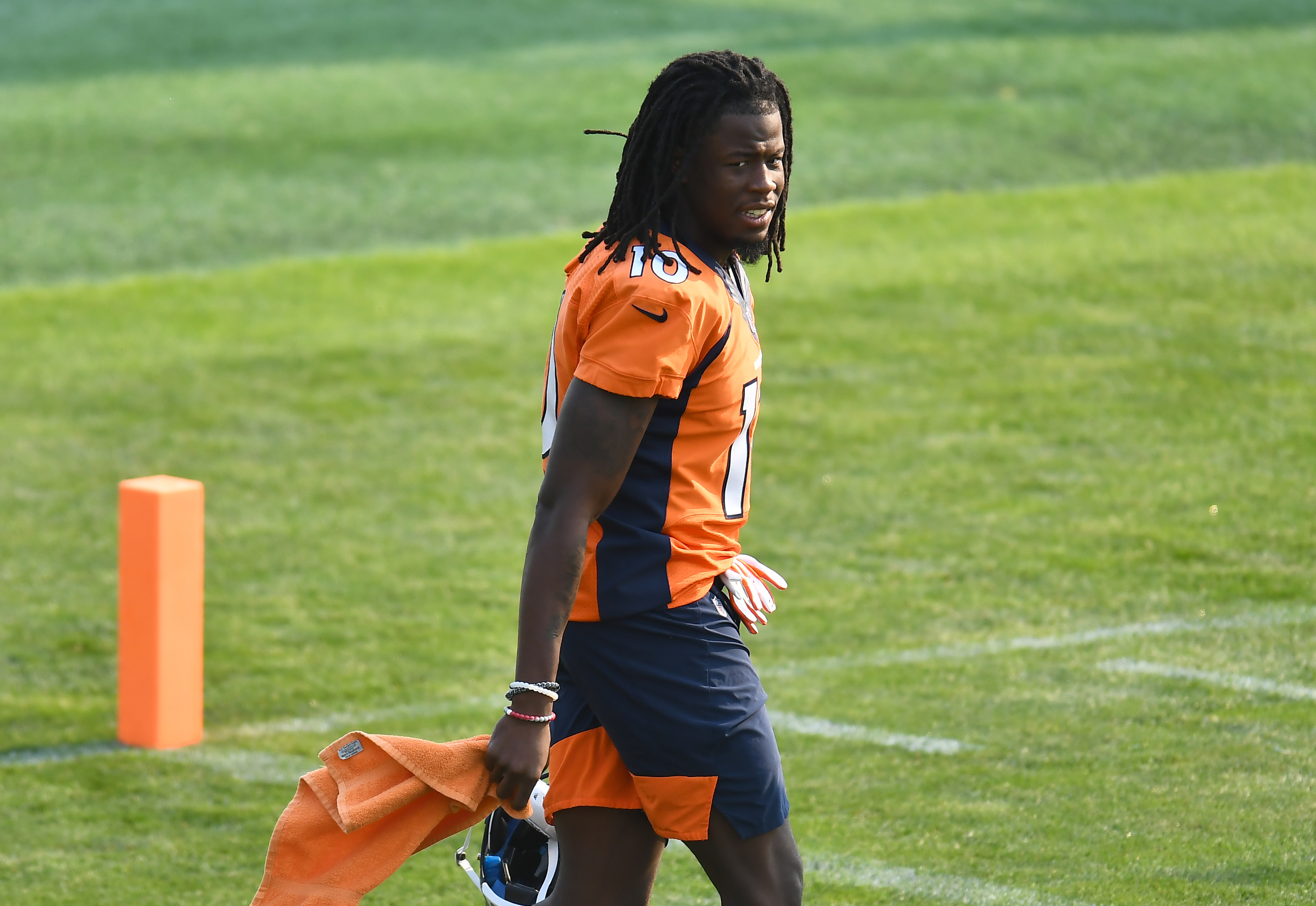 Week two of organized team activities have come to an end and though they are not finished yet, many of the Denver Broncos players and personnel seem to be thriving.
Although we are not privy to all of the goings on of the offseason programming, what we are able to see are a plethora of things that Broncos fans should be excited about.
Jerry Jeudy is primed for a nice year two
With 52 receptions leading to 856 yards receiving and 3 touchdowns, I think it was safe to say Jerry Jeudy showed he belonged in the NFL.
Every rookie entering the league learns quickly by immersion, but for the 2020 rookie class, this experience was amplified exponentially due to life in a pandemic. When one would usually have a full off-season of scheduled team activities and camps in person, these young players were not afforded that same opportunity.
It was not without bumps in the road for Jeudy, but he was able to come out on the other side with self-reflection and many lessons learned.
When asked by media members about how he prepared this off-season, he said, "I feel like I've matured. You don't know what you're getting yourself into [during] your first year of doing something. This is my second year and I feel like I have learned a lot from my first year. I know how to overcome whatever I had in past years to make this year better."
He was also asked about the benefits of being in the same offensive scheme this year and remarked, "Being that this is my second year, you just know the plays. You know the tempo of the plays and the timing of the plays. That really helps you on the timing of your route running, knowing what to do and what not to do because of how familiar I am with the plays. It really helps me a lot on becoming a better route runner and knowing the timing of the plays."
Poetry in motion. 🤩#BroncosOTAs x @jerryjeudy pic.twitter.com/XFTGdk1ZnQ

— Denver Broncos (@Broncos) June 3, 2021
His comments were by no means groundbreaking statements but if true, could mean that he is primed and ready for an impactful sophomore crusade, and with Courland Sutton's return that means the chance of an elite wide receiver core.
He is already hard at work building a rapport with quarterbacks Drew Lock and Teddy Bridgewater which is further along than he was last offseason.
Dre'Mont Jones looking for a 10-sack season
Denver is building a formidable defense starting with their defensive linemen and none of them more exciting than Dre'Mont Jones.
With 6.5 sacks in 2020, he led the position group and did his best to create chaos for opponents and has lofty new expectations for himself as the regular season approaches.
One to never set the bar low, when asked if he thinks a ten sack season is attainable, Jones explained, "I think 10 sacks is very attainable. Guys like [Chiefs DT] Chris Jones, [Falcons DT] Grady Jarrett, [Steelers DT] Cameron Heyward, and [Rams DT] Aaron Donald made it cool to be an inside guy and get 10 sacks. It's very attainable and I don't expect anything less from myself. I think that's a goal of mine that I can reach. I'm going to try and reach it."
A 10-sack season for Jones would be the first from an interior defensive lineman since Trevor Pryce had 12 in 2000. A jump like this would be a massive upgrade for an already scary defense and would vault him into the realm of the great linemen in the NFL today.
Tim Patrick is showing his leadership
Tim Patrick is already considered by many as one of the most underrated Denver Broncos players in recent history and with his unconventional journey comes wisdom to impart to those willing to listen.
Patrick is ready to tackle the 2021 season with gusto and expound upon his great numbers in 2020, however, he is happy to help the players who find themselves following a similar path to himself.
When asked whether he shares his story with other undrafted players he said, "Yeah. If they have questions, I'm all for telling them my story." He continued by saying, "Like the free agent guys, they reached out before they got here, and I gave them some advice. I'm honestly here for them. I understand what they're going through right now and the days that they might be down. Sometimes they might not get as many reps as they want, but it's a marathon. Everything is not going to happen at once. You just have to keep fighting and show them that you're prepared to take that next step. That's what I tell them—just work hard."
Regardless of what the future hold in Denver for Tim Patrick, he proves to be the type of player that any NFL franchise would like to lead their team and the Broncos are lucky to have him.
KJ Hamler wants to be a difference-maker
Being a second-round draft pick comes with opportunity as well as high expectations. The Broncos' very own Drew Lock is a sterling example of this, but fortunately, KJ Hamler does not play the single most important position in the NFL so he is spared from the same blaring appraisal.
This has not tempered Hamler's expectations for himself though with the opportunity for a full off-season after his rookie campaign was marred by COVID-19. Last season Hamler flashed on the field, but the overall numbers left something to be desired.
Can't touch this. 😏@Kj_hamler | 📺: CBS pic.twitter.com/uTxs3Tq0HP

— Denver Broncos (@Broncos) December 13, 2020
During last week's press conferences, Hamler was asked what aspects of his game he would like to see improvement in and he had a very thoughtful response.
"I think I can be a difference-maker any time I'm on the field. It doesn't matter if the ball is in my hand or not. I think I can bring the spark to the offense." Hamler said. "The same with the other guys—Jeudy, [WR] Tyrie [Cleveland], 'Court,' Tim and all these guys on offense. It's a lot to go around. One thing I've learned is just to have a routine. Having a routine and [knowing] what I need to do before practice and what do I need to do after practice. How many meals do I have to eat? I started picking it up my junior year in college. [I'm] just trying to be more of a professional."
These comments are a decided indicator that Hamler's development is trending in the right direction and in time, can potentially be the difference-maker he desires to be.
Malik Reed compares himself to Shaquil Barrett
In a year bereft of Von Miller, Malik Reed did his absolute best savagely pursuing opponent quarterbacks and walked away with a team-leading eight sacks.
Malik Reed is going to wreck people this season pic.twitter.com/ud4aaZwUpT

— ThatsGoodSports (@BrandonPerna) August 30, 2019
Now with Miller back in the fold and Chubb ahead of him on the depth chart, Reed is still pushing himself to be a high-level contributor by watching another former Denver Broncos star Shaquil Barrett.
When asked about players he watched film on, Reed commented "Yeah, no doubt. Shaq (Buccaneers OLB Shaquil Barrett) is a guy I would watch. [He's] similar to me. Even before I got here, I would watch older guys like [former NFL OLB] Robert Mathis and [former NFL DE] Dwight Freeney. Guys that were a little shorter in stature but really affected the game in a major way."
Reed's third season should see him contributing to a holy trinity of pass-rushing savagery that Broncos Country should be giddy to witness.