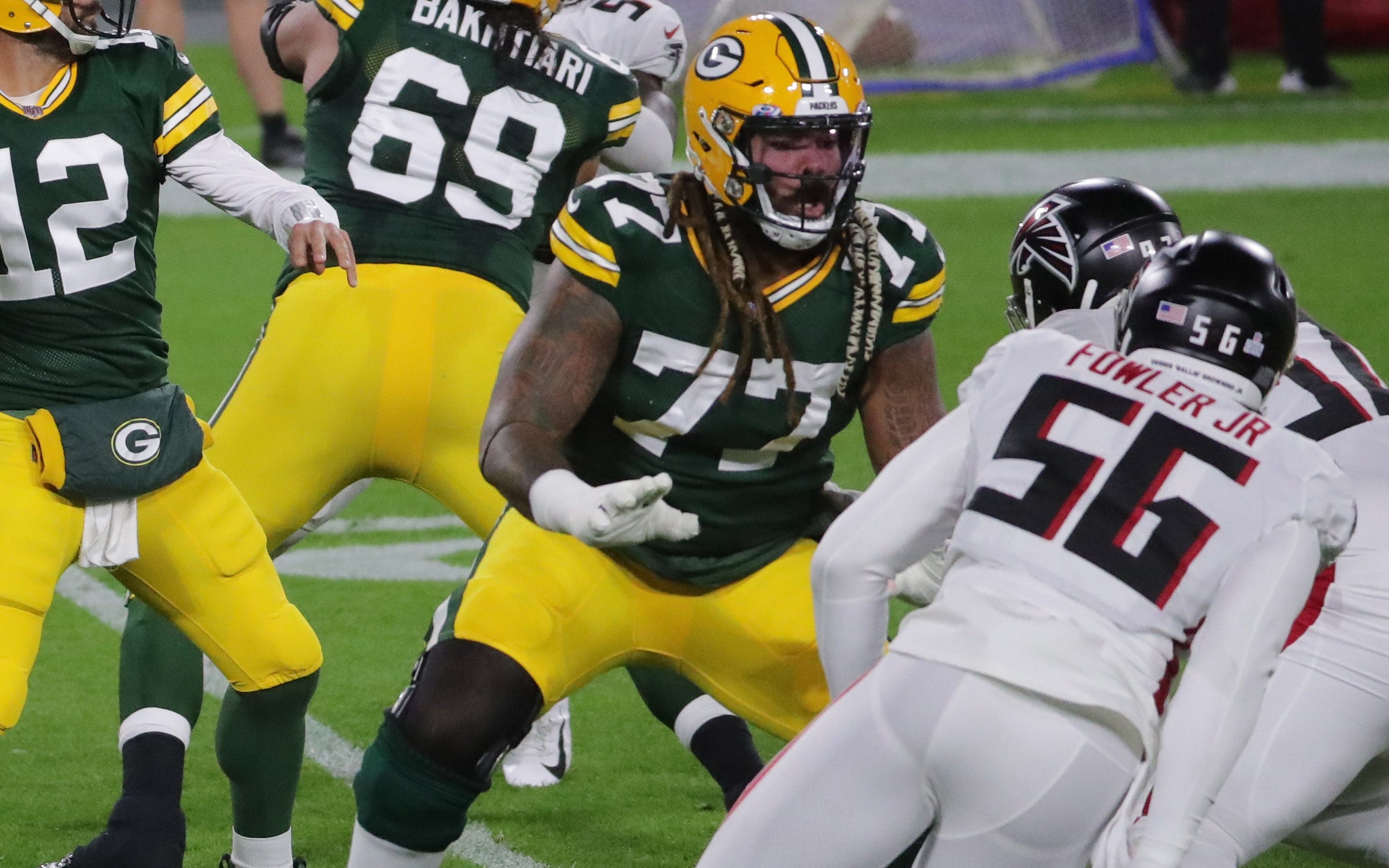 As the Denver Broncos approach training camp, new quarterback Russell Wilson will be looking to stay upright more consistently this season than he's been throughout his career with the Seattle Seahawks. The Broncos' offensive tackle position features a solidified lock and an open competition at another position.
Denver Broncos Offensive Tackle Room
The Broncos feature a total of eight players who can play the offensive tackle position under new position coach Butch Barry.
Garrett Bolles, Calvin Anderson and Quinn Bailey are three players who are returning to Broncos camp this season.
Veterans like Billy Turner, Tom Compton, Ben Braden, Casey Tucker, and undrafted rookie free agent Sebastian Gutierrez headline the team's new additions at the position.
With Bolles having the left tackle position locked up, the Broncos are hoping to find a long-term option at right tackle amongst several players who are on one-year contracts.
Veterans competing for the starting job
At right tackle, the Broncos will feature a wide open competition between Turner, Anderson, and Compton.
New Broncos offensive coordinator Justin Outten believes the position will come down to those three veteran options.
"I think we have really good options at that position," Outten said during the team's offseason organized team activities. "I think it's a very competitive position. It's a veteran position. There are three guys with Billy [Turner], Tom [Compton] and Calvin [Anderson]. Those guys can battle it out, and I'm really excited about that position just to see how it plays out."
It will be important for the Broncos to find a solution at the position as they prepare to face some of the NFL's best pass rushers this season like Chandler Jones, Joey Bosa, TJ Watt, Khalil Mack, and Odafe Oweh.
Who is the early favorite for the job ahead of Denver Broncos Training Camp?
Anderson enters the competition as an early favorite considering his previous tenure with the team. Where Anderson offers value on the offensive line is that he can start at right tackle, and could slide over to left tackle in the event Bolles were to miss any time.
Compton comes over as a free agent acquisition after spending 2021 with the San Francisco 49ers. The 10th-year veteran appeared and played in 17 games for the 49ers last season and started 7 games for them. 
From Week 11 through the NFC Championship game, Compton played 100% of the team's offensive snaps. He also offers position versatility having experience playing both tackle and guard.
A key name to watch is veteran offensive lineman Billy Turner who signed a one-year deal with the Broncos after the Green Bay Packers released him this offseason. Turner was released by the Packers with a failed physical designation.
With Turner still recovering and getting back to a clean bill of health, he did not physically participate in the team's offseason organized team activities or mandatory minicamp.
One advantage he brings to the table is his understanding of Hackett's offensive scheme and having worked with Outten for the last two years in Green Bay.
The 9th-year veteran will be ready for the start of training camp. He also offers position versatility at tackle and guard with the ability to play on the left or right side. 
Regardless of who gets named as the team's starter, the Broncos will likely carry the other two players as premier backup options behind Bolles and the next starter at right tackle.
Players like Braden, Gutierrez, Bailey, and Tucker project to compete for a potential spot on the practice squad with further development being an area of focus from the coaching staff.
Denver Broncos training camp kicks off Wednesday, July 27 at Dove Valley in south Denver.