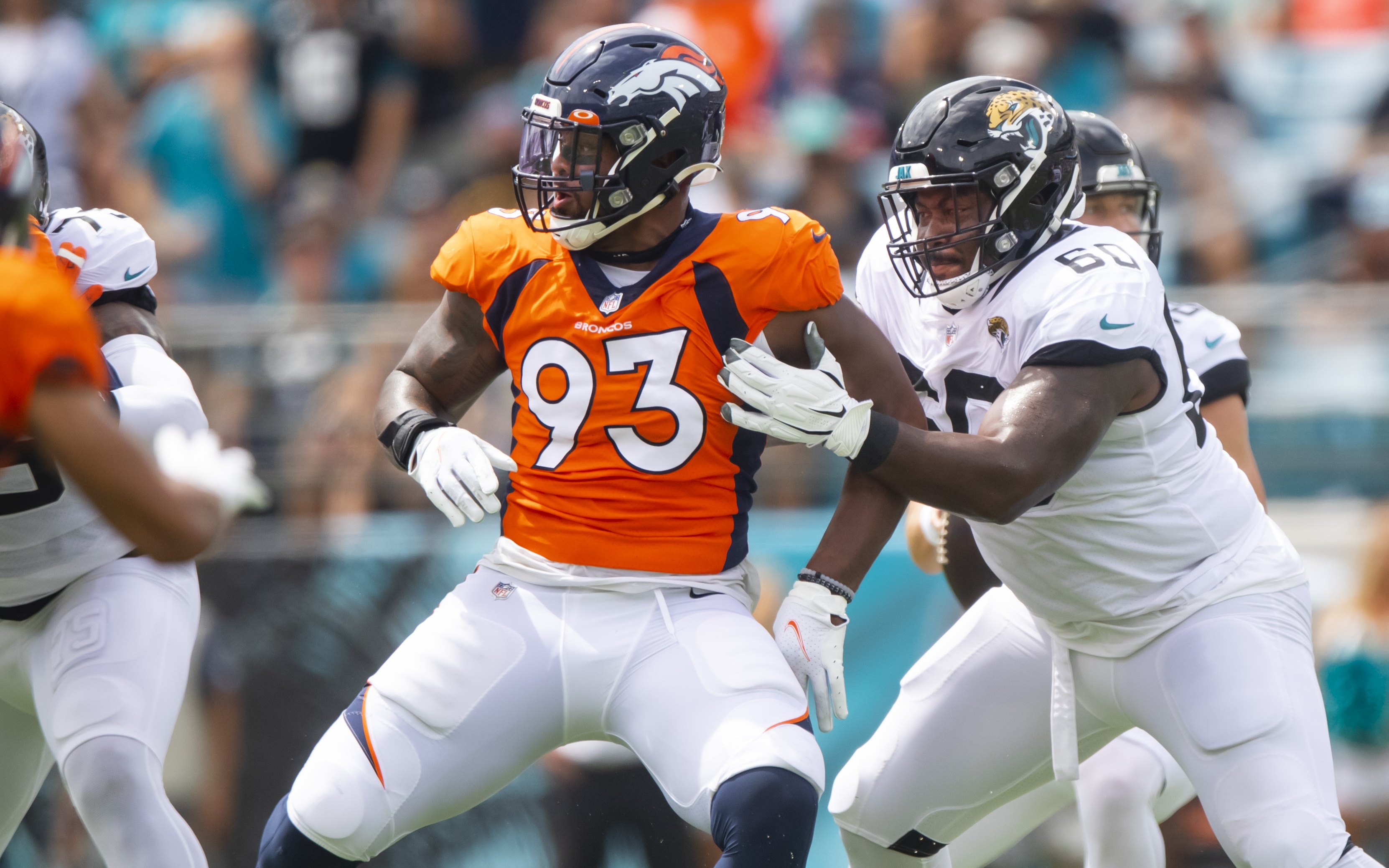 As the Denver Broncos approach training camp, they'll hope to find a solidified lineup of impactful starters and key-depth pieces. For the Broncos' defense to return to its form, it will be pivotal for the defensive line to remain healthy coming into 2022.
Denver Broncos Defensive Line Room
The Broncos' defensive line group features a variety of familiar faces with players returning in 2022 and plenty of new faces including the coaching staff. In totality, the defense enters camp with nine total players on the defensive front.
Key returners on the defensive line for training camp include Dre'Mont Jones, Mike Purcell, Marquiss Spencer, DeShawn Williams, McTelvin Agim, and Jonathan Harris. New faces inside the Broncos defensive line group include new position coach Marcus Dixon, free-agent acquisition D.J. Jones, Jonathan Kongbo, and 2022 sixth-round draft selection Matt Henningsen.
One goal for the Broncos' defensive line in 2022 will require getting more pressure on the interior against opposing quarterbacks and helping the defense be more consistent in stopping the run. However, there will be plenty of competition to see who makes the active roster throughout the preseason.
Dre'Mont Jones headlines premier defensive lineman for Broncos
When the Broncos report for practice on July 27 at the UCHealth Training Center, one player appears to be an unquestioned starter on the defensive line. Dre'Mont Jones will more than likely start at defensive end under new defensive coordinator Ejiro Evero's scheme.
For Jones, 2022 will serve as an important year for him as he looks to secure a contract extension. As a true, hard-nosed blue-collar defensive force, the Broncos' 4th-year player is looking to be disruptive all season long.
"I hate that 'strong finish' stuff," Jones said during the Broncos' offseason organized team activities. "I played football well in the beginning (of the season). It's all about getting the numbers or not, which is very important. I think I'm consistent with being disruptive. If you watch film, I'm going to be disruptive every time because I pride myself on that and I'm going to continue to do that. Those guys in my room are going to continue to inspire me to do that because of how good they are."
Jones has compiled 12 sacks in the last two seasons, but as he alluded to, he was consistently disruptive. He flustered opposing quarterbacks last season, pressuring them 21 times and knocking them to the ground 11 times. 
For the Broncos' defense to have success this season, Jones will be an instrumental player to keep an eye on.
How will the Broncos use Mike Purcell and D.J. Jones?
With the Broncos' installation of a new defense under Evero, how will he utilize Mike Purcell and D.J. Jones? Ideally, the Broncos could start both players alongside Jones on the defensive line.
Purcell returns to the Broncos this season fully healthy after battling injuries the past two seasons. When healthy, Purcell is one of the team's most valuable run-stopping defenders. However, the Broncos also signed veteran run-stuffer D.J. Jones who spent 2021 with the San Francisco 49ers.
Despite the Broncos signing Jones, there is room for both he and Purcell to start on the defensive interior. 
"He's an explosive player," Purcell said during the offseason. "I've had the benefit of watching him since he's come in the league. Obviously, I was in San Francisco before he got there. I've had the benefit of watching him grow and he's become one of those fierce run defenders in this league. The way his leverage—obviously he's not the tallest, but his leverage, his strength and his explosiveness all benefit him in that run game and pass game as well. In San Francisco, he may not have been the star pass rusher with everyone they have there, but he can."
Can D.J. Jones get after quarterbacks?
For Jones, he hopes that he can grow into a more consistent pass rusher from the defensive interior. After coming away with two sacks last season, Jones is aiming to have at least five sacks this season.
"Pass rush," Jones said during an offseason interview. "I want to exceed five sacks, and I think this is the perfect scheme to do it. It's the perfect group of guys to work with and better myself in that."
So how can the Broncos utilize both him and Purcell? Jones's versatility as a player allows him to play anywhere on the Broncos' defensive line, which should be exciting for Evero and Marcus Dixon to play around with.
"I'll play anywhere they tell me to go—4i, three, 2i, zero. I'll play anywhere they need me to go," Jones spoke boldly during organized team activities. Ideally, the Broncos' best run-stuffing lineup could consist of Dre'Mont, Purcell, and Jones. 
Both he and Purcell can play any of those spots on the line which can help the Broncos have the best combination of run-stopping and pass rush ability.
Rookies looking to compete for a spot against veteran players
With the Broncos expected starters already listed, which players will play the key role of backing them up and rotating in with different personnel?
Broncos rookies Eyioma Uwazurike, drafted in the fourth round of the 2022 NFL Draft, and sixth-rounder Matt Henningsen will look to unseat several veteran players in the preseason.
Denver Broncos players with a lot to prove
With George Paton and a brand new coaching staff, several players from John Elway's regime as general manager will have a lot to prove. McTelvin Agim enters his third season as a Bronco and turned heads all throughout training camp last year.
Unfortunately for Agim, former Broncos head coach Vic Fangio failed to utilize him. Agim played 21% of the team's defensive snaps in 2020, and 20% in 2021. Despite only playing 20% of the snaps last season, Agim contributed 1.5 sacks defensively.
With the additions of Uwazurike and Henningsen, he, Marquiss Spencer, Jonathan Harris, and DeShawn Williams will compete to secure the final roster spots on the defensive line. Once training camp rolls around, it will be important to see who makes plays consistently during practice and in preseason games.
Ideally, the Denver Broncos could carry six or seven total players at the position going into the regular season. Which players separate themselves from the rest will be one of the top storylines to follow during training camp.