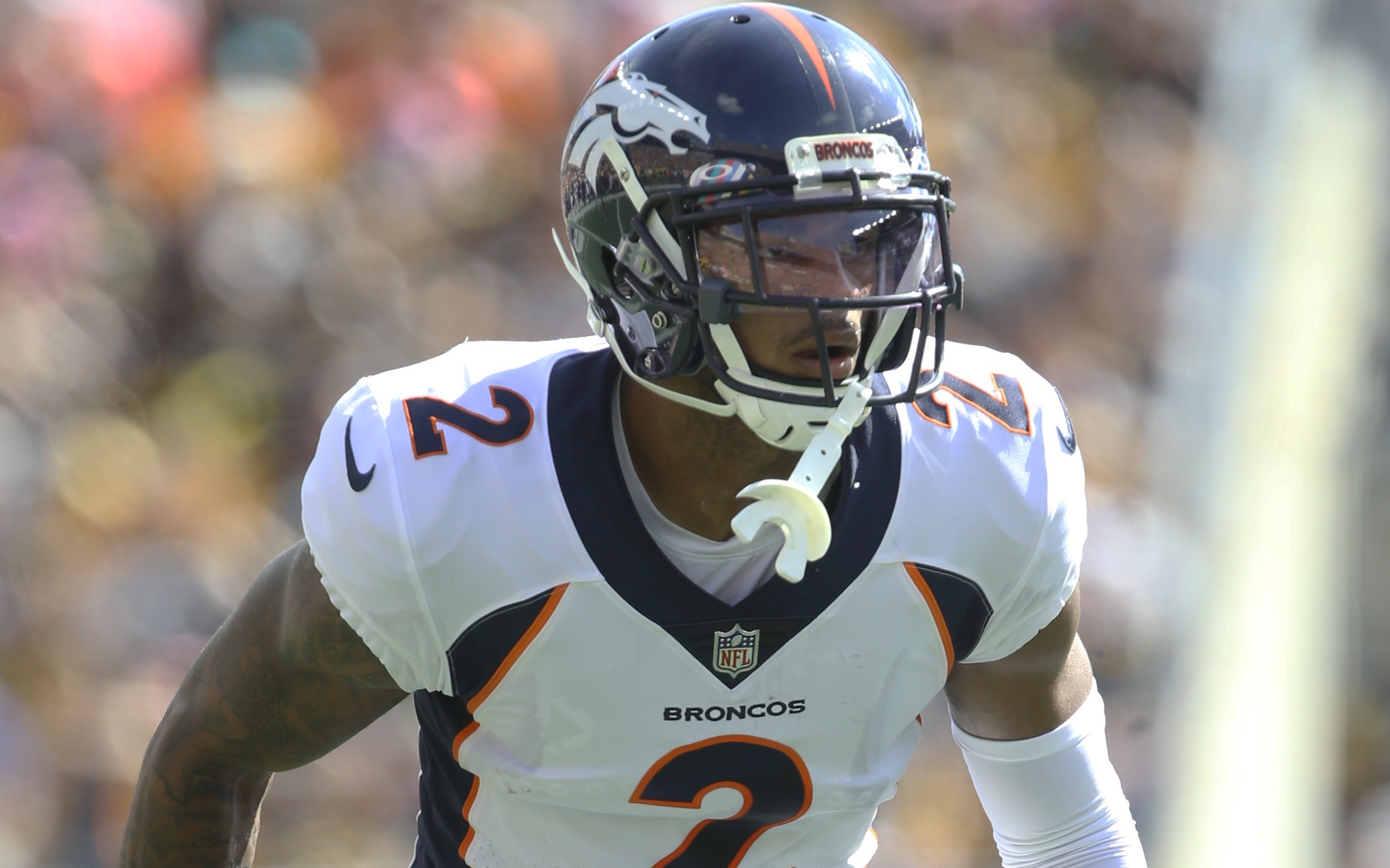 The Denver Broncos have a multitude of playmakers and quality depth options at the cornerback position. Entering training camp, which players should Broncos fans have their eyes on as competition heats up?
Throughout training camp, the Broncos will maintain having 90 players on their roster. After their first preseason game, they'll cut down to 85 players. Following their second preseason game, they'll be forced to cut down to 80 players.
Once the team concludes their third and final preseason game, they'll cut the roster down to 53 players.
With a position group that features the depth the Broncos have at cornerback, there will be extensive competition for a roster spot going into the 2022 season.
Denver Broncos cornerback room
The Denver Broncos current cornerback room consists of nine total players. Projected starters feature Patrick Surtain II, Ronald Darby, and K'Waun Williams inside the slot.
Ideally, the Broncos will need at least three players who can serve as backups behind these starters. Based on depth options, the Broncos could intend to keep six corners on the active roster.
Outside of Surtain, Darby, and Williams, the Broncos have six other corners who are competing for a roster spot. Michael Ojemudia headlines the other returning player from the Broncos roster last season.
New additions feature Essang Bassey who returns to Denver after spending 2021 with the Los Angeles Chargers. Joining Bassey as new additions are veteran Bless Austin, 2021 fourth-round draft pick Damarri Mathis, seventh-round draft pick Faion Hicks, Donnie Lewis, and undrafted rookie free agent Ja'Quan McMillian.
Throughout the offseason, Ojemudia has received recognition from his teammates and coaches as he enters his third year in the NFL. After missing a majority of last season due to injury, Ojemudia is projected to be a high-profile backup behind Surtain and Darby. 
For Mathis and Hicks, they'll compete for key roles on special teams with the potential to have a rotational role on defense with Austin, Lewis, and McMillian.
Potential position battles to watch for at cornerback
Any potential position battles at cornerback will likely be reserved for backup roles. With Surtain, Darby, and Williams likely penciled in as core starters on defense, competition is wide open when the team transitions into their dime personnel package.
Players like Mathis, Hicks, Ojemudia, and Austin all project to compete for a potential starting role inside the slot opposite of Williams. These corners will also likely compete with various safeties who are looking to play that same role. 
Michael Ojemudia and Bless Austin to compete outside
If the Broncos look to keep six corners on the active roster this season, a position battle to watch for will be between Ojemudia and Austin behind Surtain and Darby. 
For Ojemudia, he enters his third year in the NFL. Despite missing most of last season due to injury, his experience starting as a rookie should help him find his footing. In 2020, Ojemudia played 852 total snaps (78%) on defense.
With his documented improvement this offseason, he enters camp as the odds-on favorite to be the main backup. 
"He's gotten so much better," Broncos defensive coordinator Ejiro Evero said during mandatory minicamp this offseason. "It's a credit to him and a credit to Coach 'CP' (Defensive Backs Coach Christian Parker), [Assistant Defensive Backs Coach] Ola [Adams], 'Dre' (Diversity Coaching Fellow DeAndre Thompson), and those guys that are working with him. He's really, really improved, which is good because we need a lot of depth at that position."
Austin comes over to Denver after spending last season with the Seattle Seahawks. He also possesses experience as a starter in the NFL, starting 17 out of 29 games he's appeared in. However, he only started in one game for the Seahawks last season and appeared in 11 games for them.
The need for positional depth is important as the NFL continues to evolve into a heavy passing league. Notably inside an AFC West division that features Patrick Mahomes, Justin Herbert, and Derek Carr.
If Austin and Ojemudia both stand out in training camp and preseason, both could secure a roster spot.
Who will back up K'Waun Williams in the slot?
The Broncos made a splash in free agency by bringing in Williams from the San Francisco 49ers. In 2022, he'll replace former Broncos corner Bryce Callahan who signed with the Los Angeles Chargers.
Williams adds value to the Broncos as a run stopper, and as a player who can cover inside the slot. In the event he misses time, these players should be candidates to back him up.
Bassey is a name to keep an eye on because of his familiarity with this type of defensive scheme. Having played under former Broncos head coach Vic Fangio and Los Angeles Chargers head coach Brandon Staley, he could pick up Evero's scheme relatively quickly.
Broncos rookies Mathis and Hicks could also compete with Bassey to back Williams up. Both rookies benefit in their experience playing inside of an NFL-style defense at Pitt and Wisconsin. 
Their ability to cover inside the slot is crucial for coaches to evaluate in camp and preseason. On the other hand, how well they play against the run could be the deciding factor as to who secures a final roster spot.
How the Denver Broncos' cornerback depth plays out this season will be important to follow.