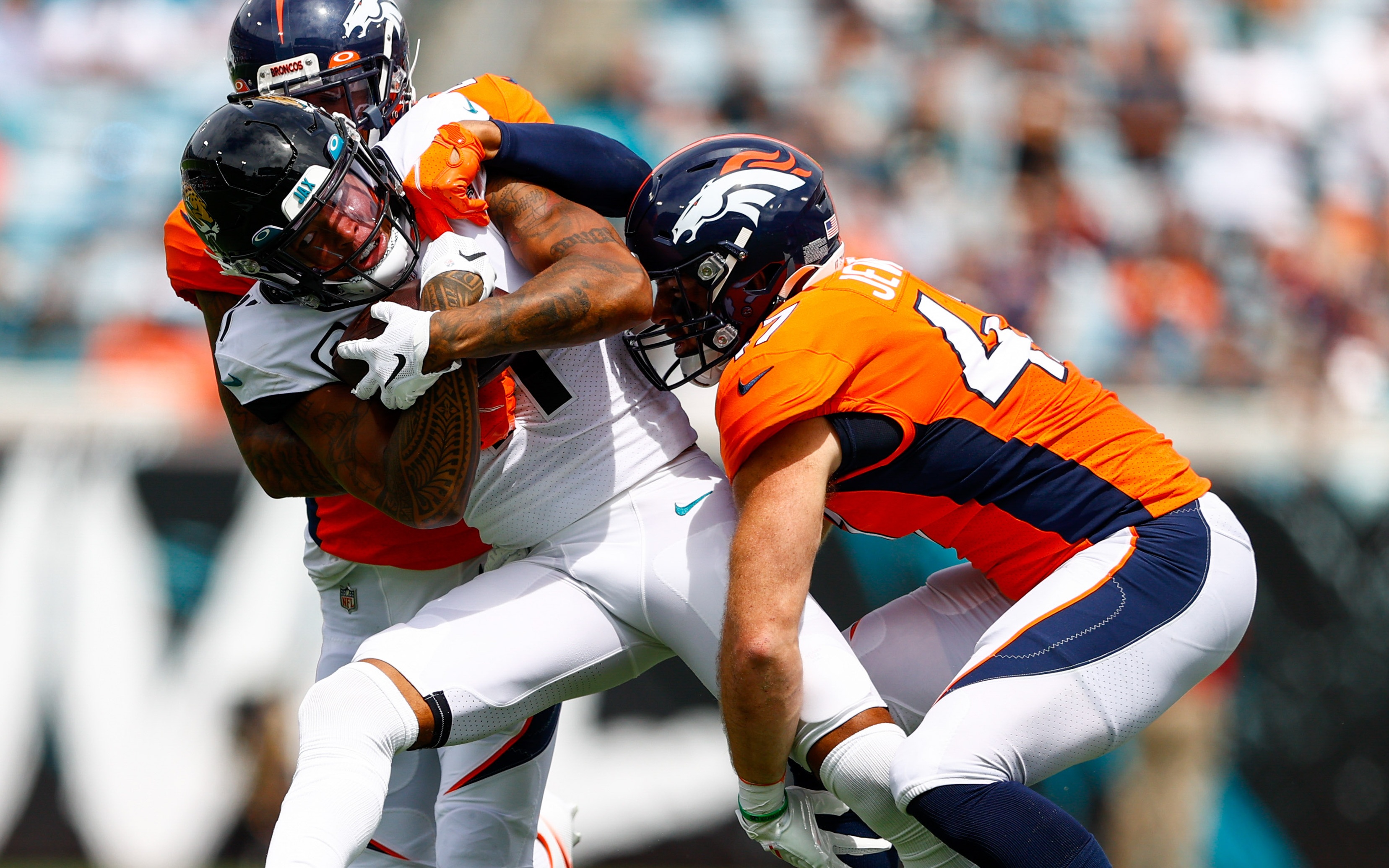 The Denver Broncos defense looks to return as one of the top units in the league in 2022 and the impact that linebacker has this season will help determine whether or not they get can accomplish that. After not selecting an inside backer during the NFL Draft, it appears the Broncos are fully confident in the group of players they have.
Denver Broncos linebacker room
Players returning for the Broncos at linebacker for training camp feature veteran Josey Jewell, Justin Strnad, and Barrington Wade. New additions at training camp feature free agent acquisition Alex Singleton, Jonas Griffith, and undrafted rookie free agents Kadofi Wright and Kana'i Mauga.
Last season the Broncos were decimated by injuries at the position after Jewell and former Broncos starter Alexander Johnson suffered season-ending injuries early in the year. Coming into this season, Broncos general manager George Paton is hoping the position can remain intact.
Who starts next to Josey Jewell on defense?
After deciding to not re-sign Johnson after last season, the Broncos have a need for a solidified starter at the will linebacker position next to Jewell, who returned to the team after signing a two-year deal this offseason.
With Baron Browning's anticipated transition to edge rusher, the Broncos' competition at the position will be wide open going into training camp.
Despite Browning's switch, there is still an expectation that he could contribute inside if the Broncos need him to. However, early projections indicate that Jonas Griffith could be the favorite to start defensively.
During the preseason last year, Paton traded for Griffith who was a member of the San Francisco 49ers to help boost the Broncos' needs on special teams. Towards the end of 2021, Griffith started the final four games for the Broncos at linebacker.
In his four-game sample size, Griffith demonstrated elite athleticism and his length to flow from sideline to sideline effectively. During his stretch as a starter, Griffith totaled 40 tackles and stood out as an impact player down the stretch.
His improvement has been noticed by Jewell this offseason. 
"The guy is good. He has a lot of talent," Jewell said of Griffith during organized team activities this offseason. "The guy can run—smart kid. He's come a long way, especially from last year. From the beginning of it when he was just playing special teams and then he came into a defensive role playing linebacker, and now communicating with me out there with other guys. It really shows his football I.Q. really increasing.
Will Alex Singleton push to start next to Jewell?
Griffith will compete with veteran free-agent acquisition Alex Singleton who comes over from the Philadelphia Eagles for the starting job. Singleton enters the competition with prior starting experience during the regular season.
As a fourth-year player, he's started in 19 out of 42 games he has appeared in. In 2021, Singleton started 8 games on a very talented Eagles defense. He registered 137 tackles, 1 interception, 1 defensive touchdown, and 5 passes defensed playing on defense and special teams last year.
With new Broncos defensive coordinator Ejiro Evero entering his first year as a play-caller, he could rely on having a veteran duo between Jewell and Singleton starting at linebacker. 
Younger linebackers to keep an eye on
Justin Strnad enters his third season with the Broncos and is also looking to make his claim to start this season. Entering 2022, Strnad comes into training camp fully healthy and stronger than he was last year.
2021 was technically Strnad's first season after dealing with a hand injury that sidelined him during his rookie season. He started 5 games for the Broncos' defense last season and played a big role on special teams.
Regardless of who starts next to Jewell, whichever player doesn't win the job will more than likely win a backup job behind both Jewell and the starter. 
Undrafted rookies looking for a roster spot
Where do undrafted rookies Kadofi Wright and Kana'i Mauga fit in? They'll more than likely compete for a spot as a backup on defense, but could have their best shot to make the roster if they can carve out a role for themselves on special teams.
With training camp right around the corner, the Denver Broncos hope that their linebacking unit can stay healthy this upcoming season while maintaining their depth in an effort to help their defense return as one of the league's top units in 2022.