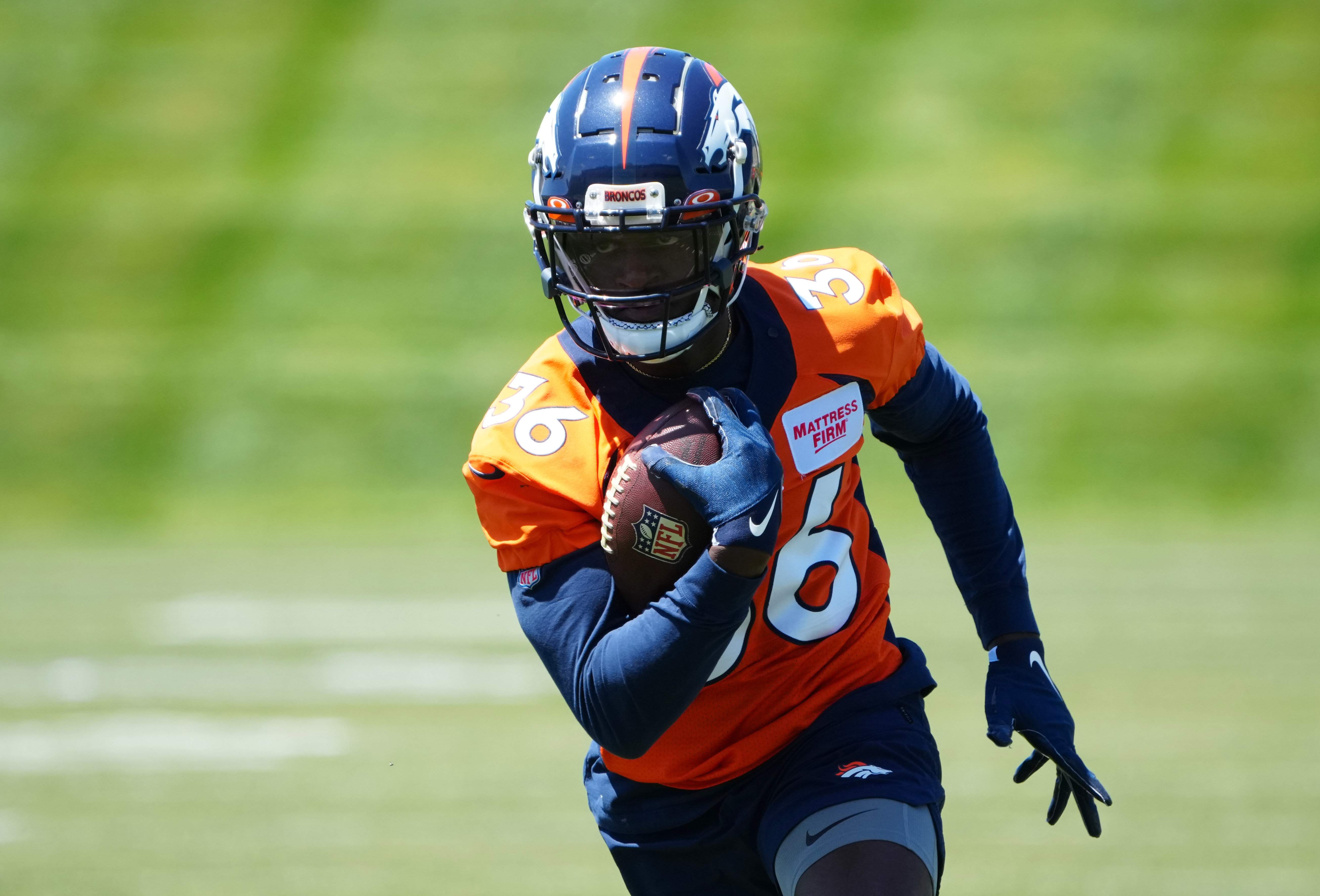 The Denver Broncos wrapped up Day 11 of Training Camp at the UCHealth Training Center on a scorching Monday afternoon.
One undrafted rookie wide receiver received high praise from Broncos head coach Nathaniel Hackett, and Courtland Sutton ended practice with a highlight-reel play.
Brandon Johnson the next Denver Broncos undrafted gem?
After the Broncos lost Tim Patrick for the year with a torn ACL, the offense has relied on multiple receivers getting reps to help fill the void without Patrick.
In particular, undrafted receiver Brandon Johnson has stepped up during practice.
For Johnson, whether working with the first team, second team, or third team offense, he's been reliable as a pass catcher early on.
With a deep receiver room, the fact that Johnson has become reliable and has established trust with Russell Wilson is an important factor to consider.
Day 11 of Broncos Training Camp w/ @CodyRoarkNFL

K'Waun Williams and Jonathon Cooper return + Courtland Sutton shines at the end of practice #BroncosCountry pic.twitter.com/Ljyw0onDP4

— Mile High Sports (@MileHighSports) August 8, 2022
Broncos head coach Nathaniel Hackett touched on this following Monday's practice.
"Brandon [Johnson] has done a really good job," Hackett said after Monday's practice. "It's not too big for him, that's for sure. We put him in on Saturday, and he did a couple of things—had a great double move for a big gain in a two-minute situation. There is so much great opportunity out here right now. When anything happens, you just want to see people capitalize on it and get better and get the trust of the quarterback and the coaching staff. He's doing a fine job."
If Johnson can carry over his production from practice to Saturday's first preseason game against the Dallas Cowboys, he could solidify himself inside of the receiver room.
Broncos boosted by return of two players coming off of injury
The Broncos defense received a boost on the personnel side of things with cornerback K'Waun Williams and outside linebacker Jonathon Cooper returning to practice.
Williams returned after missing the last week and a half with a knee injury. Cooper returned to practice after missing Saturday's practice as he remains limited after having off-season finger surgery.
The Broncos limited Williams and Cooper to position-specific drills. It's worth monitoring throughout the rest of the week whether both players will ramp their participation up to team drills.
Some other injury news and notes, offensive guard Netane Muti did not practice on Monday as he continues to deal with a knee injury that's been bothering him.
As of right now, there is no timetable on when he may return to practice, physically.
Cornerback Ronald Darby appeared to be shaken up on the final play of practice after Courtland Sutton hauled in a catch downfield.
🤯 @SuttonCourtland doing @SuttonCourtland things 🤯 pic.twitter.com/DUrpEZy7FU

— Denver Broncos (@Broncos) August 8, 2022
Darby appeared to favor his hand after the play.
Tomorrow's practice will reveal more about his status.
Third-round rookie tight end Greg Dulcich worked off to the side field as he continues to deal with a hamstring.
"Hamstrings are so weird," Broncos head coach Nathaniel Hackett said following practice. "They are very difficult to get through. As he goes through that, we are just making sure that we are doing everything the right way."
It appears the team is taking the precautionary approach with Dulcich in hopes of him being fully healthy for the start of the regular season.
Defensive lineman D.J. Jones was at practice today but did not participate in any team drills.
Hackett said the team will continue to play his status by ear as he deals with a back ailment that's been impacting him.
Broncos respond better after Sunday's day off
Each day, the Broncos coaching staff is constantly testing their players in hopes of seeing how they respond to certain situations.
For the last two weeks, the coaches have given players Sunday off in hopes of keeping them fresh throughout training camp.
Last week, Hackett didn't think the team responded well coming into last Monday's practice after having the previous Sunday off.
This week, the first-year Broncos head coach thinks the team made progress but was expecting the offense to match the defense to start the week.
"Much better compared to last week," Hackett said. "I thought it was a lot better. I don't think there was enough popping going on, so we will address that. I think the defense did some really good things and the offense needs to match that. This is the second time—the offense was better than what they were last week, but still not good enough."
Will the Broncos offense respond during Tuesday's practice as the team approaches Day 12 of Training Camp?
Practice continues tomorrow at 10:00 AM at the UCHealth Training Center.