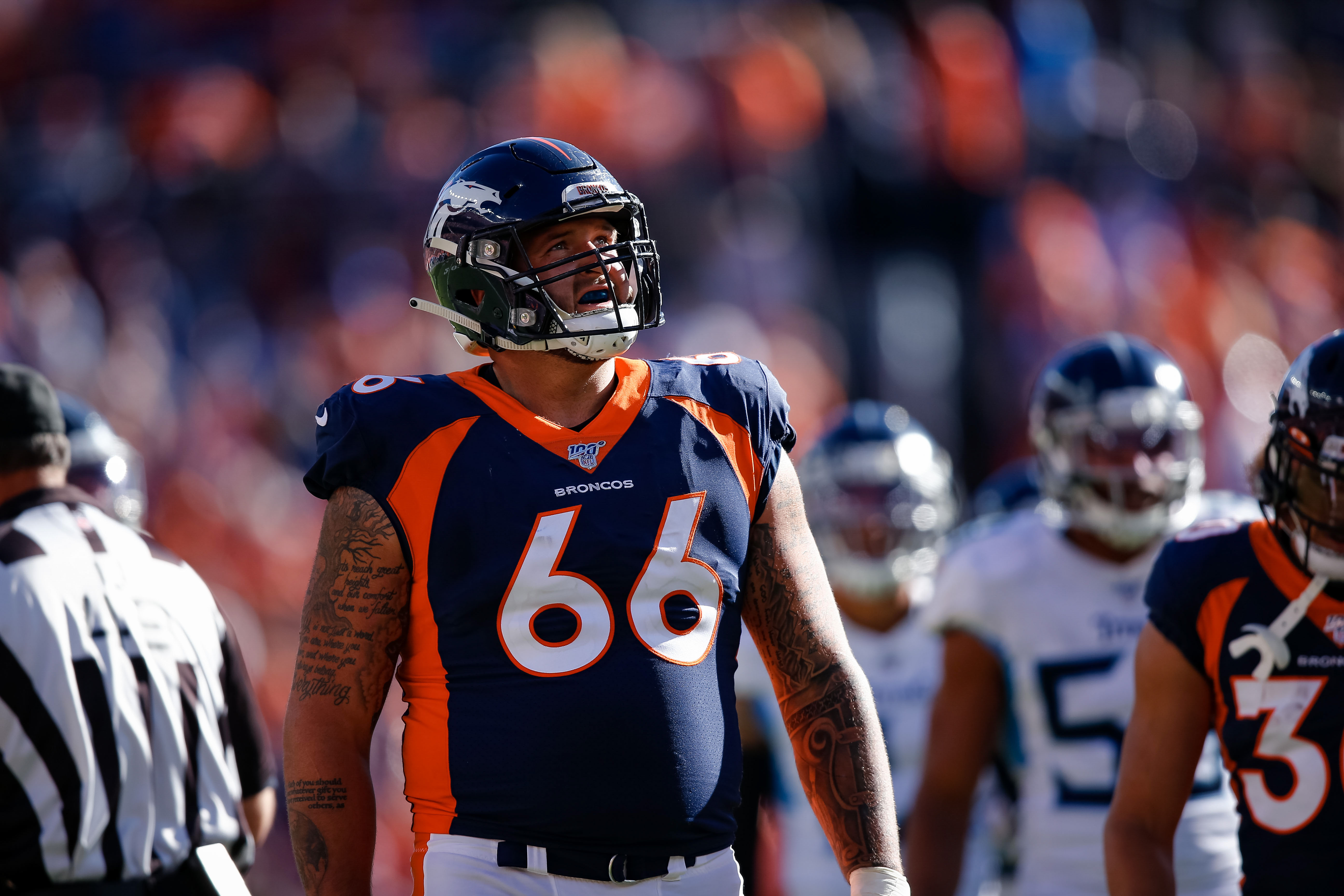 Unfortunately, this week's injury report is long and details just how injured two of the most beat-up teams in the National Football League are.
For the Broncos, the biggest fear is that they will be out two starting offensive linemen, hurting an already struggling group up front. In particular, injuries on the o-line are even more concerning when playing a Ravens defense that can take advantage of this through personnel and coaching.
The Ravens on the other hand, are hurting all throughout their roster. With plenty of players already on injured reserve, health has been the biggest question for the Ravens since the start of training camp.
Denver Broncos
Graham Glasgow (Out)
Hurting his knee last week against the Jets, Glasgow has been in and out of the starting lineup since Week 1 of this regular season. First with an irregular heartbeat and now a knee, the Broncos are struggling to find any consistency at right guard.
Glasgow hasn't practiced all week and isn't supposed to play this Sunday. In his place, Netane Muti will get the start.
Dalton Risner (Questionable)
Risner also sustained a game-ending injury against the Jets but his seems to be a little less serious than Glasgow's.
Risner did not participate in Wednesday and Thursday's practice but did limitedly participate on Friday. While this is fantastic news, his status for the game is still very much in the air.
If Risner is unable to play, Broncos' rookie Quinn Meinerz will get the start at left guard.
Melvin Gordon (Questionable)
Gordon is yet another major piece to the Broncos' running attack that isn't fully healthy heading into this week's game against the Ravens.
Splitting carries with rookie tailback Javonte Williams, Gordon has had a wonderful start of the season in all three phases of the running back position; running, blocking, and receiving. The loss of Gordon would give Williams the start and workload of an every-down back.
This week, Gordon has been a limited participant in every practice. While he might play this week, just how much is an unknown.
Dre'Mont Jones (Questionable)
A late addition to the Broncos injury report, Jones was a limited participant in practice on Friday due to a calf injury.
Jones has been a monster through four games this season and would be a massive loss to Vic Fangio's defense if he is not able to play. If he doesn't, DeShawn Williams would be tasked with starting this week against the Ravens.
Shelby Harris (Questionable)
Up until Friday, Harris was a full participant in practice but much like Jones was only limited in the final practice of the week.
Dealing with an illness and wrist injury, Harris is listed as questionable ahead of the game against Baltimore.
Defensive tackle Shamar Stephen would take his place if he doesn't play on Sunday but as a huge part of the Broncos' success defending the run, Harris' loss would be substantial.
Andre Mintze (Questionable)
Mintze, a rotational edge rusher for the Broncos, has had a rough start of the season but still occupies a role, giving Von Miller and Malik Reed a breather when needed.
Mintze has been a limited participant in practice all week and is listed as questionable ahead of this Sunday's game.
Baron Browning (Questionable)
The ultra-athletic rookie linebacker has had a tough time staying on the field since the beginning of training camp.
Browning, mostly limited to a special teams role, was a late addition to the injury report this Friday as he is dealing with a back injury.
While he doesn't have a very big role on the defense, the linebacker room is already very thin with Josey Jewell being out for the remainder of the year, making his status on game day that much more important.
Baltimore Ravens
Lamar Jackson (Questionable)
Jackson, the best and most impactful player on the Ravens, is listed on the injury report after missing Wednesday and Thursday's practice with a back injury. Luckily for the Ravens, he was a full participant on Friday.
While listed as questionable, fans should expect Jackson to play this week.
Pernell McPhee (Questionable)
McPhee, a starting pass rusher for the Ravens, is a vital part of their defense and ability to get after the quarterback.
After being questionable last week with the same shoulder injury, McPhee ended up playing and playing a lot against the Lions. Despite not practicing on Wednesday and only limitedly participating on Thursday and Friday, fans should expect McPhee to play against the Broncos this week.
Ronnie Stanley (Out)
Stanley, the extremely talented and consistent offensive tackle for the Ravens, has not played since week one of the season due to an ankle injury.
This week, fans should expect much of the same. After visiting a doctor to determine whether Stanley would need surgery or not, he has decided to continue to rehab for a couple of weeks in hopes of returning sooner rather than later.
In his place, Alejandro Villanueva will play left tackle as he did the weeks prior.
Derek Wolfe (Out)
Wolfe was supposed to make his return to Mile High this week after being part of the legendary and Super Bowl winning 2015 Broncos' roster, but has been dealing with a hip and back injury this week.
Not participating in any practice leading up to this game, he will not play.
Deshon Elliott (Questionable)
Last week, Elliot was questionable going into the Ravens game against the Lions but ended up playing. In that game, Elliott injured his quad and did not return.
Going into this week's game against the Broncos, Elliott has not participated in any practice, making the likelihood of him playing slim.
If Elliott doesn't play, rookie safety Geno Stone would be his replacement.
Anthony Averett (Questionable)
Adding to an already injury-riddled secondary,  Averett was limited in practice on Thursday and did not participate on Friday.
Not participating in the final practice of the week, Averett's odds of playing seem slim.
Look for veteran cornerback Jimmy Smith to continue playing in his expanded role and for Tavon Young to see an increase in his snap count.
Geno Stone (Questionable)
The rookie out of the University of Iowa is in for a big role this week but is also dealing with an injury himself.
Limited on both Thursday and Friday, Stone is listed as questionable this week. Dealing with a thigh injury, fans should expect Stone to play and get the start against the Broncos.
Marlon Humphrey (Questionable)
Humphrey is one the most talented cornerbacks in the league and overall defenders on the Ravens.
Listed as questionable with a knee injury, Humphrey wasn't listed on the injury report until Friday, where he was a full participant.
Expect Humphrey to play this week, tasked with the assignment of covering Courtland Sutton and Tim Patrick.
Alejandro Villanueva (Questionable)
Stepping in and playing for the injured Stanley, Villanueva has been the starting left tackle for the Ravens since Week 1.
Villanueva has been limited in practice on Thursday and Friday, ultimately making him questionable.
Playing such at such a slim and key position for the Ravens, his status on gameday will be massive to their overall success.
The Broncos (3-0) host the Ravens (2-1) with kickoff scheduled for 2:25 pm MT Sunday.