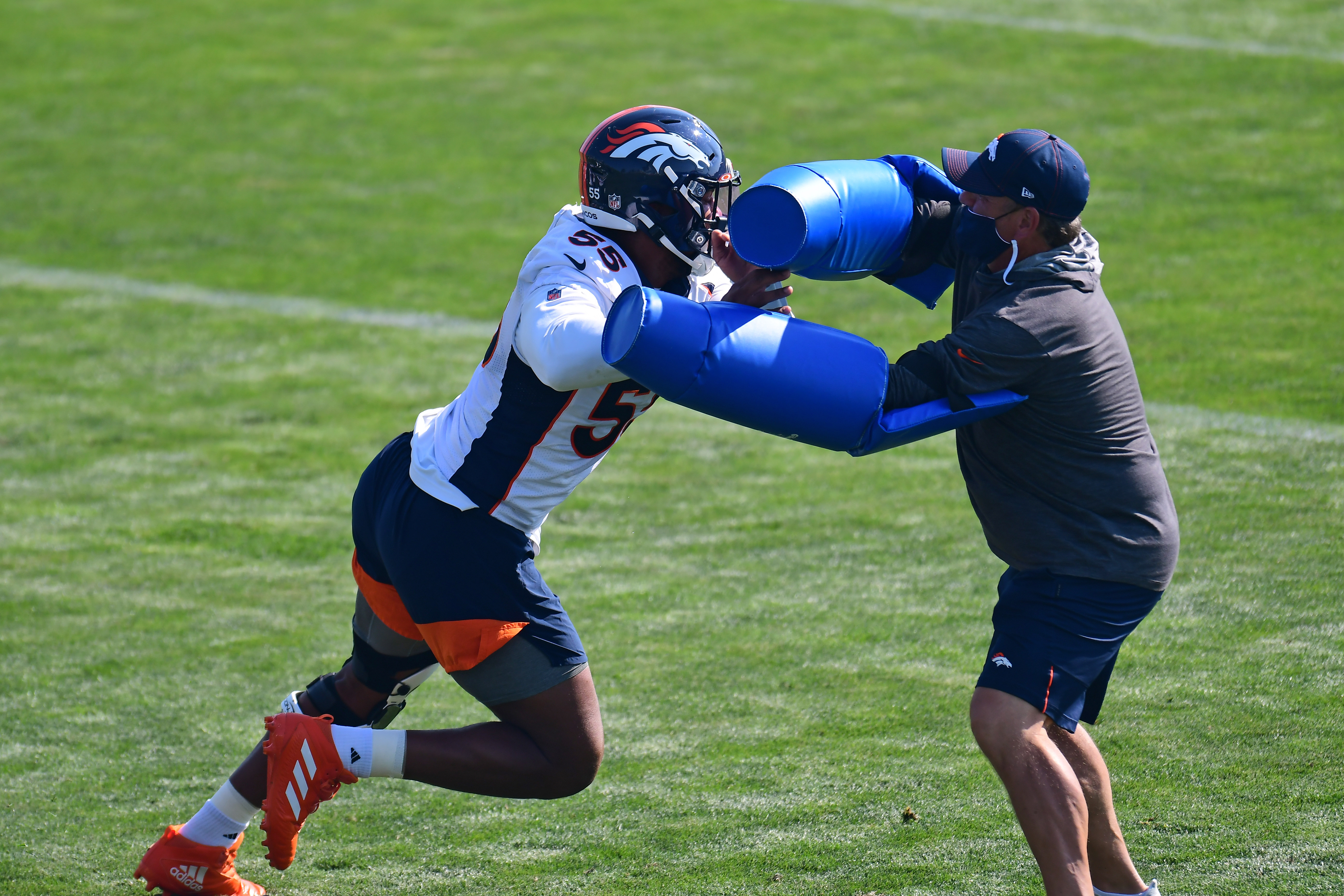 What a difference a year makes.
The Denver Broncos will start Week 1 with virtually no injuries. The only question mark surrounds outside linebacker Bradley Chubb.  
Meanwhile, the Giants will go into the game already down Evan Engram with superstar Saquon Barkley's status still up in the air.
Denver Broncos
Von Miller, Courtland Sutton, Albert Okwuegbunam
Broncos Country can rejoice at the return of some of their favorites. Going into Sunday's game, Miller, Sutton, and Okwuegbunam were able to practice all week fully. All three are set to play against the Giants on Sunday.
For Miller, this will be his first NFL game back since the 2019 season. He tore his ACL in training camp before last season began.
Both Sutton and Okwuegbunam had their seasons cut short last year with torn ACLs that put them on the IR all season.
Noah Fant
Fant didn't play in the final preseason game against the Los Angeles Rams due to a lower leg injury. There was worry that it would affect his ability to be good to go Week 1 against the Giants.
After being listed as limited on Wednesday, these fears were squashed when Fant practiced fully on Thursday and Friday.
He is good to go for Sunday's game, and there are no indications that he will be held back in playing time.
Bradley Chubb
Fans that have been dying to see Chubb and Miller up front together again might have to wait a little bit longer.
Chubb did not practice on Wednesday and was limited on both Thursday and Friday. His final designation was marked as questionable.
Fangio stated that Chubb is a game-time decision and that even if he does play, it'll be in a reduced capacity. They will test his ankle out before the game.

He said, "Well, obviously, he's not going to be full-go. It'll just be a decision based upon how much he can do."
The good news is that regardless of Chubb's playing time, Malik Reed has proven himself to be a very capable OLB2 and will answer the call.
New York Giants
Evan Engram
Engram has already been ruled out of Sunday's game with a calf injury.
Since getting the injury during Giants' preseason finale against the New England Patriots, he hasn't been able to practice at all. His only participation has been working with the trainers on the sidelines.
Without Engram, new addition Kyle Rudolph will be the team's primary tight end for the team.
Saquon Barkley
Barkley has not played in a game since Week 2 of the 2020 season. He spent the rest of the year on IR with a torn ACL.
However, it's looking like he will be good to go on Sunday. He was marked as limited at practice all week. His game-time status is currently listed as questionable.
On Friday, Barkley told reporters that he didn't suffer any setbacks during practice. When asked whether or not he would be playing on Sunday, he said, "We'll see." 
Game Day Update: Per Ian Rapoport, Barkley will play in today's season opener after being fully cleared by doctors, and is not expected to be on a pitch count.
Kenny Golladay
One of the biggest question marks for the Giants the last couple of months has been whether or not Golladay would be ready for Week 1.
After suffering a hamstring injury during the first padded practice of training camp, he missed the entire preseason.  
Golladay was limited in practice on Wednesday, Thursday and Friday. When the final injury report was released, Golladay was marked as cleared to play.
The Denver Broncos and New York Giants kick off the 2021 NFL season on Sunday at 2:25 p.m. at MetLife Stadium. The game will be broadcasted on FOX.