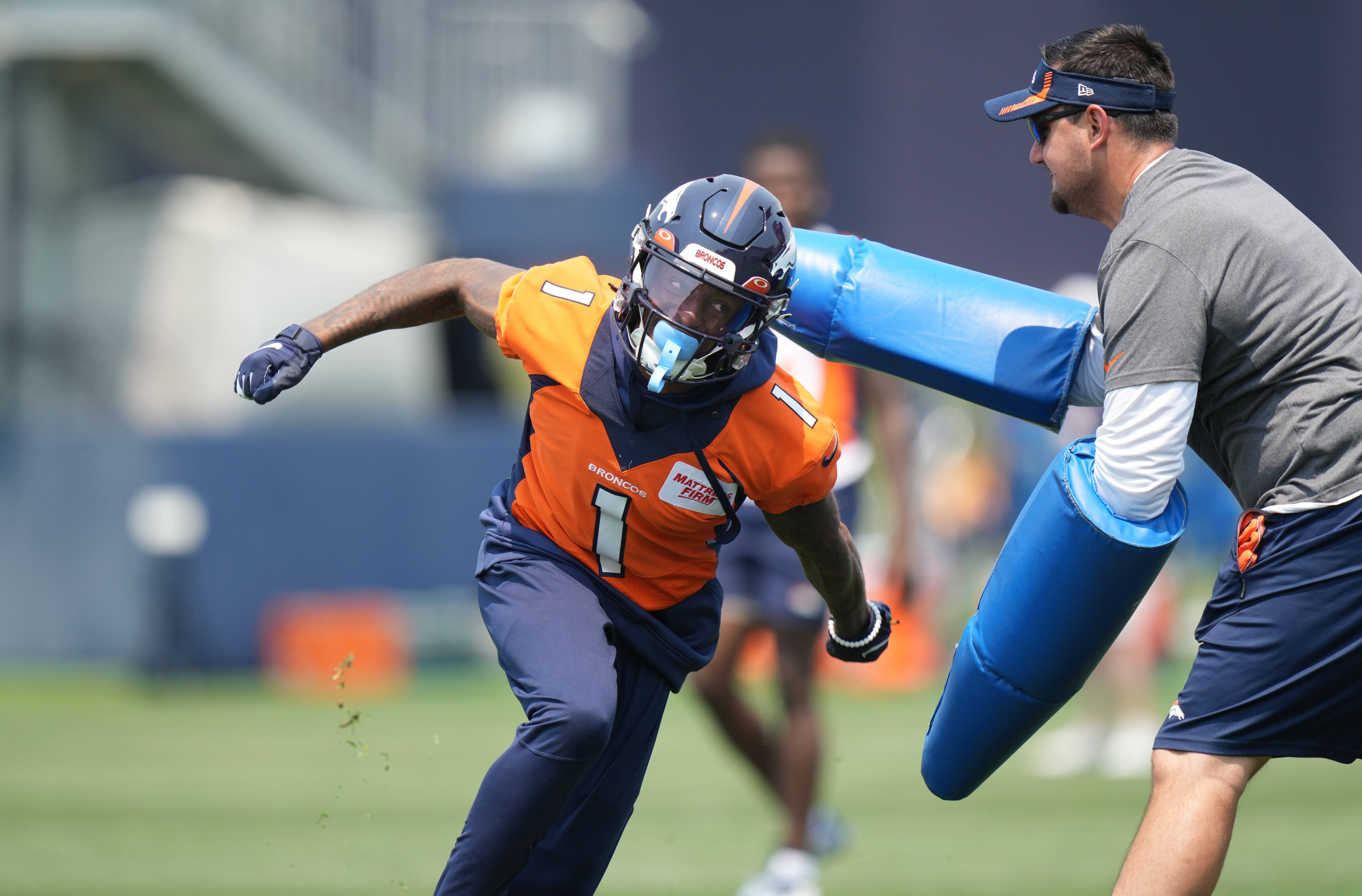 Until today, the Denver Broncos' 2020 second-round pick, K.J. Hamler hadn't put on pads in  309 days — nearly a full year.
"It feels good," Hamler said of finally getting his pads back on. "A little weird and a little tired. [I'm] just trying to get back used to it. It felt good to get back out there, finally."
Adjusting to the sensation of his shoulder pads will be a relatively small step in Hamler's journey back to the football field, as the wide receiver discussed after his first practice back, which came on Monday.
"It's been a tough journey [back from injury], to be honest," Hamler said. "There was such much stuff I was dealing with and being piled up on top of each other. At one point, just dealing with the ACL and then some more things [with] family situations. The love of my life passed, my grandmother, so that was the toughest thing. That was on my back for a while. I wish I never did it by myself. I wish I would have asked for help, because it was at one point in my life—and I'm going to just be honest with you all because I'm more vulnerable and more confident in myself by just saying it. At one point, I didn't want to be here. I didn't want to be in this world. There was one point where I didn't want to be heard from anymore because I lost my granny and that really hurt me. God gave me the strength to just get out of that hole because he knew I was strong enough to get through [it]. I didn't feel like I was at the time. Just getting out of that hole was very hard, very tough. Just having all of these things going on and piling on top of each other, it was a hard process. Just to see where I am at from where I started and where I'm at now, [it's] been a big change. I'm proud of myself and I know my grandmother is proud."
According to Hamler, the lowest point in his journey back to the field was the night when he received the news about his grandmother.
"You guys don't understand," Hamler shared. "That was my mother. My grandmother was my mother. I took her to get her hair done, took her to get food all of the time. Every time I came home, I saw her first. I called her every Monday. When I missed that call on that Monday and then we got the call on Saturday. There is a lot of regret in my heart from that. It was three months after surgery. I was holding a lot of regret on myself about that. It still kind of haunts me to this day, even though I am better. When you lose the woman that raised you, it's just a different feeling."
Those difficult emotions were only made more taxing as Hamler closed up, but he says, as he began to talk to others and share about his struggles, it became easier.
"At first, I didn't talk to anybody," Hamler said. "I was just in a cocoon, wrapped up. I just kept everything to myself. I feel like, as a man, we always say to be tough or just block everything out. You have to be a man; you have to be tough. That's just not the prime example of a masculine man. Sometimes, you have to let it out. Sometimes you need help, and I'm just starting to learn that now. At the end of the day, I talked more. I was in therapy. I checked into therapy. I talk to my guys more, talked to my mom, talked to my dad and all the people that care about me here because I don't have any family out here. [I'm] just trying my best to be a better version of myself."
Hamler told the media that therapy was a serious help to him, as he struggled with these emotions.
"Therapy has its ups and downs," Hamler explained. "There are for sure ups and downs. Some days, you hear what you want to hear, and then some days, it's not the stuff you want to hear. That's just—that's life. Life is not perfect. I'm not perfect, I'm human. I'm not afraid to tell you all what I've been going through. It's been a tough year, but you see me where I'm at right now. You see that I'm still here and I'm still working to be the best version of myself. I know everyone around here is proud of me. I'm proud of myself from where I came from—Step 1 to right now. I'll just keep pushing from there."
Hamler shared that one of the things that kept him going through those darkest times was how his grandmother and his other loved ones would want to see him thrive.
"I think that's the reason I'm still here," Hamler told the press. "I had to think about that, and I had to think all of the people I'd let down: My mom, my dad and my family. That was the lowest point of my life. Hands down the lowest point of my life. To see me dig out of it and then start becoming vulnerable with people I trust and start opening up more. We're so used to bottling stuff up and just taking it to the chin a lot. I'm just learning each day, day in and day out. I'm glad I'm still here and still with the team. I got my family around. Just being on the field has been a big help."
Although Hamler went through an incredibly difficult time during his recovery, Denver Broncos fans will be happy to hear he's in a much better place mentally now.
"Mentally, I'm a lot better, I'm a lot happier," Hamler said. "At one point, I was in a depressed state, and like I said, just climbed out of that hole. I have been just fighting my way out of there—asking for help, being vulnerable and trying to do what's best."