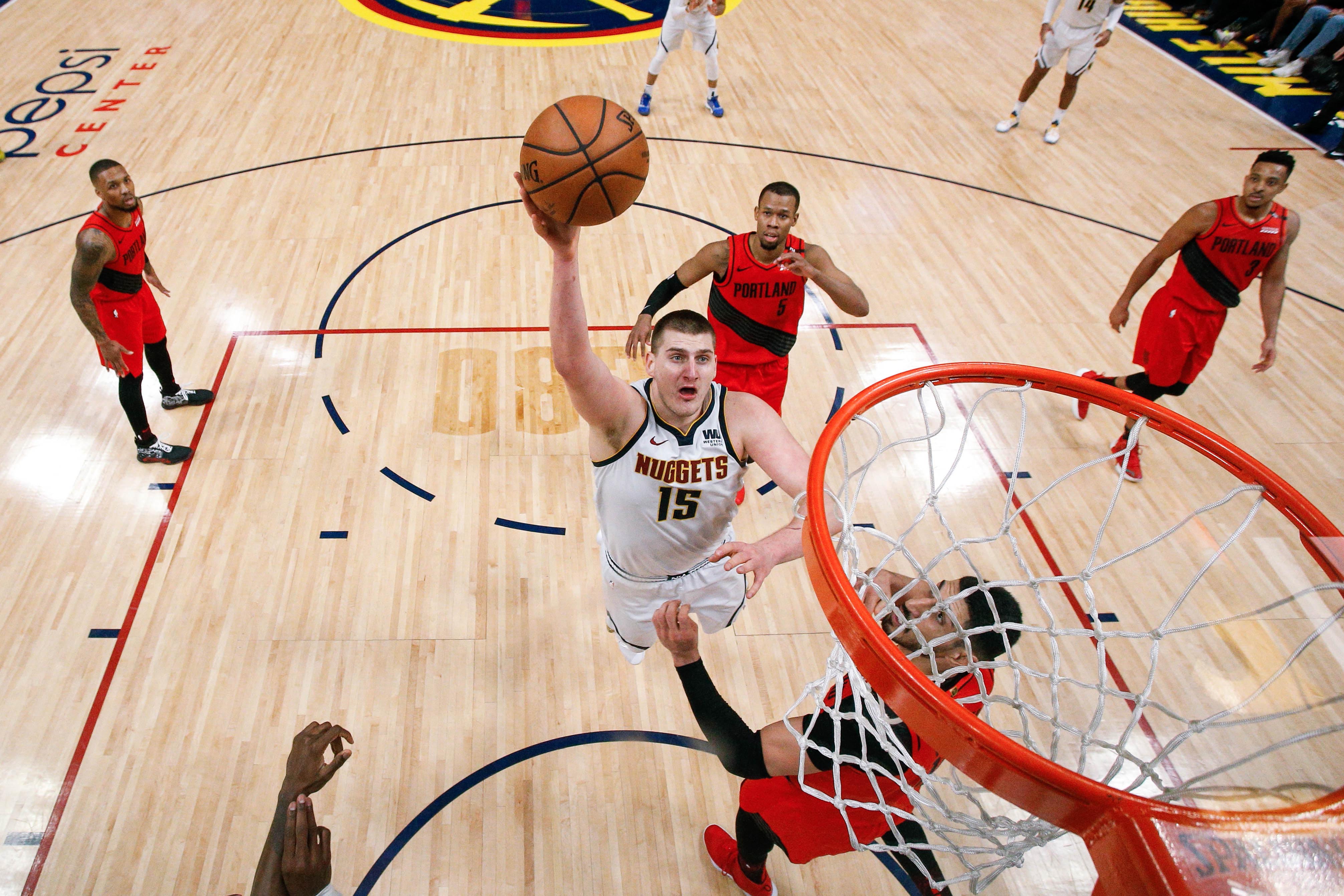 There was an extreme sense of deja vu in the Pepsi Center after the Denver Nuggets fell 97-90 at the hands of the Portland Trail Blazers.
Just 18 days prior to Denver's home loss to Portland, the Nuggets fell to the San Antonio Spurs in Game 1 of the first round of the playoffs at home in a game that they were only able to hit 6-of-28 3-pointers and only could muster 96 points.
On Wednesday night against Portland, those same shooting struggles reared their ugly head as the Nuggets only connected on 6-of-29 3-pointers and could only scrape together 90 total points.
When trying to diagnose Denver's ailments in Game 2 against the Trail Blazers, it really just came down to shot making as it did in Game 1 against the Spurs nearly three weeks ago.
"Really, it is just about us making shots," Nuggets head coach Michael Malone explained after Denver lost Game 2 at home to the Portland Trail Blazers. "We had 90 points."
This has been a theme of the Nuggets for their entire postseason run that now spans nine games. If the Nuggets are able to convert the wide-open shots that they consistently create, they win. If they put together another lousy shooting performance, they lose. It has been as simple as that.
"If you think about the four losses we've had in the postseason, we're shooting 32% from three in our losses," Malone stated. "Not to oversimplify it, but it's a make or miss league We couldn't make a shot. Gary (Harris) and Jamal (Murray) go 2-for-13 from three. Our starting backcourt got some good looks, but the shots didn't go down."
All of Denver's roster and coaching staff felt the same way. They created the shots they wanted in the way that they envisioned, but the shots just did not fall.
"We got a lot of open shots that we did not knock down," Jamal Murray said after the game. "I missed a ton in the first half and they were completely wide open. All around, we just missed. We had opportunities to close the gap over and over and we just didn't. Our effort and defense may have been great, but it came down to just putting the ball in the hoop."
"Those are great shots that we want to get," Gary Harris explained. "We just did not knock them down. You know, next play mentality. We just gotta keep shooting and those shots will fall next game."
One big reason for Denver's struggles shooting the basketball was because their best player, Nikola Jokic, was only able to convert 7-of-17 shots from the field for 16 points. After Jokic put up 37 points in Game 1 against Portland, the Trail Blazers elected to send double teams his way all night in order to force the ball out of his hands.
Well, Portland's plan worked. They wanted to make anyone else on the Nuggets roster — other than Jokic — beat them so they brought extra bodies his way whenever he got the ball in the post.
As Jokic should have done, he kept kicking the ball out to open shooters, but those wide open shots continually kept bouncing off the rim instead of falling through it.
"They double teamed him almost every time tonight and when you put two on the ball and you can't make them pay by making shots, it is going to be a really effective defense," Malone explained after Denver's loss.
Still, Malone is not worried. Yes, Denver's shots did not fall on Wednesday night, but against the Spurs, Jokic was doubled to start the series and by the time the series reached Game 3, Jokic and his teammates began making their opposition pay for double-teaming him.
"Just go back to the San Antonio series," Malone explained. "They doubled him and it was really effective until we made 15 threes in Game 3, 15 threes in Game 4, and 14 threes in Game 5. They stopped doubling him after that.
"In order for us to make them pay, you have to make shots and we had a hard time doing so."
That does not mean that Denver's seven-point loss at home is being thrown out as an anomaly. There were plenty of takeaways and lessons to learn from Denver's most recent loss.
If you ask Murray, he will tell you that learning from the film is important, but he already has an idea of what needs to change in Game 3.
"I think we need to learn to adjust earlier," Murray stated. "Shots weren't dropping for the whole second half so we have to be able to get to the rack or draw fouls. Get into the paint and get some easier shots."
The idea of attacking the rim when shots aren't falling is the same message that Malone echoed in his own postgame press conference.
"If you're not making shots, maybe attack the basket, maybe get to the rim, maybe get to the foul line," Malone stated with frustration in his voice. "We were getting such open looks that I understand our players shooting the shot, but you're having a night where you're not making shots consistently, you got to attack the basket, you have to put pressure on the rim, you have to think attack instead of settle and I thought in that in the first half, we didn't have that mindset. I thought they were the aggressor in the first half. They were much more physical in the first half, but I am extremely proud of our guys in the second half. We fought."
As Malone alluded to at the end of that last quote, there were still some positives to be taken away from Denver's loss.
First and foremost, Denver's defense keeps showing up in a big way in the postseason as it did on Wednesday night.
"Our defense was great," Malone said. "We held them to 97 points, 42% from the field, 31% from three. They shot 48% in that first quarter. After that, it was 40% for the rest of the game."
In addition to the strong defense that Denver played in quarters two through three, they also flew around and gave tons of effort on both ends of the floor. Even when it became clear that the Nuggets were not having a good night, they continue to battle until the final buzzer.
"I do love the fact that our guys competed at such a high level at least gave ourselves a chance and played the way we need to play," Malone said. "Now, the challenge is doing that for as close to 48 (minutes) as possible."
As the Nuggets board a plane for Portland just about an hour after losing Game 3, their confidence remains strong and intact. Despite Denver's having uncharacteristically a rough game on Wednesday night, they still had a chance to come back and beat Portland in the fourth quarter.
"We were right there the whole game," Murray said at the podium during his postgame interview. "With how well they were playing and how bad we were playing, we were right there but we just couldn't make the open ones."
Still, if the Nuggets fail to make open shots for seemingly all 48 minutes, they are not going to have a chance to win against anyone and that is not lost on Malone. Denver's head coach knows that the Nuggets did quite a few things well, but none of them mattered because the Nuggets just missed too many shots.
"We did some good things, but not making shots over four quarters was really the big difference in the game," Malone stated once again. "We played good defense, out-rebounded them by 11, we didn't get hurt with points off turnovers, but couldn't make a damn shot."
Now Denver will head back out on the road to take on the Trail Blazers in Portland for Game 3 and Game 4. After their Game 2 loss, the Nuggets have now lost homecourt advantage which makes winning at least one game in Portland a near necessity.
But the Nuggets are unfazed. The know they are one win away from taking back homecourt advantage. All they need to do is be the same team that won 54 games in the regular season.
"It is 1-to-1," Harris said. "We can go take back homecourt advatnage back by winning that next game. We are still in a good position. We just need to come out ready to play."