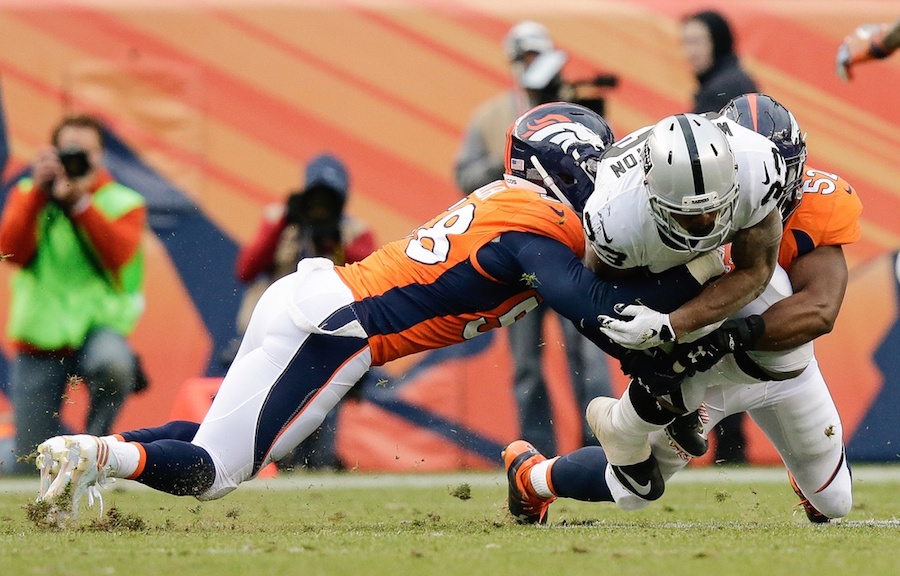 To be fair, they weren't going up against the same Oakland Raiders juggernaut offense that put up 30 points and 397 yards against them in a Week 9 loss, but the Denver Broncos defense had one of its best days of the 2016 season in a 24-6 win in the season finale.
Oakland was without starting quarterback Derek Carr, who led Oakland to that Week 9 win – one of 12 the Raiders compiled on their way to a Wild Card berth. And by the end of the game Matt McGloin, who started in Carr's stead, was on the sideline with an injury and Connor Cook appeared to be the man who will lead Oakland into the playoffs.
The Broncos knocked McGloin out of the game in the second quarter as part of a dominant first half that saw Denver keep Oakland from even reaching midfield. McGloin, who was 1-5 in six previous starts for the Raiders (all in 2013), was held to 6-of-11 passing for 21 yards before he was forced out of the game. The Broncos did not register a sack on McGloin, but it was a huge hit by Jared Crick that caused the apparent shoulder injury that kept the fourth-year player out for the duration.
Rookie Connor Cook had ups and downs in place of McGloin. He threw three darts on three straight plays that led to Oakland's six points, but he also threw an interception and fumbled twice (one lost).
Statistically, Cook's day was a little better, going 14-for-21 for 150 yards and a touchdown, but he also produced five drives that went for three or fewer plays and either a punt or a turnover.
The Denver defense, meanwhile, was playing like a team still with something to prove, despite being out of playoff contention. Denver was fighting to send off head coach Gary Kubiak out with a win. News broke Sunday morning that the game would be Kubiak's last as a head coach.
Denver gave up just 221 total yards on the day, their second-lowest total of the season. The six points they surrendered were a season-best, as were the 57 rushing yards they allowed. It was a stark turnaround in the run defense from their first meeting with Oakland, when they gave up 218 yards and three touchdowns on the ground. Latavius Murray, who had 114 yards all three scores last time around, was held to 11 yards on five carries.
The dominating win was exactly what the defense needed after giving up season-highs with 33 points and 484 yards in a Christmas night loss to the Chiefs last week. Not only does it remind the Broncos that their defense is still one of the best in the league, it sent Gary Kubiak out with a win.
Here's what folks around Denver were saying about the solid game the defense played, as it unfolded…
Broncos D just crushing Matt McGloin, nearly every play. McGloin's passes are sailing, looks jittery.

— Cameron Wolfe (@CameronWolfe) January 1, 2017
Broncos gave up 124 first-half rushing yards in their last meeting with Raiders. They've given up only 21 so far.

— Nicki Jhabvala (@NickiJhabvala) January 1, 2017
Raiders have 50 total yards at halftime. Devontae Booker (92 total yards) and (67 rushing yards) each have more.

— Cameron Wolfe (@CameronWolfe) January 1, 2017
In a meaningless game, #Broncos Von Miller still playing for DPOY. But he needs some stats. Give em something to remember!

— Robin Carlin (@robincarlin) January 1, 2017
Shane Ray with the strip sack. Adam Gotsis makes the recovery. Two players crucial for Broncos future. Miller/Ray full-time will be a force.

— Cameron Wolfe (@CameronWolfe) January 1, 2017
Raiders have only 88 yards. Total. That's all of them.

— Nicki Jhabvala (@NickiJhabvala) January 1, 2017
.@Broncos have held the @RAIDERS to 5 first downs on their first 7 drives combined.

Raiders first 7 drives: 6 punts and 1 fumble lost

— NFL Research (@NFLResearch) January 1, 2017
Broncos' rushing D working on a season-best performance. Has held Oakland to 57 rushing yards w/ 3 mins left. Season-low is 72, vs. Tampa.

— Nicki Jhabvala (@NickiJhabvala) January 2, 2017