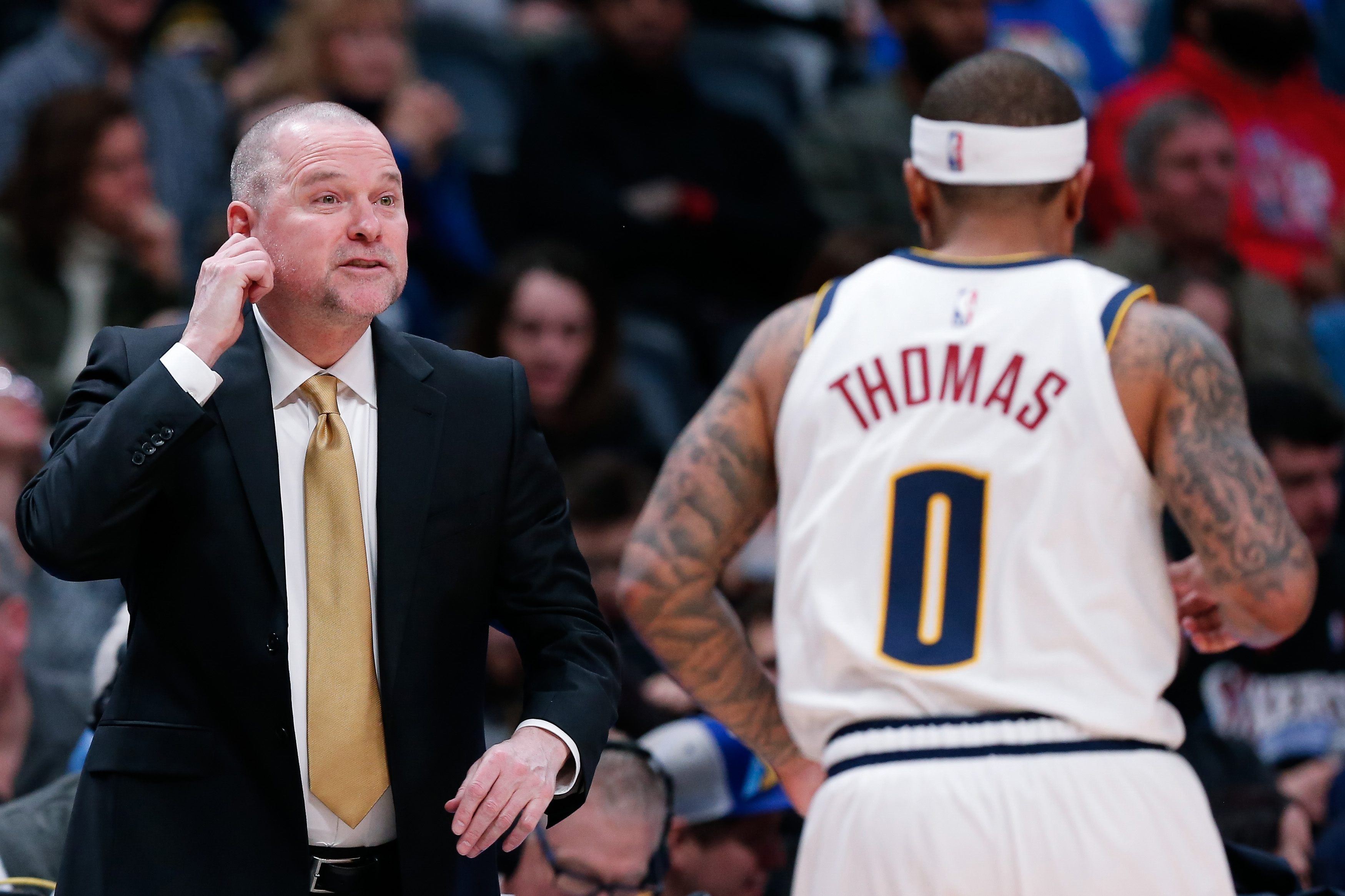 The Denver Nuggets, fresh off their biggest win of the year after defeating the Oklahoma City Thunder on Tuesday night, had their work cut out for them with the Utah Jazz coming to town.
Yes, the Jazz were without Ricky Rubio, Raul Neto and Dante Exum on the second night of a back to back in Denver, where the Nuggets had only lost four games all year, but Utah's play style is built around being resilient, competitive, and passionate. Because of those defining traits, Denver found themselves in a dogfight for most of the night. By the time the final buzzer sounded, the Nuggets — after a slow start and a furious comeback — fell to at home for only the fifth time all year by a score of 111-104.
Despite outscoring the Jazz in three out of four quarters, Denver was unable to escape with their sixth-straight win and it had everything to do with their horrid second quarter.
"That was one of our worst quarters of the year," Nuggets head coach Michael Malone said. "Just a lot of standing around on offense, over-dribbling. That group was really bad."
The group that Malone is referring to in the quote above was the five-man lineup that featured Isaiah Thomas, Monte Morris, Gary Harris, Paul Millsap, and Mason Plumlee (Torrey Craig also saw about three minutes in place of Millsap as well). That group was outscored 10-2 to begin the second quarter as they failed to execute on either side of the floor and ultimately kicked off Denver's eventual downfall.
In the second quarter, Denver was outscored 33-15. Defensively, they could not contain the 3-point shooting of the Jazz and allowed them to hit 5-of-10 shots from deep in the period, but the defense was not the biggest issue. On offense, it seemed as if Denver forgot how to function entirely.
All year, Denver has played selflessly and team-oriented, but to start the second quarter, Denver was much more focused on rushing shots, attacking in isolation, and dribbling the air out of the ball.
"Obviously, we have to be better when we come off the bench with that group and understand that we play a certain style of basketball," Malone explained after the game when reflecting on Denver's second-quarter struggles. "It is not one-on-one. It is not standing around. It is not pick and roll every possession. I thought in the second half we did a better job with that unit, but you get outscored 33-15 and that deflated us and it deflated the arena with how bad we played."
After the game, the Nuggets second quarter issues were a common talking point. Nearly every player that spoke to the media after the game had the same diagnosis for what ailed the Nuggets. The consensus opinion is that Denver's offense got stagnant as the player movement and ball movement died.
"We were just stagnant," Monte Morris stated. "We were not moving the ball. A lot of one-on-one basketball we played and we just have to be better."
"I felt like we got a little stagnant, playing a little bit too much one-on-one ball, standing around, guys just watching guys," Will Barton explained. "We weren't moving how we usually move. Sometimes you have games like that; especially when you have a lot of talent. A lot of guys want to make plays and rightfully so. It happens and we will get over it."
Yes, these games happen from time to time, but nobody in the Nuggets locker room was in the mood for excuses. When asked about the struggles the bench unit had, Morris was quick to shoulder part of the blame while also understanding that all three guards off the bench contributed to their issues.
"At the end of the day, we practice everyday," Morris explained. "We play good in practice; we move the ball. We just got to translate it into a game, play together, and move the ball. We got to get it clicking. That is on myself, Gary, and Isaiah. We are the three guards in the second unit. We all have to be better. We cannot depend on the starters to pull us through every night. We got to bring something off the bench. I put that on my shoulders and I know they do the same."
When Thomas was specifically asked about the second quarter strife against Utah and what he thought contributed to Denver's inability to score, he only gave a seven-word answer. Thomas seemed to also place part of the blame on himself, just as Morris did.
"I am just trying to make plays," Thomas said.
Despite Thomas' game against the Jazz being only his fifth of the year, it was likely his worst performance in a Nuggets uniform. He finished the night shooting 2-of-6 from the field for four points, one rebound and two turnovers in 11 minutes and 19 seconds of playing time.
Thomas played in spite of the Nuggets offense as opposed to within the Nuggets offense all night. If Thomas wants to excel with the Nuggets, he needs to learn how to operate within the style of play that Denver utilizes.
"With Isaiah, it is a fine line," Malone explained. "He is trying to find his rhythm and get comfortable playing with the ball in his hands and making plays, but on the other hand is that he has to understand how we play. Move the ball, get guys involved and tonight — and they are a good defensive team; take nothing away from them — I thought we were really easy to guard; especially in that second quarter."
Yes, Thomas struggled mightily in the second quarter, but it is too early to expect Thomas to be fully integrated and up to speed on how to fit into the Nuggets offense. That is why Morris, despite his frustrations with how Denver lost, still believes in Thomas and vocalized that to reporters after the game..
"I mean, when you take off a year from doing something, you have to get your mojo back," Morris explained. "He works his ass off. He is going to be just fine. I am not really worried about it."
Even Malone, who was very clear about his dissatisfaction with the Nuggets playing too much one-on-one basketball and over-dribbling, made sure to point out that the issues to not fall squarely on Thomas' shoulders despite his struggles.
"I do not think it was just Isaiah," Malone stated. "Obviously, there are five guys on the floor at one time. Then, the starters that came back into the game, came back in dead. We allowed that one stretch — the end of the first and to start the second — to really carry over throughout that whole quarter which is unfortunate. We are not going to play great for 48 minutes, but we have to be resilient and come back and play."
Thomas did not shy away from vocalizing his frustration after the loss. When asked about how tough it is to balance getting back in rhythm and also learning the tendencies of his teammates, Thomas pointed out his lack of minutes while still acknowledging that he needs to get better regardless of how much playing time he receives.
"It is very hard when you play 10 minutes, but you just got to continue to get better every time your name is called," Thomas said while frustrated after the loss. "Continue to play hard and figure things out. That is all I can do."
Still, despite not getting enough minutes to get into a rhythm, Thomas is still trying to focus on doing whatever he can to improve this Nuggets roster.
"I am in this position and I am here to help anyway I possibly can," Thomas explained. "That is what I am going to do. I know it is a marathon. We are not going to get it in one day or one week or one month, but I just got to keep working."
Now, after losing for the first time since the All-Star break, the Nuggets need to recalibrate and get back to their winning ways. That process will start by dissecting the unit that struggled so greatly to begin the second quarter which includes the play of Thomas.
"We have to continue to look at that lineup, see how effective it is and if we have to make some changes moving forward we will," Malone said.
No one knows what alterations, if any, Malone may make to his bench unit in the future, but one thing is for certain; Denver cannot play selfish basketball as they did in the second quarter against the Jazz. They have gotten this far because of their trust in one another. If anything begins to threaten that way of life for the Nuggets, Denver must remove it as soon as possible or prepare to suffer the consequences.