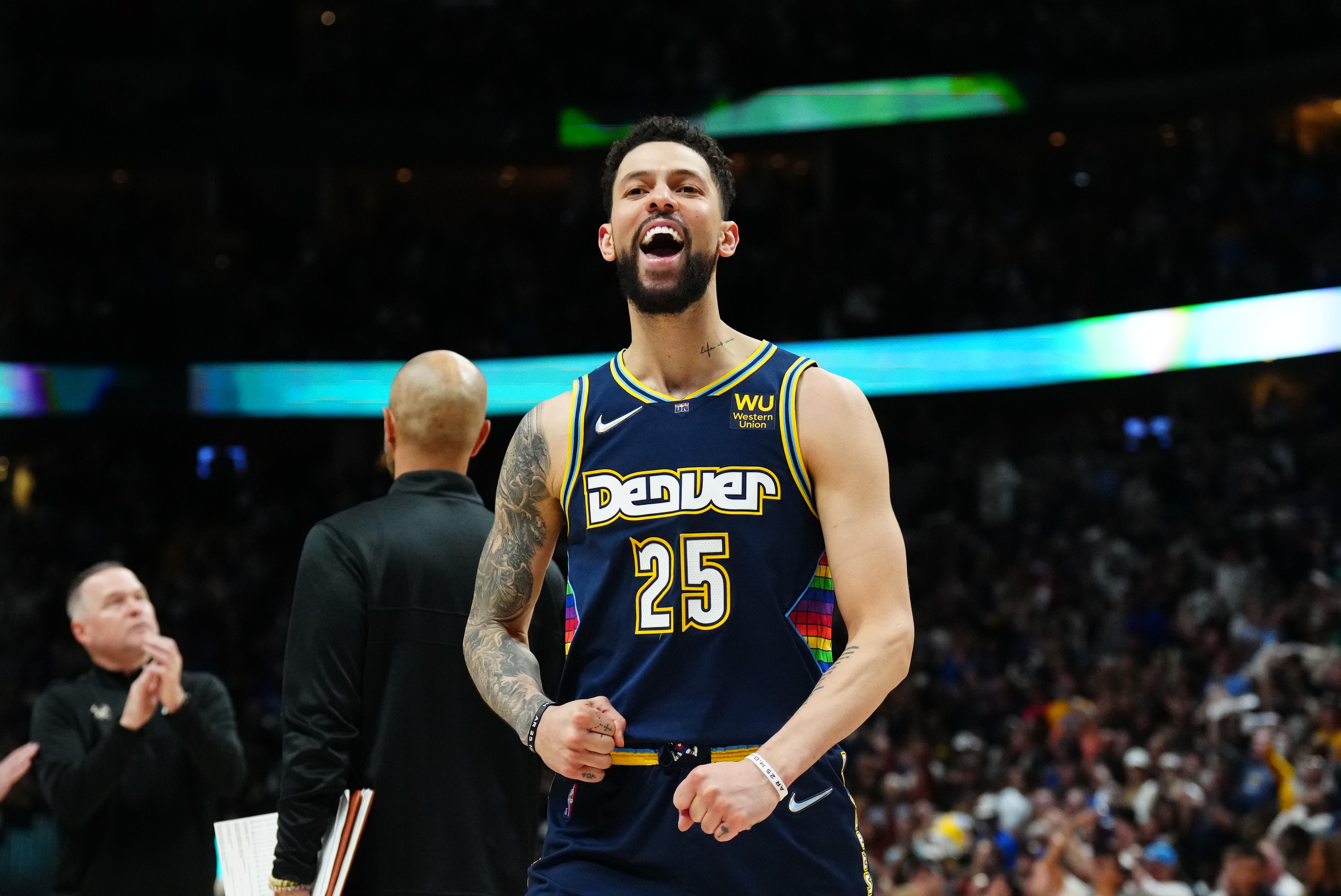 As the Denver Nuggets prepare for 2022 NBA Free Agency beginning on Thursday at 4pm MT, the roster is slowly coming into focus.
The Nuggets are currently committed to 11 players on full-time contracts and one player (Collin Gillespie) on a two-way contract for next year. Though the Nuggets acquired Kentavious Caldwell-Pope and Ish Smith earlier today, they likely aren't done making moves to bring in free agent reinforcements.
With promises of remaining aggressive and making the team better, it's possible that more than half of Denver's impending free agents won't be back. The Nuggets already have their eyes on some players that might be available.
Facundo Campazzo played a big role for the Nuggets in each of the last two seasons. Austin Rivers became essential after Jamal Murray sustained an ACL injury. DeMarcus Cousins helped calm down Denver's second unit with Nikola Jokić on the bench. Davon Reed showed some promise as a two-way player.
There are a number of reasons to bring back some of Denver's own free agents, but who? And for how much? Which Denver Nuggets free agents are the best fit to return?
Let's discuss:
---
Facundo Campazzo
Expected fit/role: Things didn't go well for Facu Campazzo this season. The Nuggets were counting on him to run the second unit offense efficiently. While extenuating circumstances that may have hindered him, the Nuggets were an abject disaster with Campazzo on the court in almost every lineup. As a result, he won't be a factor in Denver's backup point guard minutes, though perhaps the Nuggets could retain him as the third point guard and hope he bounces back.
What can the Nuggets offer: After his two-year contract expires on June 30th, the Nuggets have early-bird rights on Campazzo. That means the Nuggets can offer Campazzo as much as four years and roughly $45 million on his next contract, roughly equivalent to the non-taxpayer midlevel exception.
Verdict: It's probably best if both the Nuggets and Campazzo go their separate ways. Campazzo wants an opportunity at real playing time, but he's not going to get it in Denver when Jamal Murray returns and with Monte Morris and Bones Hyland already in place.
Markus Howard
Expected fit/role: Much like Campazzo, there doesn't seem to be much of a role for Markus Howard at this stage. The Nuggets have expressed interest in getting bigger, more athletic, and more defensive this offseason, and Howard doesn't check any of those boxes. He's a strong scorer, but the Nuggets have an abundance of scorers already.
What can the Nuggets offer: Howard is a restricted free agent, and because he's another early bird free agent, the Nuggets can offer him whatever they want up to roughly four years and $45 million, the same contract as Campazzo.
Verdict: Howard may be a restricted free agent, but it wouldn't surprise me if the Nuggets rescinded their qualifying offer to him (another two-way contract) sometime in early July. He's an NBA talent, but it likely won't be with the Nuggets going forward.
Bryn Forbes
Expected fit/role: Bryn Forbes was traded to the Nuggets in January to assist with Denver's lack of bench offense. He immediately helped stabilize some things after Bones moved to point guard, but as the season wore on, his weaknesses (defense, playmaking) became more important than his strength (shooting). If he were to come back to Denver, it would be for a fringe bench role, given Denver's current defensive struggles.
What can the Nuggets offer: The Nuggets don't have any bird rights on Forbes, meaning the maximum they could offer him in free agency is a 20% increase on his previous contract, which translates to $5.4 million in the first year of a deal.
Verdict: Every team could use a player like Bryn Forbes to come off the bench and score in bunches. Unfortunately, very few teams want to pay for that particular role if they can help it. The Nuggets will likely fall into that category themselves. Given Denver's surplus of smaller guards already, it's probably for the best.
Davon Reed
Expected fit/role: After moving his way up to becoming a two-way contract last season, Davon Reed has proven that he's an NBA caliber player with some two-way wing capabilities. While he may not be in the rotation every game, Reed appears to be a solid option on most nights when the Nuggets need a player to step up, play some defense, and hit some outside shots. He's likely fill a similar role this year, only on a full-time contract instead.
What can the Nuggets offer: The Nuggets can offer Davon Reed the same four-year, $45 million contract as other early bird free agents on the roster. They won't offer that much, but they could certainly offer him above the threshold of a minimum contract. The Nuggets also have matching rights due to Reed's restricted free agency.
Verdict: Given that the Nuggets only have four open full-time roster spots at the moment, there might end up being a roster crunch if Denver looks to bring back both Rivers and Reed. It might be one or the other, and the Nuggets would be justified with either choice. Nuggets fans should want Reed back though. He has more to offer in a semi-permanent rotation spot.
Austin Rivers
Expected fit/role: Austin Rivers assumed a larger role as the season wore on, becoming invaluable as a versatile defensive guard, capable of matching up well against different offensive players. In the upcoming season, he would likely take on a slightly smaller role due to the return of Jamal Murray. If Monte Morris and Bones Hyland are both on the roster as well, it's possible that Rivers' minutes will be squeezed a bit, assuming the Nuggets find an alternate solution at starting shooting guard (or if Will Barton remains in that role).
What can the Nuggets offer: The Nuggets can offer Rivers as much as four years, $45 million due to his early bird rights free agency restriction. Fortunately for the Nuggets, they can retain Rivers at that cost if they so choose, and they only cost to them will be salary and/or luxury tax payments.
Verdict: The Nuggets have told their fans that they are going to be aggressive this offseason in trying to make the team better. Aggressiveness, in my mind, means a willingness to spend. Rivers may not be in the primary playoff rotation next year if the Nuggets find some other defensive wings, but it's clear that Rivers is a tried and true defensive guard option when called upon. If they're willing to pay, the Nuggets should offer Rivers a modest raise to return as a fringe rotation option.
Vlatko Čančar
Expected fit/role: Vlatko Čančar missed much of the regular season with a foot injury that he had surgery to repair in January. He only appeared in 15 games as a result, though he did shoot 58% from three-point range in limited attempts. Čančar is a classic end-of-bench player with some versatility and basketball smarts. He would be a fill in at both forward spots if need be.
What can the Nuggets offer: The Nuggets actually have full bird rights on Vlatko if they wanted to offer him a max contract. Somehow, I don't think that offer is coming down the pipeline, though.
Verdict: While Vlatko is buddy-buddy with Nikola Jokić, the Nuggets are in a position where every roster spot matters greatly. Peyton Watson, Denver's 30th pick, already appears to be red-shirting for his rookie season that will be strictly development based. Adding Vlatko takes away another roster spot of a player that could help Denver out in the playoffs. If the choice is between keeping around Joker's friend or adding a defensive-minded wing in free agency, the Nuggets should focus on the latter.
DeMarcus Cousins
Expected fit/role: After appearing on multiple 10-day contracts, DeMarcus Cousins solidified Denver's backup center position behind Nikola Jokić with strong rebounding, solid playmaking, and interior physicality. There's no reason he can't fill a similar role for the 2022-23 season, though the Nuggets will have to acknowledge some Cousins issues with defensive mobility, a high turnover rate, and a penchant for picking up technical fouls.
What can the Nuggets offer: This is the kicker. The Nuggets don't have Cousins' bird rights, and because he earned a minimum contract last year, the Nuggets can only offer him a deal where the first year of the contract is a 20% increase. That comes out to about $3.2 million in 2022-23.
Verdict: With no traditional backup center options on the roster outside of Cousins, the Nuggets should absolutely be willing to offer that $3.2 million. They might even tack on a player option to a second year in 2023-24 to incentivize Cousins to sign. There are a limited number of backup center options out there, and if the Nuggets can avoid using the taxpayer midlevel on Cousins, they probably should. That money should be used to upgrade on the wing. Will Cousins accept $3.2 million though? Time will tell.